Livingston drawn to Bethany by coaches' concern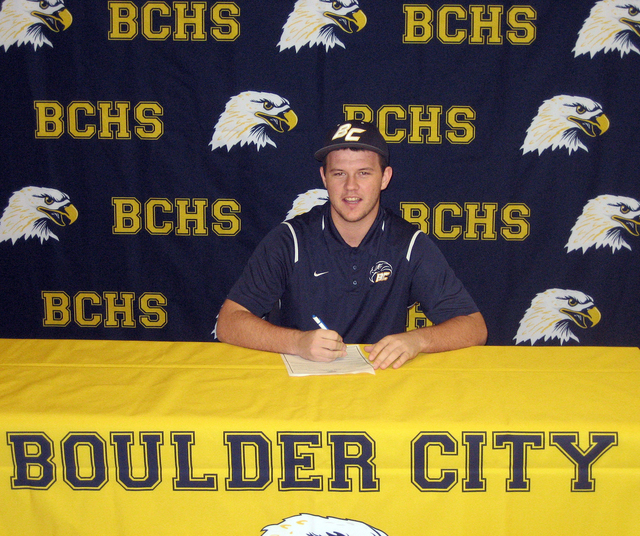 At 6-foot-2, 240-pounds it's easy to see the raw potential that Boulder City High senior Dawson Livingston is gifted with.
A three-year varsity contributor for the Eagles' football program, Livingston was among few standouts each Friday night throughout his tenure with the program, often taking every snap on both sides of the ball. Now he'll get the chance to continue that trend on the next level.
Signing with Bethany College in Lindsborg, Kansas, earlier in the month, Livingston was estatic to finally fulfill his dreams of playing collegiate football.
"The coaches at Bethany recruited me the hardest," Livingston said. "They contacted me every day helping me with questions I had about anything. They constantly stayed involved in how I'm doing in and out of school. Every time they got new video clips of the team playing they sent them my way. The coaches there even helped me with other coaches and what I should ask them. The coaches at Bethany wanted nothing but the best for me and that made the decision a lot easier for me."
A versatile athlete, Livingston has spent the better part of his prep career with the Eagles lining up in the trenches on both sides of the ball, adding value to his recruiting stock that few athletes in town, regardless of classification, are afforded.
"The coaches at Bethany actually asked me where would I like to play, offensive or defensive line," Livingston said. "I told them whatever helps the team more. The coaches' response to me was I could be play both positions due to my versatility. I'm very excited."
Along with all the excitement surrounding his commitment, Livingston still feels a bit nervous leaving the community he's grown up in. Traveling upwards of 1,200 miles to his new home, the versatile lineman has noted that he's beginning to feel more comfortable with the idea of transition because of the family enviroment the Bethany College coaching staff has provided.
"Of course I'm nervous because I've grown up in Boulder City my whole life," Livingston said. "But then again, I'm also excited because I get to carry out my dream of playing football at the next level. The coaches are making me more comfortable by being so involved with my life and what's going on it that it's making me feel comfortable with going so far from home."
Set to depart for Lindsborg in the summer, Livingston credits Boulder City head coach Chris Morelli and the community for raising him to become a collegiate athlete.
"The way the coaches are in Boulder City is truly amazing, Livingston concluded. "When I first started playing football in sixth grade coach Morelli was my coach. And every year after that he was my coach. He's done everything from teach us life lessons to playing football at high levels. He pushes us to be our best at every moment and knows when we're not. All the coaches at Boulder City have given me the confidence that I can make an impact at Bethany no matter what side of the ball I'll be playing on. The coaches to this day are still pushing me to become a better athlete and I couldn't be more thankful for having them be my coaches for so long."
Contact Robert Vendettoli at BCRsports@gmail.com.