League crown won't satisfy Lady Eagles
February 11, 2015 - 1:44 pm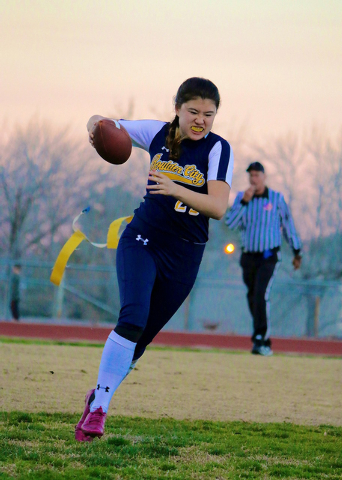 The Boulder City girls flag football team heads into the Southern Nevada playoffs next week having just finished its second consecutive undefeated regular season, yet the Lady Eagles are unsatisfied.
"This was never about the regular season," quarterback Jeanne Carmell said. "Ever since we lost in semifinals last season, we have had a collective team goal to return to the playoffs and go further."
Teammate Kinsey Smyth agrees.
"I am so blessed to play on this team with these teammates and to go 18-0 two seasons in a row, but the truth is that we are in it to win it," Smyth said. "It was heartbreaking last season when we lost to Green Valley in the semifinal, and we are aiming higher this postseason."
Boulder City will open the playoffs Tuesday at home against an opponent to be named this week. The second round of the playoffs is Feb. 19, and Boulder City as a No. 1 seed is expected to play a second home game.
The semifinal finals and final are Feb. 23 and 24.
"I am very proud of these girls working so hard," coach Chris Morelli said. "We are only halfway to our season-long goals. We have to keep the focus and the momentum in the four playoff games."
The Lady Eagles finished the regular season 18-0 overall and 16-0 in the Sunrise League. They are hoping to return to the regional semifinal where they were eliminated a year ago in an 18-13 loss to Green Valley — one game short of the Southern Nevada championship.
They have won 36 consecutive regular season games over a two-year span and are 32-0 in league play during that same period.
They also won all 18 regular season games and 16 league games a year ago and have not lost a regular season game or league game since their finale of the 2013 season to Foothill, 16-6.
Including the 2014 playoffs where they were 2-1, the Lady Eagles are 38-1 in their past 39 games.
At Green Valley on Monday, Paige Buettner rushed for 74 yards and scored two touchdowns as the Eagles defeated the Gators 20-13.
Carmell rushed for 89 yards and passed for 170 yards and one touchdown. Smyth had eight catches for 69 yards and the touchdown reception from Carmell.
Carmell was even sharper on senior night, Feb. 5, as she threw three touchdown passes to Smyth as Boulder City pounded visiting rival Foothill 25-0, extending the Lady Eagles' win streak to four games against the Lady Falcons.
Carmell completed 16 of 25 passes for 212 yards and Smyth caught seven passes for 115 yards. Iris Meijer had a 1-yard touchdown run.
Boulder City was ranked No. 2 in Clark County in Sunday's final Las Vegas Review-Journal poll of Southern Nevada coaches. Foothill (17-3) is ranked No. 5 and Green Valley, 13-4 overall and a former No. 3, has fallen to No. 8 because of two losses to each Boulder City and Foothill. Division I school Cimarron-Memorial, which also has a 17-0 record and plays in the Northwest League, tops the poll.