Lady Eagles fall short of goal
February 26, 2014 - 1:57 pm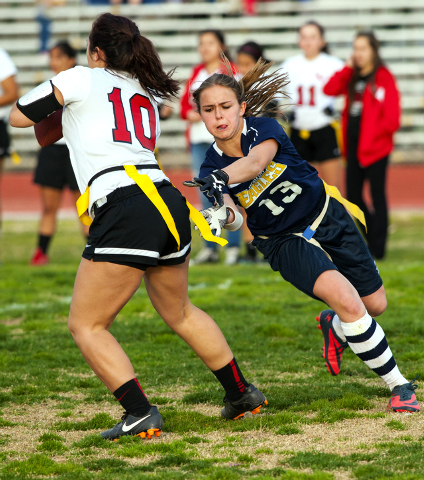 The Boulder City girls flag football team was the surprise of the season in Clark County as the Lady Eagles reeled off 20 consecutive victories. But the improbable season ended two victories short of its goal Monday when the Lady Eagles lost 18­-13 to Green Valley in the Sunrise Region championship game played at Arbor View.
Boulder City, which was 8-­10 last season and did not make the playoffs, ended 2014 with a 20-­1 record.
Cimarron-Memorial High won the Clark County championship game by beating Green Valley 39-21 Tuesday at Arbor View.
"I wouldn't trade this season for anything," Boulder City head coach Chris Morelli said. "What a great group of girls to coach and be around. They worked so hard and were so determined, but in the end we came up short of winning it all.
"Boulder City may be smaller than many of the schools we played and beat, but we came to play each game and it showed. These girls have so much to be proud of in what they accomplished this season."
Green Valley's Morgan Gibson threw two touchdown passes and ran for another to lead the Gators against the Eagles.
Gibson's 65-­yard touchdown pass to Tamera Grieves gave Green Valley its first lead with only 2:22 remaining in the game. The Gators then held Boulder City on a fourth­-and-­9 at the Eagles' 9-­yard line to secure the victory.
"I know exactly how they feel because that was us last year. We had won 20 games, lost none, and lost in the semis," Green Valley coach Jason Clark said.
Boulder City scored first when sophomore quarterback Jeanne Carmell connected with senior Mackenzie Pluta on a 2-­yard touchdown pass with 20:15 left in the opening half. Carmell ran in the extra point to make it 7­-0, but just before halftime Green Valley cut the deficit to 7-­6 when Gibson hit Jackie Cook on a 6-­yard score.
Carmell also had a 1­-yard scoring run in the second half.
Junior safety Kinsey Smyth had three interceptions.
The 20 consecutive victories and winning percentage ties Green Valley's county record from 2013.
"I couldn't be more proud of our team," Smyth said. "This team came out every day and put in an amazing amount of effort into everything we did. We sacrificed our bodies and our Saturdays. I am so grateful to every person involved for making this a great year."
The future bodes well for Boulder City. Carmell was one of the county's top passers and rushers. She has a few underclass receivers who return with her next season.
Smyth set a mark with 25 interceptions in 21 games that will stand for a while as the Boulder City and Clark County records. She also excelled as a wide receiver and ball carrier.
Standout linebackers Logan Kanaley and Paige Buettner return next season on defense. On offense, Carmell will have Smyth and top receiver Jane Nevarez.
"We are already looking forward to next season and having an even better season," Smyth said.