Lady Eagles volleyball team regains confidence; hopeful for match against Faith Lutheran
November 4, 2015 - 4:03 pm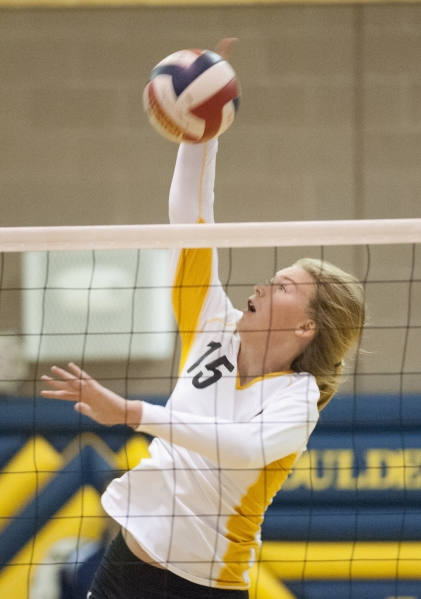 Boulder City's head volleyball coach Cherise Hinman has stated numerous times throughout the regular season that a home playoff game would be crucial to the Lady Eagles' goal of returning to the Division I-A state tournament, after failing to make the cut last season. Tuesday's night opening-round home win over Spring Valley would presumably be phase on in the team's postseason aspirations.
Despite losing Oct. 29 to Moapa Valley in a league matchup to determine who would host a first-round playoff game, the Lady Eagles pushed the Pirates to a deciding fifth match, earning a tiebreaker to come away with the second seed in the Division I-A Sunrise League.
"The Moapa game was huge for us," Hinman said. "Obviously we would have like to come back home with a win, but a tiebreaker worked out just fine for us tonight. Who knows where we'd be if we had to go on the road to start this trip."
Taking advantage of an energetic home crowd Tuesday, the Lady Eagles (25-10 overall, 11-3 conference) looked dominant over Spring Valley, beating the Grizzlies in four sets 25-17, 25-17, 20-25, 25-13.
"It feels great to come away with our last home victory," senior libero Bayden Huxford said. "I feel like we kinda got our confidence back tonight after losing to Moapa and that positive energy should translate over to our upcoming matchup with Faith Lutheran. There's obviously still a few things we can work on, but I'm confident we can do very good."
Leading an all-around effort against the Grizzlies, Huxford led all players with 22 digs, while senior Tarah Cox led the way with 31 assists and sophomore Maggie Roe led the way with 19 kills. Senior Jayden Wood also had a strong night, netting 10 kills and four aces, while senior Emma Jeppsen had perhaps her most complete performance of the season with 10 digs, six kills and a pair of blocked shots.
"It was an all-around effort tonight for the girls, one of our better games," Hinman added. "It was nice to see some other players step up for us offensively when called upon. Jayden and Maggie have been carrying the load for us offensively throughout the regular season, so it was nice to know others can fill their void when their game planned around."
Following suit with Huxford's comments from earlier in the night, Hinman said that after a win like Tuesday's against Spring Valley, the girls should be playing with all the confidence in the world heading into tonight's matchup with top-seeded Faith Lutheran from the Sunset conference.
'I certainly feel like tonight's win is something that can be built upon," Hinman said Tuesday. "The girls played more fluid on the floor tonight, and were comfortable with the game plan. We're going to continue to change up our offensive schemes depending on what style of team we're playing, and overall the girls looked more comfortable with that approach. We're hopeful to give Faith a good game."
Coming into tonight's matchup with the Crusaders (26-11 overall, 14-0 conference) on an emotional high, the Lady Eagles know despite their high confidence level that they can't take the Sunset champions lightly.
"Thursday night is going to be a tough matchup for sure," Hinman concluded. "We honestly need to play our best ball of the year. Passes need to be sharp, our serving needs to be exceptional and above all else, we need to come together and play our best defense of the year. Were hopeful to be up to the tall task."
Contact Robert Vendettoli at BCRsports@gmail.com.