Lady Eagles volleyball team picks up crucial victories
October 14, 2015 - 3:08 pm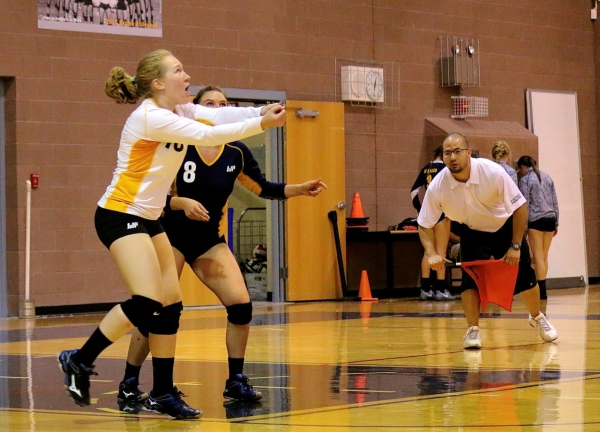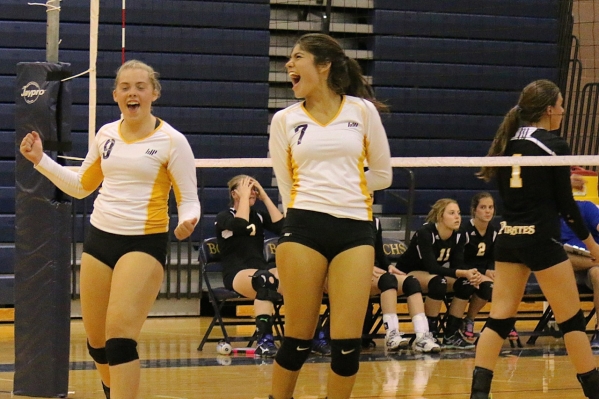 Picking up three league victories during the past week, including a crucial 3-1 victory over third-seeded Moapa Valley, the Lady Eagles (17-7 overall, 7-1 league) have now taken sole possession of second place in the Division I-A Sunrise standings and have an opportunity to claim the top spot later this week with an upcoming matchup with Virgin Valley.
Traveling to Mesquite on Monday, the Laldy Eagles can claim the top spot in conference by beating the Bulldogs outright, after falling 3-2 in their previous matchup.
"I'm very proud of the way out team battled this past week," coach Cherise Hinman said. "It was very nice to see the girls bring up their level of play. We looked great out their at times, really focused and that translated into wins. The Moapa win certainly was our most exciting win so far and a step in the right direction for us. Now our attention is focused to Virgin and making sure we come away with a victory to secure the top seed."
Coming away with a much-needed win over Moapa Valley, the Lady Eagles battled their way back Oct. 7 after dropping the opening set 23-25. Winning the next three 25-20, 25-19 and 25-22, the two-headed outside hitting attack of senior Jayden Wood and sophomore Maggie Roe proved to be too much for the Pirates to handle.
Wood finished the night with 18 kills and 12 digs, while Roe supplied 16 kills and 11 digs. Senior libero Bayden Huxford was also involved heavily, chipping in a team-high 18 digs with four kills, while senior opposite hitter Emma Jeppsen added six kills and a team-high three blocks.
Picking up 3-0 victories over Del Sol (25-16, 25-11, 25-3) and Desert Pines (25-9, 25-2, 25-8) as well this past week, it's clear that the Lady Eagles are currently in midseason form.
"We came out a lot stronger this past week, after fixing the errors left from the Virgin Valley game," Wood said. "We're really clicking as a team right now and I'm excited to play Virgin again. Right now we look good."
Hitting their stride toward the final stretch of the season, senior setter Tarah Cox led the Lady Eagles over the Jaguars with a team-high 18 assists, six aces and four kills Tuesday, while senior defensive specialist Hunter Spragno earned a team-high eight aces. Junior setter Alea Lehr garnered nine assists and five aces during the outing, while Roe led the way offensively with 10 kills.
"Communication was key for us this past week," Hinman said. "When the girls can come together, they're tough to beat. When were gelling well together on the floor and executing our strategy; we're a whole different team."
Adding on to an already tough schedule that features a road matchup tonight with fourth-seeded Southeast Career Technical Academy, the Lady Eagles will travel to California this weekend to participate in the Catalina Foothills Falcon Invitational before returning for their showdown with Virgin Valley on Monday.
"Obviously we didn't schedule the tournament to conflict with such an important week for us, but overall I'm hopeful the experience of playing out of state will be a good one for the girls," Hinman said. "It's one of those things, where this could have an affect on us either way. There's a lot of strong teams in this year's pool so we can either come away feeling good about ourselves, which will carry over into the Virgin game, or we can come out of this weekend blown away and exhausted. Either way I feel the experience of playing top competition is necessary for our state tournament goal."
Excited to get things underway this weekend and see where they stack up, Wood said she loves the idea of playing the best right before their biggest matchup of the regular season.
"We have a few games left, but Virgin is the one we need," Wood added. "I like the idea of testing ourselves against the top competition from other states, and I'm confident we'll be ready Monday for the Bulldogs."
Adding on to this week's slate of games, the Lady Eagles also have a road matchup with fifth-seeded Sunrise Mountain on Wednesday.
Contact Robert Vendettoli at BCRsports@gmail.com.
Upcomming Games
Thursday, at Tech, 
5 p.m.
, junior varsity; 
6 p.m.
, varsity
Monday
, vs. Virgin Valley, 
5 p.m.
, junior varsity; 
6 p.m.
, varsity
Wednesday
, at Sunrise Mountain, 
5 p.m.
, junior varsity; 
6 p.m.
 varsity