Lady Eagles to draw energy from bad loss
September 3, 2014 - 12:23 pm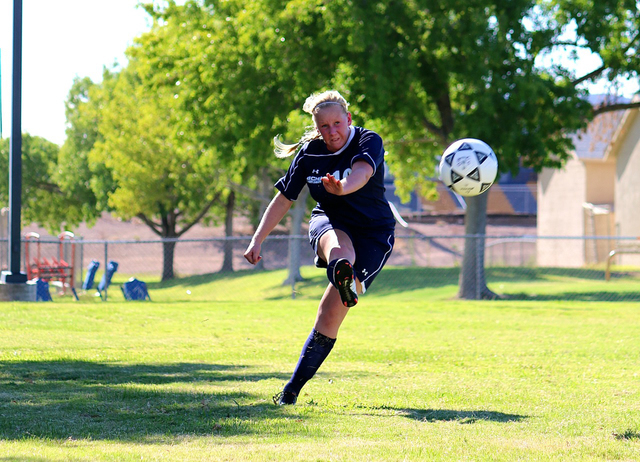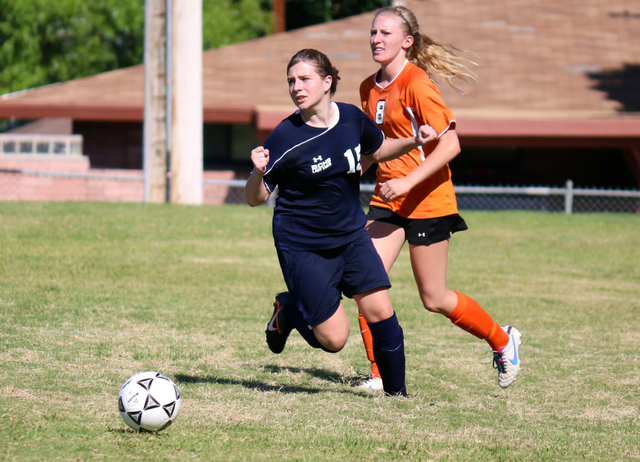 Boulder City girls soccer coach Duncan Stark thought a friendly exhibition to open the season against Division I powerhouse Douglas would benefit his team.
Stark still feels positive despite the 12-0 loss at home Friday.
"As was evident, our preseason got off to a disastrous start when we played a Division I team from Douglas," Stark said. "The obvious difference in experience … it showed in the score line. But the girls did play hard and got experience."
Twelve to zero?
"Well, I guess they wanted to prove they could score on our freshmen goalies," senior Lauren "Lou" Axelson said. "As for us, we actually gained a lot of experience in what not to do and what to do in certain parts of the game. They were just bigger and stronger, but we got what we needed to make us a better team in our division."
This year's varsity team will be led by four returning players with Axelson as the lone senior, one junior and two sophomores.
"Most of the two squads (varsity and junior varsity) this fall consist of new students to the program and if effort was all it took to win games, we would win every game," Stark said. "I could not ask for a better effort from the players.
"Thanks to having additional coaching help we will be able to spend the needed time on developing these players in both skill level and understanding on how to play. Because we do not have spring or summer club teams in BC where these players could play in the offseason, it means most of them never play from the end of the high school season until the start of the next high school season.
"As a coaching staff we will continue to teach these students and believe that if they continue to improve the way they are, that we will have a competitive team that will do well in the league."
Last year, there were 20 athletes at tryouts and the junior varsity team was short-changed bodies. But this season, with 30 girls at the tryouts, Stark expects to maintain a full and capable junior varsity squad.
The varsity Lady Eagles have only one senior in Axelson, and the heart of the team comes from its juniors and 15 sophomores.
Junior Jeanne Carmell will anchor the team on offense and defense from the center midfielder position. She scored four goals last season, but also hustles back and make a difference on defense.
Assistant coach Brok Armentrout credits the World Cup hype this past summer with increasing the number of players.
"I would say we have 15 sophomores and eight freshman out here because they got excited about the World Cup," Armentrout said. "We had about 16 girls per day during voluntary intramurals in July when it was real hot outside, but they still showed up. They were excited to be playing soccer and then watching all the great teams play in the World Cup. It definitely increased interest."
A year ago, the Lady Eagles finished fifth in the Sunrise League and missed the playoffs by one spot. It marked the first time Boulder City has missed the playoffs in seven years. The Lady Eagles reached the state tournament in 2011.
"This season the goal is to finish fourth or better and make the playoffs. We have a stronger team and depth that we haven't had in a few seasons," Stark said.
The player to watch kick a ball is center midfielder Oshauna Remy, nicknamed Shark for her ability to attack and remove the ball from opposing players.
"Oshauna clearly has the hardest, strongest kick on the team. It's a rocket coming out of there. The French-born Remy, now a junior, arrived last school year in midseason and is expected to be much improved and a key player for Boulder City.
Lexi Mulheron is an outside midfielder, who can play the left or right side of the field equally well, giving the Lady Eagles a solid midfield.
The starting goalie is freshman Rebecca Smith, who, along with Lily Osman, heads a strong group of four freshmen goalkeepers.
"We may be young in the net, but we have a very good group back there that will make a difference for us this season," Stark said. "We were all very disappointed not to make the playoffs last season. The goal this season is to get there."