Lady Eagles still undefeated
February 18, 2015 - 1:09 pm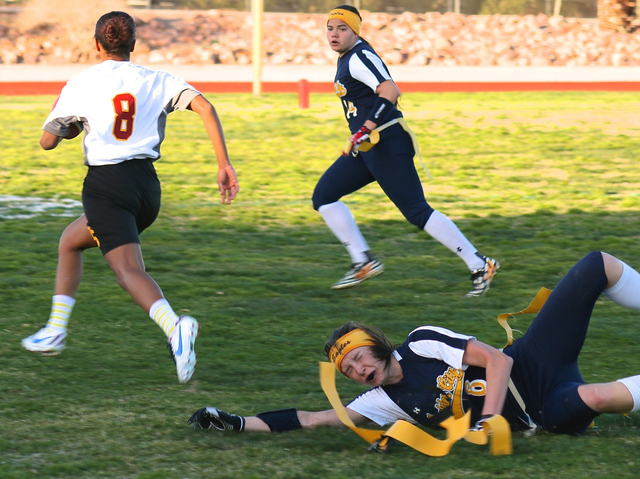 The Boulder City girls flag football team has played 19 games this season, but the three the Lady Eagles have been thinking about for a year are the one today and two early next week.
The Lady Eagles (19-0) play at home at 3:30 p.m. today against Green Valley (14-5) in a Sunrise Region semifinal.
"All we have been thinking about was playing Green Valley again in the playoffs and playing in the Monday-Tuesday games since we lost in the semifinal last year," senior linebacker Logan Kanaley said. "We didn't want to talk about it too much during the season because we had to play one game at a time, but Monday and Tuesday have been on everyone's mind since last season."
The Boulder City-Green Valley winner will meet the winner between Foothill (19-3) and Silverado (17-2) at 3 p.m. Monday in the Sunrise Region championship at Del Sol High.
The Clark County championship is at 3 p.m. Tuesday at Del Sol.
It was a year ago, after a perfect season and two playoff wins that Green Valley ended Boulder City's season, 18-13. This season, Boulder City twice defeated the Gators.
In the playoff opener Tuesday, junior quarterback Jeanne Carmell connected on 10 of 18 passes for 158 yards and a 25-yard touchdown strike to receiver Makenzy Waldo in a 20-0 victory against Del Sol.
Carmell also rushed for 101 yards on nine carries, while Kinsey Smyth gained 48 yards on five attempts and Paige Buettner gained 27 yards on seven runs. Freshman Nikki Meleo had two runs for 20 yards.
Smyth caught six passes from Carmell for 98 yards, while Buettner had four receptions for 51 yards.
On defense, Kanaley made seven tackles, while Buettner made seven tackles and had two sacks. Kenadee Bailey made six tackles.
"This is it, the final three," Carmell said. "We have to go all out and make it happen against what will be three very good opponents. But we are ready; we have had the focus all season."
The Lady Eagles head to their final three games with great momentum, having won 39 of their past 40 games over two seasons. Their only loss in two seasons, dating back to the 2013 season finale was in last year's Sunrise Region final to Green Valley.
The Lady Eagles ended the regular season unbeaten for the second consecutive year, owning a 36-game winning streak of regular season games that will carry to next season.
Boulder City was ranked No. 3 in Clark County to start the season in the Las Vegas Review-Journal's poll of Southern Nevada coaches, but quickly moved up to No. 2 and has held that spot since early December.
Cimarron-Memorial, also 19-0 and the county's only other undefeated team, is No. 1, while Silverado is No. 5, Foothill is ranked No. 6 and Green Valley is No. 8.
"I am very proud of what he girls have done so far, but the next three games are why we came to play this season," coach Chris Morelli said. "Green Valley is a very good team and has improved throughout the season. We have to be at our best. I don't have to do much to fire them up, they know what is at stake and what they want to accomplish."