Lady Eagles still perfect as playoffs begin
February 20, 2014 - 5:00 am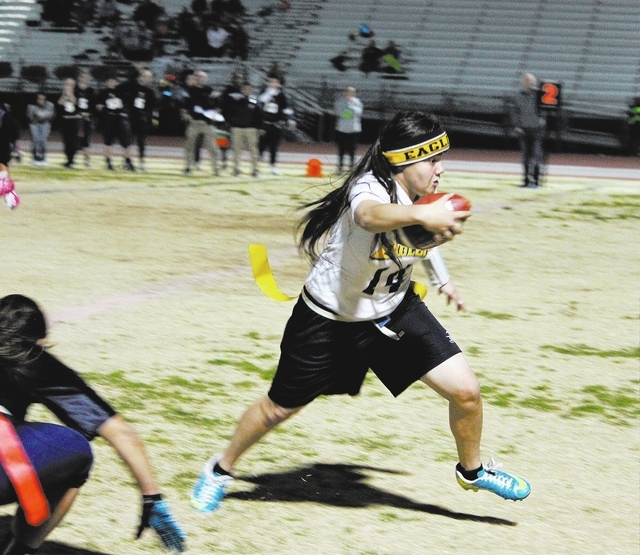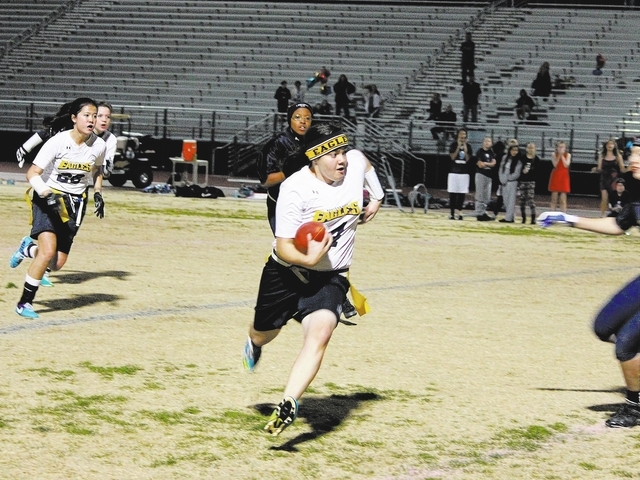 Heading into the season more than two months ago, head coach Chris Morelli expected a better season than his first as coach of the Boulder City girls flag football team.
He expected his team to reach its goal of making the playoffs, and for the Lady Eagles to have a winning record. What he did not expect or even consider was that the Lady Eagles would turn in a perfect regular season.
Boulder City defeated rival Foothill 13-12 Feb. 12 to clinch the Southeast League and finish with a perfect 18-0 record overall and a 12-0 league record. The Lady Eagles and Arbor View (18-0) of the Northwest League were the only two unbeaten teams of 34 playing the sport in Clark County.
They could meet in the championship match.
"I never dreamed they would be as good as they have been," Morelli said. "This is a team that is determined and motivated. It is a great season for the girls. They have been playing their hearts out.
"Now, in the playoffs, the girls know it is a must-win situation in every game."
The Lady Eagles were a No. 1 seed as the playoffs started Tuesday and showed why, defeating visiting Las Vegas 34-12.
Against Las Vegas, sophomore quarterback Jeanne Carmell completed 19 of 28 passes and threw three touchdowns to lead the Lady Eagles. Carmell also had 93 rushing yards on 11 attempts, including a long run of 25 yards, and scored two touchdowns.
Kinsey Smyth caught eight passes for 124 yards and two of the touchdowns thrown by Carmell.
On defense, linebacker Paige Buetner had two sacks, and Logan Kanaley and Jane Nevarez each made four tackles.
Las Vegas, the No. 4 seed from the Northeast League, ends the season 9-12.
The Lady Eagles, now 19-0, advance to play at 3 p.m. today at home against Valley (15-4). Valley defeated Basic 31-7 Tuesday.
The Sunrise Region championship is at 5 p.m. Monday at Arbor View. The Clark County Championship — between the Sunrise and Sunset region champions — is at 4 p.m. Tuesday at Arbor View.
"It is amazing to finish the regular season undefeated and to beat Foothill twice for the league championship when they were ranked so high before the season and favored to win our league," Carmell said. "We have a hardworking group of girls that believes they can win every game. Now, in the playoffs, that is certainly our goal."
Foothill (17-4 overall and 14-2 in league) was one of the county's top-ranked teams when the season began and favored to win the Southeast League. Boulder City beat Foothill twice this season. The Falcons averaged more than 30 points per game this season, but in two games against Boulder City here held to a total of 12 points.