Lady Eagles still atop Sunrise League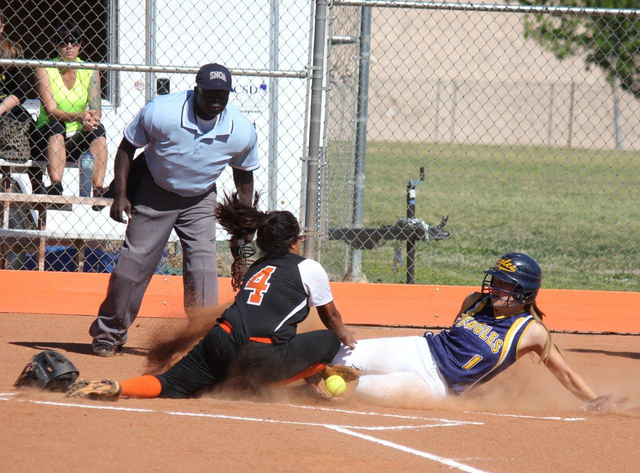 The Boulder City softball team has struggled lately in nonleague games, but as coach Angelica Moorhead points out, the league is what matters most.
"We played two games in California over spring break against larger schools and played Foothill from Division I this past week to play better competition and see where we need to improve," Moorhead said. "We've taken a few lumps, but we have learned. As far as the league games, we are OK there."
The Lady Eagles defeated Chaparral Monday 18-2 to remain unbeaten in the Sunrise League with an 8-0 record. They are 18-6 overall.
Against Chaparral, the Lady Eagles scored six runs in the first inning and followed it with nine runs in the second inning. Kaila Davis was 3-for-3 with a three-run home run in the five-inning victory. Charlene Masterson was 4-for-4 with a double, and Mickaela Brown went 3-for-3 with a double.
"Our games against Foothill and the California teams could have been better," Moorhead said. "We had some errors and also a difficult time putting the ball into play. And when we did, we would hit it right to them. The pitching is faster than what we face normally, and the teams are swinging the bat and hitting the ball hard.
"I know we are a much better team than what showed up at those games. It just wasn't our day. Those games are great for us to see what we need to work on and also to see what will be going on during the regional and state tournaments. We'll be ready. We just need to keep working harder and play as a team and trust one another. We are excited that we are unbeaten in the league and look forward for these last two weeks of the season."
As the No. 1 seed from the Sunrise League, Boulder City would play its first two playoff games in the Southern Region Tournament at home.
"The immediate goal right now is to win the league title and get those first two days of the regional at home in Boulder City," Moorhead said.
On April 23, Masterson pitched a no-hitter with 11 strikeouts and went 2-for-3 with a triple and three RBIs to lead the Lady Eagles past Del Sol 12-0. Masterson walked one batter in the first inning to prevent a perfect game. Victoria Ford added a double for Boulder City, which scored 10 runs in the first inning.
The Lady Eagles lost to Foothill 14-5 on April 24 in a nonleague game. Nikki Schulz was 2-for-3 with two doubles and two RBIs, and Katlyn Jackson added two RBIs for Boulder City.