Lady Eagles remain focused on flag football championship
February 10, 2016 - 3:36 pm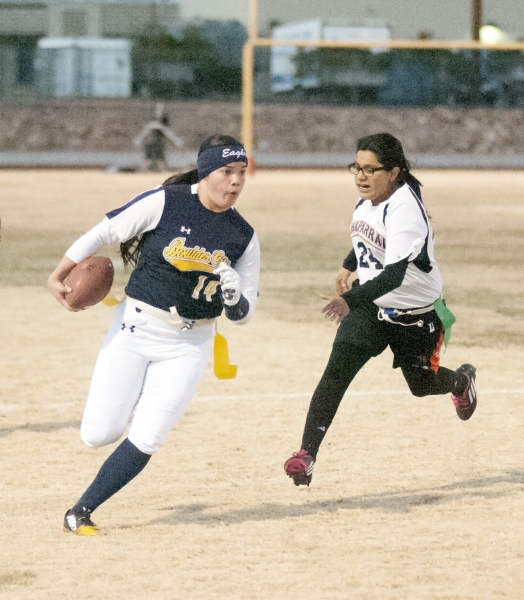 For the second consecutive week, the 17-0 Lady Eagles have gotten the respect they deserve, being ranked as the state's No. 1 team in the Southern Nevada Flag Football Coaches Association poll. Ask Boulder City head coach Chris Morelli about it, however, and he'll change the subject entirely.
"We play for championships, Morelli joked. "The girls honestly aren't even thinking about that right now. We don't focus on winning streaks or rankings, right now we're locked in on the ultimate prize."
The ultimate prize Morelli is referring to is a Division I-A state championship. That type of thinking and not getting caught up in the moment has prevailed, resulting in the Lady Eagles losing only one game throughout the past three seasons.
Continuing their winning ways against conference opponents Chaparral and Virgin Valley on Feb. 3 and Tuesday, respectively, the Lady Eagles advanced to 13-0 in conference play this season, with the opportunity to presumably go undefeated tonight when they host Del Sol on senior night.
"We're focused on playing our best and coming away with vicotries," Morelli said. "All we care about is continuing to execute at a high level."
Against the Cowboys, senior dual-threat quarterback Jeanne Carmell showed once again why it's so easy for the Lady Eagles to execute soundly, having perhaps her best all-around outing of the season.
Completing 22-of-29 passes for an astonishing 75.8 percent, Carmell threw for 286 yards and four touchdown strikes, while carving up the Cowboys' defense on the ground for a game-high 139 yards. Averaging 13.9 yards per carry, Carmell also rushed for a pair of scores in Boulder City's dominant 44-0 victory.
Hauling in touchdown receptions on the night were seniors Oshanna Remy and Paige Buettner and juniors Aimee Finn and Kenadee Bailey, while senior Tarah Cox had a solid outing as well with a pair of catches for 30 yards.
Remy garnered 57 yards through the air on four catches, while Buettner hauled in her lone touchdown reception for 50 yards.
Finn led all players with five catches for 53 yards, while Bailey led all pass catches with 70 yards on a pair of catches.
Defensively Buettner and Bailey were highly active in the Lady Eagles' rout, both collecting 10 tackles apiece. Buettner led all players on the day with three quarterback sacks, while Bailey tallied one.
Senior Emma Jeppsen also was key on the defensive end against the Cowboys, picking up a season-high eight tackles, while Carmell and Cox added a pair of tackles apiece.
Putting their undefeated season on the line against the second-seeded Del Sol Dragons, tonight's game should be a clear indication of where the girls are heading toward the postseason.
Coming off of a uncharacteristic sloppy 18-0 victory over third-seeded Virgin Valley where the Lady Eagles struggled with penalties on the road in Mesquite, look for a bounce back game where Boulder City gives the Dragons all they can handle.
Behind the one-two tandem of Carmell (300-430, 4,222 passing yards, 58 touchdowns, three interceptions) and Remy (83 catches, 1,233 receiving yards, 14 touchdowns), the Lady Eagles are ever more dangerous this season heading into the postseason, with six of their pass catchers ranked inside the top nine for offensive stats among receivers.
Defensively, you could argue the Lady Eagles have been even better posting nine shutouts this year and allowing two or more scores on only three separate occasions this season, giving up 14 and 12 points earlier in the season to Moapa Valley and 12 points to Desert Pines.
Bailey leads the state in tackles and interceptions, with 110 tackles and nine picks, while Buettner leads the state with nine sacks, while placing second in tackles with 83 for the season.
Boulder defeated Del Sol earlier in the year on the road 27-6.
Contact Robert Vendettoli at BCRsports@gmail.com.
^
Upcoming Games
Today, vs Del Sol, 4:30 p.m., junior varsity; 6 p.m., varsity
Tuesday, regional competition begins