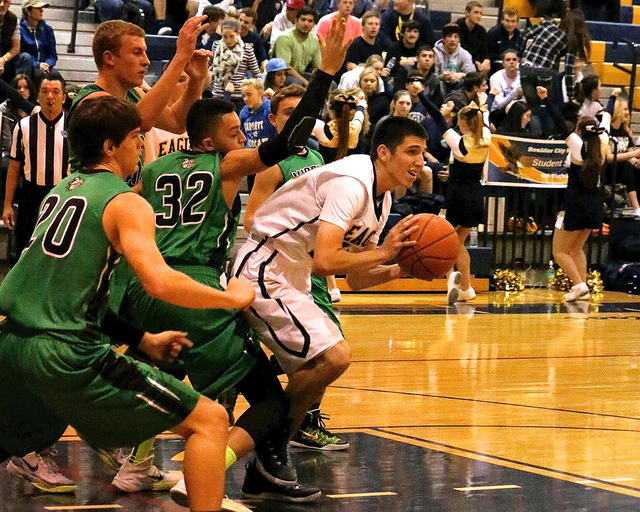 Much of the season the Boulder City girls basketball team has relied on its big three players to score points, get tough rebounds and control the game's tempo. But in recent weeks, a second group of players has stepped to fill the roles necessary to make a run in the playoffs and return to the state tournament.
"I am very happy with the way the other players on the team are playing and improving to make us a better team," coach Paul Dosch said. "Everyone is aware of our big three and now teams are throwing gimmick defenses to stop their shooting and double-teaming them to take them out of certain situations, but we have been lucky that a core of players have stepped up and fill very important roles for us."
The emergence of Jules Worrall, Sam Hanson, Rylee Dosch, Jerra Hinson and Sariah Gneiting has given the Lady Eagles a depth they lacked at the start of the season. Senior guards Katlyn Daly and Alyssa Ybarra are in their fourth year of leading the team from the backcourt and all-state junior forward Megan Morton has been the team's leading scorer with a 17.3 average.
But the new fab five has contributed at both ends of the court as the Lady Eagles improved to 9-0 in the Sunrise League and are 15-5 overall with victories this week against Virgin Valley, Del Sol and Southeast Career Technical Academy.
The Lady Eagles defeated Tech 51-28 Tuesday as Morton scored 22 points and pulled down 13 rebounds. Ybarra scored 9 points.
"We are now six and seven players deep at all times with everyone contributing," Dosch said. "Each has found a role for themselves and is making work to improve our chemistry and our goal to play as a team not as individuals."
Hanson says she loves playing defense.
"I want to be out there defending the ball much more than I want to shoot it," she said. "We have others who can score. I think it is defense that will take us further than our offense. It will take players playing defense to win one state championship. It's not going to happen without a great defense."
Rylee Dosch agrees with Hanson.
"I consider myself a defensive specialist," said Dosch, a junior. "I would rather play defense and get in people's faces. That's what fun for me. I just want to defend when I get in the game and get rebounds and get it out to the guards."
In a 39-30 home victory against Virgin Valley on Jan. 21, Ybarra had 13 points, six rebounds and five assists to lead the Lady Eagles, but Hanson and Worrall each had eight points.
Worrall has excelled at both ends of the court.
"Against Virgin Valley neither team shot the ball well, but what kept us ahead was our defense," coach Dosch said. "It is game like those where we need players to step up and Jules and Sariah did."
The Lady Eagles also have had some excellent play from Hinson, a freshman.
"Jules is playing well enough to be a starter, but I like the energy she provides when she enters the game," Dosch said. "She has become real good on defense and is just finding her shot on offense. She provides us with a spark each time she plays. Jerra has been on varsity all season watching and waiting for her turn. When she gets a few minutes to play, she is making the most of it and giving us quality play."
The Lady Eagles play tonight at Sunrise League opponent Sunrise Mountain. Boulder City also plays Friday in a nonleague game at Faith Lutheran. They are on the road Monday at Moapa Valley in a league game and do not play at home again until they face Desert Pines on Wednesday.
Against Del Sol on Friday, Morton scored 17 points and grabbed 12 rebounds as the Lady Eagles defeated the Dragons. Ybarra had 12 points and Daly grabbed 14 rebounds. The Lady Eagles broke open a close game with a 19-4 third-quarter run.
"It takes more than three players to reach our goals," Daly said. "We are 10 deep and we are a better team. Everyone is coming around finding ways to makes us better as a team."
BOYS BASKETBALL
If the Boulder City boys basketball team is to make the playoffs, it will have to win on the road. Five of the final seven games for the Eagles are away.
The Eagles have made the playoffs in six consecutive seasons.
Losses this past week to Virgin Valley and Del Sol dropped the Eagles to 8-11 overall and 3-6 in the Sunrise League. Senior guard Tyler Newby led Boulder City in scoring in both games.
The Eagles are in sixth place and two games behind Virgin Valley (9-10 overall and 5-3 in league) for the Sunrise League's fourth and final playoff berth.
They will need to steal a few road victories in the days ahead. The Eagles will play tonight at Sunrise League opponent Sunrise Mountain, which is one place ahead of the Eagles with their playoff hopes in the balance. The Miners (6-10 and 4-4) defeated the Eagles earlier this season 57-52 in the game's closing seconds.
Boulder City also plays Friday in a nonleague game at Faith Lutheran. They visit Moapa Valley on Monday in a league game and do not play at home again until they face first-place Desert Pines on Wednesday.
Forward Peyton Koopman scored a game-high 17 points as the visiting Eagles defeated Tech 65-31 Tuesday. Tyler Newby scored 15 points and Tyler Hinson added 14 for Boulder City, which jumped out to an 18-6 lead after one quarter and extended it to 34-18 at halftime. The Eagles closed the game with a 21-7 advantage in the final quarter.
Against Del Sol on Friday, Boulder City started strong and played the larger and faster opponent stride for stride for the eight-minute opening quarter to force a 16-16 tie after one quarter. But Del Sol pulled away to win 80-50.
Del Sol opened the second quarter on an 8-0 run and later extended that run to 19-2 and a large halftime lead. Newby led the Eagles with his 17 points.
In a 53-27 loss at Virgin Valley on Jan. 21, the Eagles were close until the third quarter when Virgin Valley pulled away with a 29-12 advantage. Newby led the Eagles with 10 points.