Lady Eagles poised for Division I-A title run
September 2, 2015 - 2:50 pm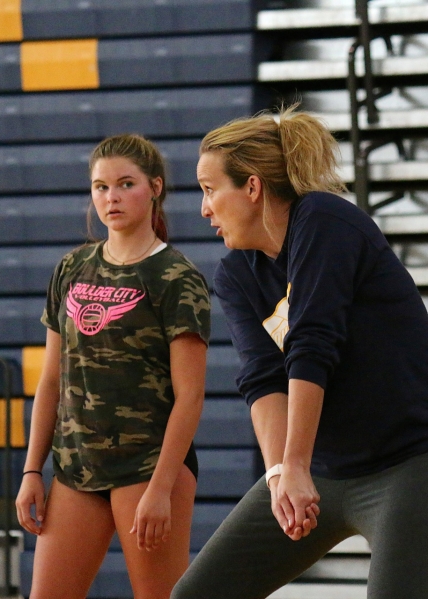 After posting a 4-4 record last weekend during a tough pool-play schedule at the Las Vegas Invitational, Boulder City volleyball head coach Cherise Hinman likes the makeup of this year's team.
"We competed really well in the Las Vegas Invitational, despite being in a tough pool," Hinman said. "We have minor things to work on, but overall we liked what we saw this past weekend. I liked the way our offense performed. including our hitting and serving, as well as some of the defensive aspects of our team."
Turning themselves into the premier team in the Division I-A ranks over the past decade, the Lady Eagles figure to be atop the pack once again this season.
Coming off of four consecutive league championships, including four state tournament appearances since 2009, Hinman's squad not only returns enough star power to get back to the tournament after a season off, but potentially capture its first state championship since 1989.
"The state tournament is obviously our goal," Hinman said. "We certainly have our work cut out for us, with our conference expected to be tough this year with Moapa Valley and Virgin Valley, but I feel we're going to be pretty competitive."
Led by University of Great Falls commit senior setter Tarah Cox, who led the conference in assists last season with 561, the Lady Eagles once again should be in the driver's seat of the Sunrise League with seven letter-winners and four starters returning from last season's 24-9 team.
Cox, who also will be hitting in the front row for the Lady Eagles, is expected to be more a part of the offense this season after garnering 123 digs and 62 aces last season. She'll be joined by seniors Jaden Wood, Emma Jeppsen and Bayden Huxford to anchor one of the state's top upperclassman sets.
"They've all been playing together since junior high," Hinman said. "As a core, they mesh together well because they know each other's tendencies and nuances. They all provide exceptional leadership, which should carry over into another successful season."
Wood, a second-team All-Sunrise pick last season at outsider hitter, returns after compiling a team-high 247 kills to go along with 115 digs and 55 aces. Jeppsen was also a second-team All-Sunrise pick last season at opposite hitter compiling 85 kills, 24 digs and 23 blocks, while Huxford returns after totaling 196 digs, 24 kills and 14 aces last season at the libero position.
Also returning to the Lady Eagles after a sensational freshman season last year is outside hitter Maggie Roe, who moved over from the opposite position. Roe, who garnered second-team All-Southern Region honors and first-team All-Sunrise honors as a first-year starter, registered a team-high 80 blocks to go with 154 kills and 19 digs. With the departures of seniors Lauren Pocius, Kinsey Smyth and Samantha Hanson, who were all equally productive in those statistical categories, Hinman expects Roe's number to grow this fall.
"Being the youngest on the team, we're hopeful she can continue to mature and be a difference-maker on the floor," Hinman said. "She's always been one of the younger girls on the team, going back to junior high, so her playing up will not only benefit us this season, but next season when she is an upperclassman."
Also returning to the Eagles will be junior setter Alea Lehr and senior middle blocker Velzani Moncayo. Lehr, led the Lady Eagles in serving aces last season with 97 to go along with 207 assists and 113 digs, while Moncayo added 10 blocks and seven kills in only 20 sets last season.
Among newcomers, senior middle blocker Valentina Rolleri, a foreign exchange student from Italy, is expected to contribute right away.
"We expect Valentina to be among the top middle blockers in the conference," Hinman said. "She's coming off a great performance in the Las Vegas Invitational and is just an exciting player to watch."
Following their eight game slate in the Las Vegas Invitational, the Lady Eagles will travel to Basic on Sept. 10 for their last preseason tuneup game, before hosting Del Sol High School on Sept. 17 for the start of league play.
Contact Robert Vendettoli at BCRsports@gmail.com.
Next game is Sept. 10, at Basic, 5 p.m., junior varsity; 6 p.m., varsity