Lady Eagles participate in volleyball camp at BC High School
August 22, 2013 - 1:05 am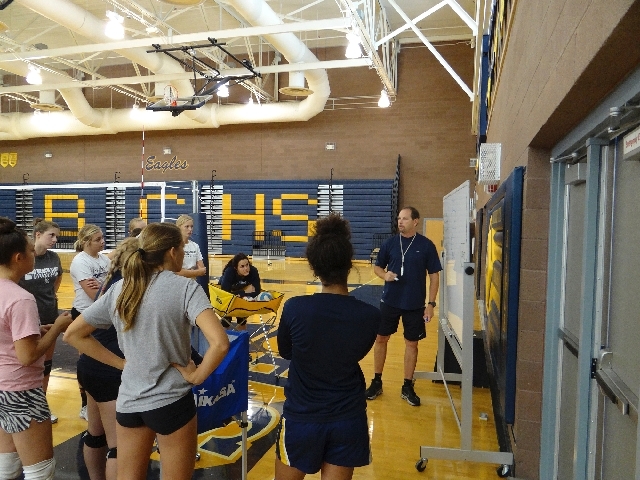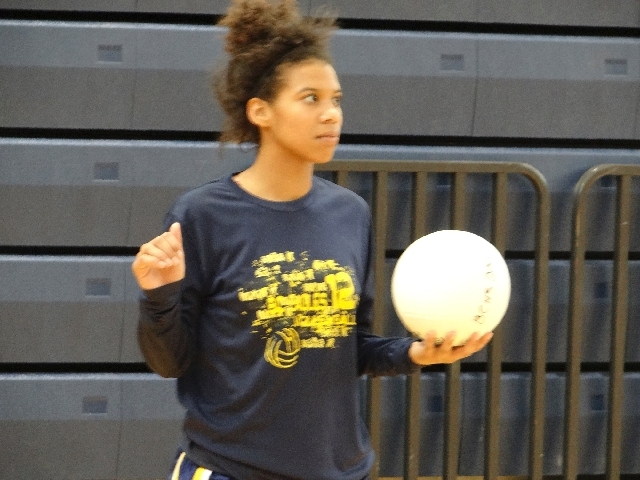 More than two dozen girls competed Aug. 12-14 in the All-American Volleyball Camp at Boulder City High School hoping to get an edge to help them later this month when the season begins.
"I was surprised that I found better ways to do things that I thought I already did pretty well," said Kinsey Smyth, a junior middle blocker. "At first, I thought it was just another camp, but this one turned out to be the best one yet. I know I am a better volleyball player after the three days."
It was the seventh consecutive summer that Lady Eagles head coach Cherise Hinman scheduled a summer camp in August. After several seasons with Gold Medal Volleyball running the camp, this summer Hinman switched to All-American Volleyball and received good reviews from her players.
"All the kids told me they really enjoyed this year's camp," Hinman said. "I made a switch so that the kids would be exposed to different coaches and coaching styles. Everyone had a good time and I think they all took something positive away from the camp."
Heading the All-American Volleyball group was Burt Fuller, former women's coach at the Utah State University and former assistant coach at UCLA and University of Utah.
While at Utah State, Fuller led his team to two NCAA tournament appearances and guided the Aggies to an 82-70 mark. He had two 20-win seasons and coached two All-Americans and 10 all-league selections.
During his seven seasons at UCLA, the Bruins went to the NCAA tournament six times. They finished second in 1994 and made two appearances in the regional final. The 2000 team finished No. 7 in the country.
In 2006, his first of two seasons at Utah, the Utes had a 28-4, record, were 16-0 in conference and had a second-round NCAA tournament appearance. In 2007, Utah was 26-6 overall and advanced to the Sweet 16 of the NCAA Tournament.
"We wanted to teach new styles and new techniques to the athletes," said Fuller, an NCAA volleyball official. "We stressed that nothing they did was right or wrong, but rather that there was more than one way to do things and hopefully we expanded the way they think and play the sport.
Assisting Fuller were Mandy Bible and Amanda Gil. Bible, a setter, was a former player at St. Mary's University and on the professional circuit. Gil, a hitter, recently graduated from the University of Washington.
Many athletes who will comprise this season's varsity volleyball squad were happy after the three-day event.
"It was a blast," senior Whitney Barlow said. "Of all the camps I attended in four years here, this was the best. We all just seemed to get it better than in the past and everyone came together real well as a team. That will only help to make us better this season. That hadn't happened at this point in the past, so we are ahead of schedule."
Junior hitter Mickaela Brown said she improved her hitting and footwork, while hitter/setter Kendall Miller said she had fun.
"Coach Fuller made it all so interesting that we had a lot of fun learning and practicing," said Miller, a senior. "I can say that I am happy about what I learned and what my teammates learned out here."
Many Lady Eagles attended additional volleyball camps this summer in Las Vegas, California, Arizona, Utah and Illinois, Hinman said. The tryouts for the Lady Eagles' volleyball squad were Aug. 19-21.
"With the summer camps behind us and the teamed picked by (today), we can start to focus on the opening tournament," Hinman said. "The kids learned a lot at the camp and they had fun. I think we will be a better team because of All-American Volleyball."