Lady Eagles need win tonight
February 11, 2015 - 1:41 pm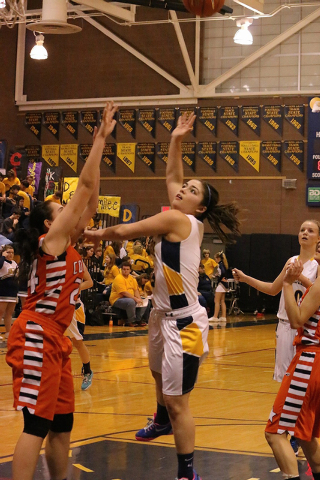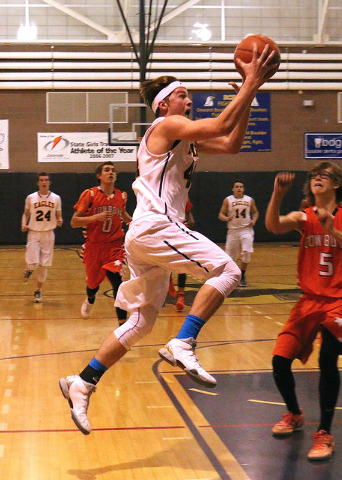 The Boulder City girls basketball team can win the Sunrise League championship tonight with a win at Virgin Valley. They also can finish second.
A loss tonight can drop them to third place.
It's not what coach Paul Dosch wanted or expected from his team. The Lady Eagles have led the league all season and recently appeared headed to the postseason as league champion and a No. 1 seed. Instead, the Lady Eagles have lost twice in the past week and are in danger of dropping down to third place.
Boulder City lost 49-43 to Chaparral on Tuesday and dropped into a tie for first place. Because the winner of the second game of the season wins the tiebreaker, Chaparral wins the league if the teams finished tied. Each has one more game tonight.
Megan Morton scored 18 points and Katlyn Daly added 13 for the Lady Eagles.
Boulder City is 17-8 overall and 11-2 in the Sunrise League. Chaparral also is 11-2 in the league and 17-6 overall.
The same scenario applies to Virgin Valley (14-8 overall and 10-3 in the league) for second place. A Boulder City win tonight assures the Lady Eagles of second place and a shot at first place with some help from Desert Pines. But a loss to Virgin Valley means the two teams would end in a tie, and by winning the second game of the season, Virgin Valley claims second place.
"We kind of let this get away from us with two losses and, as the coach, I accept responsibility," Dosch said. "We need to be better prepared and we will be against Virgin Valley. We still control much of our own destiny with a win. The girls are going to be ready and play hard. We are going to get our job done on our end, and hope for some help."
There is hope.
If Boulder City defeats Virgin Valley, the Lady Eagles are assured of second place, a No. 2 seed and at least one home game in the regional playoffs. If Desert Pines (9-17 and 7-6) upsets Chaparral tonight, the Lady Eagles would win the league championship and be the No. 1 seed Tuesday when the Southern Region tournament begins.
As league champion and a No. 1 seed, Boulder City would have played the first two rounds of the playoffs at home against the lower seeds from the Sunset League — Cheyenne (9-11) or Clark (11-12). But as a No. 3 seed, the Lady Eagles would play no home games in the playoffs and would face Faith Lutheran (19-5) in the opening round.
"We have to win against Virgin Valley," Daly said. "We haven't been shooting well in our recent games, and we played poorly. But we can get back on top with a must-win game against Virgin Valley."
Boys basketball eliminated, but not done, coach says
The Boulder City boys basketball team is playing for pride tonight against Virgin Valley.
The Eagles were eliminated from a chance at the postseason Tuesday night when they lost 53-39 at home to Chaparral. Senior guard Tyler Newby led the Eagles with 22 points. Senior forward Brooks Roe had six points and seven rebounds.
But coach John Balistere said his Eagles aren't finished.
"The guys have too much pride to go to Virgin Valley and lay down in their season finale," Balistere said. "They have played hard all year in every game and I know they will go up there hungry to end the season on a winning note and with more wins than last year."
The Eagles head into tonight's game 10-14 overall and 5-8 in the Sunrise League. A year ago they ended 10-13.
"I am proud of our guys for working so hard all season and never giving up," Balistere said.