Lady Eagles lose to Virgin Valley but stay hopeful
September 30, 2015 - 2:54 pm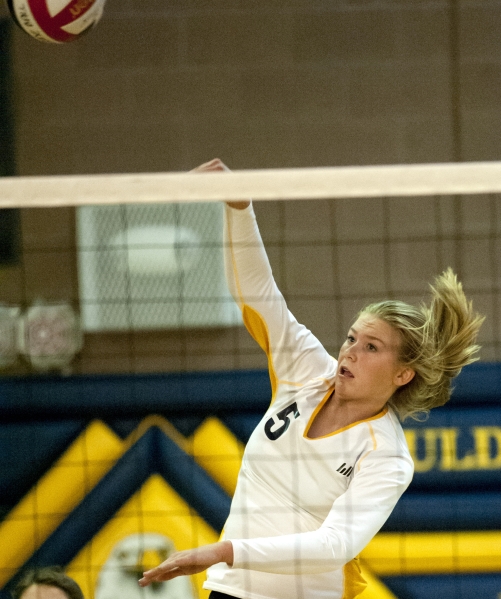 Tuesday's league volleyball match to conference rival Virgin Valley (14-7 overall record, 4-0 league record) could have gone very poorly for the Lady Eagles (12-7 overall record, 3-1 league record), yet even with the heartbreaking loss spirits remain rather high in Boulder City.
While the loss at the moment drops Boulder City into a two-way tie with Moapa Valley in the Division I-A Sunrise conference, Lady Eagles head coach Cherise Hinman feels optimistic of the girls' chances of repeating as conference champions after Tuesday's performance.
"While it was a tough loss to swallow because of our poor execution in some areas of the game, I give credit to the girls for battling back consistently throughout the night," Hinman said. "We displayed bad passing and a few of our players were out of their positions tonight. With that said, those are easy fixes. I'm confident we can get them next time."
Despite playing poorly in the game's first two sets, losing 25-23 and 25-19 to the Bulldogs, the Lady Eagles rallied back from a 15-6 deficit in the third set to avoid the sweep and win 25-20. Following a 25-20 fourth set in which they looked dominant at times, the Bulldogs would finally overcome their 2-1 loss to the Eagles suffered during the Boulder City Invitational over the weekend with a winner take all 15-9 fifth set victory.
In an all-around performance, the Lady Eagles, who looked exhausted after playing eight games in six days after playing in only three the previous two weeks combined, got solid efforts from seniors Bayden Huxford (33 digs), Tarah Cox (21 assists) and Valentina Rolleri (nine blocks) along with junior Jayden Wood (20 kills).
"We did a very good job in coming back," said Huxford, the team's libero. "We have a really good team this year, but at the same time we still have areas that we can work on. Rallying back tonight shows how good we can be."
While Tuesday's loss certainly left the Lady Eagles with areas of concern to improve upon, the positives from this past week's eight-game slate can't be overshadowed.
With a third-place finish in their Boulder City Invitational bracket, the Lady Eagles managed to go 4-2 over the two-day slate, despite a series of tough opponents.
"Obviously we would have liked to won the invitational, but to get high-quality wins over opponents like Bonanza and Virgin Valley were momentum builders for the girls," Hinman said. "I like to have the higher quality teams come out to the invitational, not only for our benefit of experiencing tougher competition, but for the smaller schools like Lincoln County, who, like us, gave the bigger schools a run for their money. Proud of us and the turnout of the invitational."
Following a league win last Thursday against Southeast Career Technical Academy (3-1 sets), the Lady Eagles opened up pool play on Friday with a strong 2-1 win over Division I opponent Bonanza (17-25, 25-18, 15-8), before sweeping Lake Mead (25-22, 25-9) and dropping two sets to Clark (11-25, 15-25) later on in the evening. Bonanza is currently ranked first in the Division I Northwest League with a record of 15-5 and has made sixth consecutive postseason appearances as one of the classification's top club.
"That Bonanza victory felt good, because all the time we hear people talk about us like we're just Boulder City," Huxford said. "People look down on us because were a small school, but when they play us, they realize there's nothing small about us at all."
On day two of the invitational, the Lady Eagles would rally back to fight off Virgin Valley in the morning 2-1 (20-25, 25-10, 15-7), before losing to eventual Boulder City Invitational champion Division I power Legacy in straight sets (21-25, 18-25) and rebounding a with a third-place straight set finish over Lincoln County (25-20, 25-12).
Following their gauntlet of high-quality opponents, the Lady Eagles will resume play Monday when they travel to Chaparral, before hosting another tough challenger in Moapa Valley on Wednesday, which, along with the Bulldogs, is a prime challenger to the Lady Eagles' conference title.
"Our rivalry with both programs dates back to when we were all in AAA," Hinman said. "Every year we play each other tough and every year it's a battle to come out on top. We've done it in the past and we just have to play hard and do it again."
Contact Robert Vendettoli at BCRsports@gmail.com.