Lady Eagles lose state championship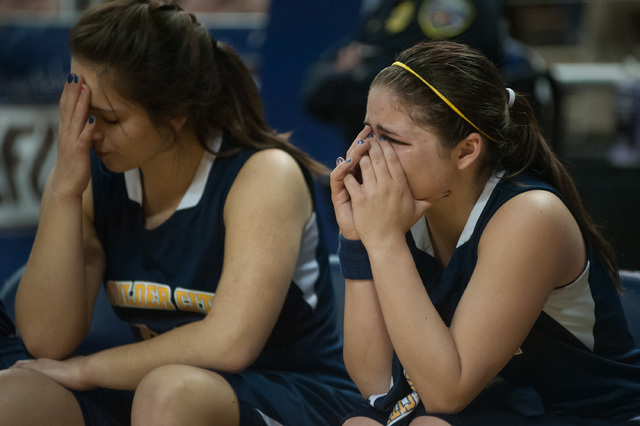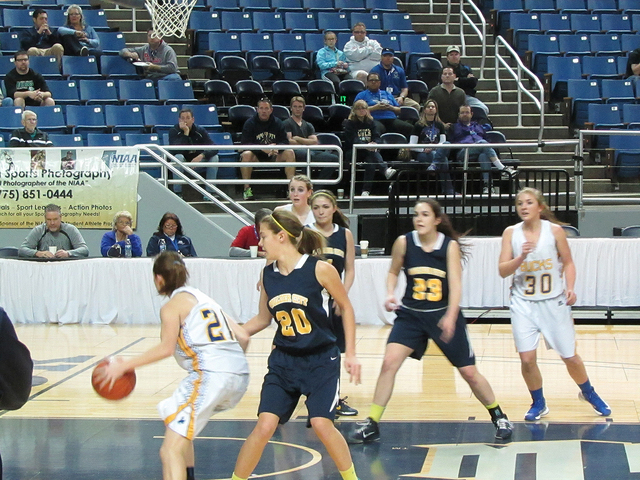 In the end, the ride was worth the result.
The Boulder City girls basketball team lost the Division I-A state championship Saturday, but the friendships and memories of their success this season salvaged the disappointment.
The Lady Eagles struggled and fell behind in the third quarter and could not rally en route to a 44-34 loss to Lowry in the state final at the Lawlor Events Center in Reno.
Boulder City, the Southern Region champion, finished 24-5 overall under first-year head coach Paul Dosch. They advanced to the final by defeating Spring Creek 48-40 to avenge a state semifinal loss from the previous season.
It was Boulder City's first region championship since 2009 and first appearance in the state final since 2005 when the Lady Eagles lost the title on an opponent's game-winning shot at the buzzer. The Lady Eagles last won the championship in 1991.
"The girls played very hard in both games at state, but we didn't shoot a very high percentage," Dosch said. "Being 24-5, a region champion and a state runner-up is a great season. I am very proud of these ladies. It is a season we will all remember. I love this basketball team. It truly does hurt."
Guard Jana Williams was even more emotional and posted her thoughts on Facebook.
"I'd rather lose a state championship game a million times with my team than win it once with any other team," Williams wrote.
It resounded with her teammates.
"You know, what Jana said summed it up best," senior All-State selection Whitney Barlow said. "I would rather lose a million state games with this team than win it with another. We have all grown so close and just being able to play in that final game was a mile-marker for the Boulder City girls. I'm so proud of my team and we fought so hard, but we couldn't put it in the hole. It wasn't meant to be.
"It was a fantastic run, though. We had great coaches who wanted nothing but the best for us and did everything in their power to help us succeed. And, we had great girls that played extremely well together. I love my team."
The admiration for each other and their successful season spread across the roster.
"My girls were great and I'm going to miss the seniors so much," junior guard Alyssa Ybarra said. "My team means everything to me and next year will be a lot different without the seniors. The season was amazing and it was one of my favorite teams to ever play on."
Lowry (21-9) led 15-4 early in the second quarter, but Katlyn Daly's driving layup with 2:02 left in the first half cut the their lead to 19-18. Boulder City added four free throws to take a 22-20 halftime lead.
But Boulder City made only 1 of 22 field goals, a shooting percentage of 4.8, in the second half. Boulder City was 0-for-14 on 3-pointers in the game.
Barlow ended with 13 points and 15 rebounds, while Megan Morton scored four points and pulled down five rebounds. Ybarra had four points, three steals and six rebounds. Daly scored seven points and made two steals, two rebounds and two assists.
"In the third quarter we stumbled," Dosch said. "We came out of the locker room a little flat. After that, we really couldn't get back to where we needed to get to, unfortunately."
Daly's layup with 4:39 remaining in the game was the Lady Eagles' first and only field goal in the final quarter and cut their deficit to 32-27.
"This season is even hard to believe," Daly said. "I wouldn't trade a single second of it. Making it to the state championship was a huge accomplishment. We tried so hard to come home with the banner, but it just didn't come out in our favor. These girls and coaches are my family. We have made so many memories together that I will never forget. I will love and cherish for them forever.
"This was by far my favorite basketball season of my entire career. I never cared and loved a team so much."
Boulder City still had a chance down the stretch. Lowry led 38-32 in the final two minutes when the Eagles began to foul. The Buckaroos missed the front end of three one-and-one opportunities, but Boulder City could not capitalize.
"We had our chances," Dosch said. "We missed a few shots. Playing in this big arena, it's just a different thing. It's not like one of our comfortable high school gyms."