Lady Eagles hold off Chaparral for victory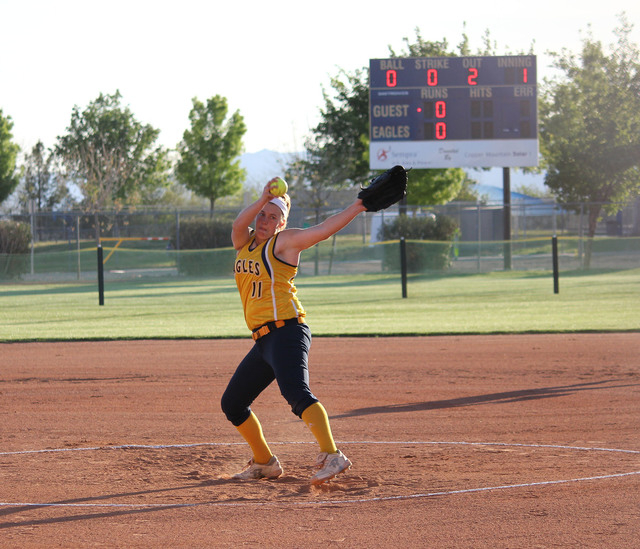 Boulder City is in first place with an overall 10-3 record and 2-0 in the Sunrise League after a 12-2 victory against visiting Chaparral. Chaparral falls to second place with a 5-6 overall record and 2-1 in league play.
Mickaela Brown pitched and had 10 strikeouts. Charlene Masterson and Nikki Schulz were top hitters.
Brown and Schulz each doubled and singled to lead the Lady Eagles to a 7-6 victory against visiting Eldorado Friday.
The Lady Eagles used a four-run third inning to control the game and held off an Eldorado rally. Alyssa Ybarra and Megan Morton each had two singles for Boulder City.
On March 26, Brown tossed an eight-hitter and went 3-for-4 with a home run in an 11-2 win against Las Vegas.
"For now, the coaching staff believes that the girls are coming along and playing well," first-year coach Angelica Moorhead said.
"We still need to cut down on our errors, play our game and stay at that a top level during the whole game," she added.
"Our hitting is coming around from the left side and our power hitters are moving the ball around. We are trying to incorporate more of the short game with slaps, drags and regular bunting, and it is beginning to pay off."
Kaytlyn Jackson and Ybarra each had a key hit from the left side against Eldorado. Schulz had two hits in the same game and advanced base runners around to lead Lady Eagles' rallies.
Brown and Masterson have done excellent jobs on the mound and with their bats, Moorhead said, adding, "As long as our defense cuts down on the errors and our offense stays consistent in putting the ball into play and putting runners on base, we should continue to win ball games."