Lady Eagles head to playoffs
October 29, 2014 - 12:41 pm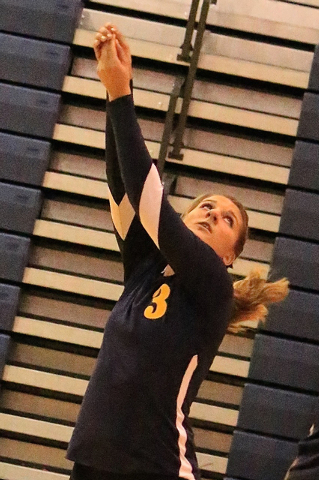 The Boulder City girls volleyball team has clinched its 18th consecutive playoff berth.
The goal this coming week for the Lady Eagles in the Southern Region tournament is to earn a return trip to the state volleyball tournament.
The Lady Eagles finished the regular season Wednesday with a home match against Moapa Valley that ended too late to get the results in this issue. Depending on Wednesday's results, Boulder City could be the Sunrise League champion for a fourth consecutive year and a No. 1 seed when the Southern Region tournament begins Tuesday, or they could be a No. 2 or No. 3 seed.
Boulder City entered its final match with an overall record of 22-8 and a Sunrise League record of 12-1. The Lady Eagles were followed by Moapa Valley (15-11, 11-2) and Virgin Valley (17-11, 11-2). Boulder City previously defeated Moapa Valley and was 1-0 against the Pirates this season. Virgin Valley and Boulder City split their two league matches.
"Our goal in our final matches was to win them all to gain momentum for the playoffs, but also to improve the seeding," Boulder City coach Cherise Hinman said. "The team was working hard and everyone was upbeat as we faced the end of our regular season. I know very much that the girls wanted to win the league championship and be the top seed."
Once the Southern Region tournament begins, it is a different goal.
"We want to get back to state and so we have to play well and at least reach the championship round," senior Alyssa Ybarra said. "We got to state last year and we know what it takes. Everyone is working together for the same goal."
A year ago, Boulder City reached the region's championship match but lost to Faith Lutheran. The region champion and region runner-up both advance to the state tournament. At state, Boulder City lost to Dayton in the opening round.
At Chaparral Monday, Maggie Roe had 11 kills and two blocks to lead the Eagles to a 25-18, 25-15, 22-25, 25-14 victory over the Cowboys. Tara Cox added 20 assists and three aces, and Ybarra had 25 digs and four aces.
Boulder City will play its first match in the Southern Region tournament Tuesday. The semifinals are Nov. 7 and the final is Nov. 8.
The Sunset and Sunrise leagues will send their top four teams to the region tournament.
Heading into Wednesday's final day of play, Faith Lutheran (21-13, 12-0) had clinched the No. 1 seed, followed by Sierra Vista (17-9, 10-2), Spring Valley (13-6, 9-3) and Pahrump Valley (14-16, 7-5).
Beating Moapa Valley Wednesday would advance Boulder City as the No. 1 seed for the second straight year. It would give them a home match at 6 p.m. Tuesday against Pahrump Valley. A loss to Moapa Valley would create a three-team tie and require a tiebreaker to determine the top three seeds.
Boulder City was the state runner-up in 2011 and last won a state championship in 1989.