Lady Eagles have sights on state title
February 26, 2014 - 2:02 pm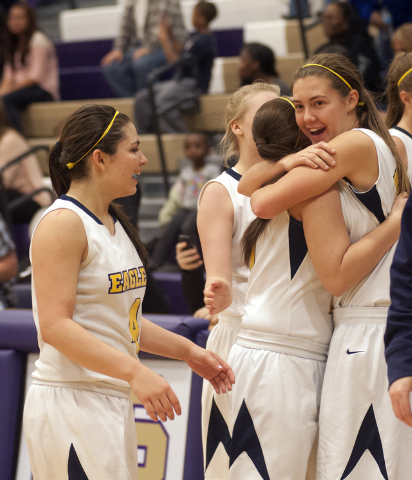 The Boulder City girls basketball team will play in the NIAA Division 1-A state tournament Friday and could have its chance to reach its preseason goal of winning the state title Saturday.
"We set out at the start of the season to win the region and state championships that we didn't win last year," junior point guard Katlyn Daly said. "This is our time. We couldn't be happier. We have accomplished one goal of winning region and are so close to the main goal of winning state."
The Lady Eagles defeated Desert Pines 56-22 Saturday and will return to the state's Final Four for a second consecutive year. This time, they hope to advance to the final and win it.
Both the region champion and region runner-up advance to the state's Final Four to be played Friday and Saturday at the Lawlor Events Center at the University of Nevada, Reno.
Boulder City (23-4) plays Northern Region runner-up Spring Creek at 11 a.m. Friday. In the other state semifinal, Desert Pines (8-21) will play Northern Region champion Lowry at 2:20 p.m. The final is at 11 a.m. Saturday.
In 2013, Boulder City lost the region final to Faith Lutheran and then was eliminated in the state semifinal by Spring Creek. The Lady Eagles ended the year 18-8 and Faith Lutheran went on to win the championship.
"It was disappointing to lose to Faith in the region and then see them win state. We want to make it happen this year for us," senior forward Whitney Barlow said. "The region is behind us, we have to focus on one game at a time."
Despite a change in coaches for a fourth consecutive year, the preseason goal was to win the state championship. Paul Dosch replaced Kirk Frantz at the helm, but the girls were determined to see it through to the final.
"It's tough with so many coaches and each changing the program, but each brought something different and we learned from that," junior point guard Alyssa Ybarra said. "We have been working together to play together and make it happen for each other."
The Lady Eagles clinched a berth in the state tournament after a convincing 58-33 victory over Clark on Feb. 20 in the Southern Region semifinal. But they wanted the region championship that eluded them a year ago.
"After losing last year to Faith Lutheran, we set out to return to the region final and win it. This feels great to come out and do it," Daly said.
The region final triumph over Desert Pines was the third this season by Boulder City over the Jaguars. On Feb. 13, Barlow had 16 points and 14 rebounds as Boulder City won 51-45 to win their season finale.
Desert Pines, a No. 4 seed, got hot at the right time, upsetting No. 1 seed Faith Lutheran 56-54 in the opening round and then beating No. 3 seed Western 51-48 in a semifinal to clinch a berth at state.
Daly helped lead the Eagles in their victory against Clark. The Lady Eagles outscored Clark 35-7 in the second half that included a dominating 22-2 fourth quarter. Daly finished with 11 points, 13 assists, seven steals and three rebounds for the Eagles.
"Katlyn can flat-out play," Dosch said. "In my opinion, she is one of the most underrated point guards in Southern Nevada. I'll take her on my team all day long. She's our general and runs the floor. She does a great job of seeing the entire floor and her teammates."
Senior guard Jana Williams led Boulder City with 14 points and eight rebounds and Ybarra added 11 points and six rebounds.
"It was really a team thing, and for me I just played my heart out because this team means the world to me," Williams said. "I'd give anything for these girls. I just knew we had to bring it, and I really wanted it and I think we won it as a team."