Lady Eagles get their revenge
January 14, 2015 - 2:32 pm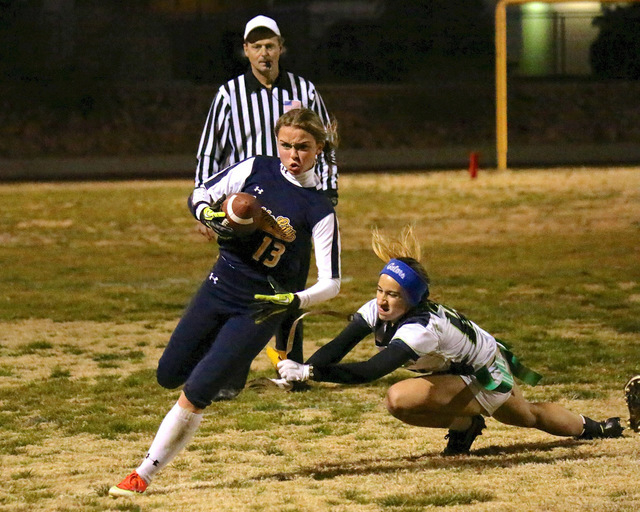 Revenge is sweet, especially when served on a cold outdoor night in Boulder City.
"It was so sweet," safety Kinsey Smyth said. "We really wanted to beat them because of how they ended our season last year. This was a great week, beating all three, Basic, Foothill and Green Valley, and taking first place."
Beating Foothill 13-6 on Jan. 7 put the Lady Eagles in sole possession of first place in the Sunrise League. Beating Green Valley 20-6 Friday kept them from falling into a three-way tie for the top spot. Earlier in the week, Foothill defeated Green Valley.
The Lady Eagles are 10-0 overall and 8-0 in the Sunrise League after last week's three-game sweep. They have won 28 straight regular-season games.
The Lady Eagles have lost only once dating back to February 2013, the end of the first season of competition in the sport. That was the 18-13 loss to Green Valley in last season's Sunrise Region final.
"A great week by the girls," coach Chris Morelli said. "This is by far the toughest week in our history with these three teams in five days, and everyone worked hard and responded to the challenge. It was important to get back to our style of play after taking two weeks off for the holiday break.
"The girls did what was asked of them. I am especially proud of our offensive linemen Taylor Martin and Mackenzie Pluta who had to block against three of the best pass rushers in the city."
On Friday, quarterback Jeanne Carmell rushed for 200 yards and threw two touchdown passes to lead the Lady Eagles over the Gators. Carmell completed 17 of 23 passes for 144 yards.
Smyth caught both touchdown passes and Paige Buettner added a rushing touchdown.
Against Foothill, Carmell threw for 105 yards and rushed for 62 yards to help defeat the Falcons. Smyth had three receptions for 52 yards and one touchdown. Oshanna Remy had three receptions for 29 yards.
Pluta and Martin held the Foothill pass rush in check all night, and Kenadee Bailey led the defense with 10 tackles and one interception. Logan Kanaley contributed seven tackles and made one interception, while Buettner had six tackles and two sacks.
"These were important wins because it gives us first place and the momentum in the league," Pluta said. "We sent a message that we are serious about returning to the playoffs as the No. 1 seed and that we want to finish better than last year."
Boulder City is ranked second in the latest Las Vegas Review-Journal's poll of Southern Nevada coaches. Cimarron-Memorial, the county's only other undefeated team, is No. 1.
"Offensively, we have been getting big games out of Carmell, Smyth, Remy, Makenzy Waldo and Buettner and they do what is ever asked of them. Defensively, we have consistently shut teams down and they are just doing their jobs. Kanaley, Bailey Remy and Buettner have done a great job up front stopping the run game and disrupting the passing game.
"Going into the second half of the season, we are looking to keep playing at a high level on both sides of the ball," Morelli said.
Green Valley, the defending Sunrise Region champion and county runner-up from a year ago, is now in third place behind Boulder City and Foothill.
The Lady Eagles are off until a home game against Chaparral on Tuesday.