Lady Eagles focus on victories
February 4, 2015 - 1:32 pm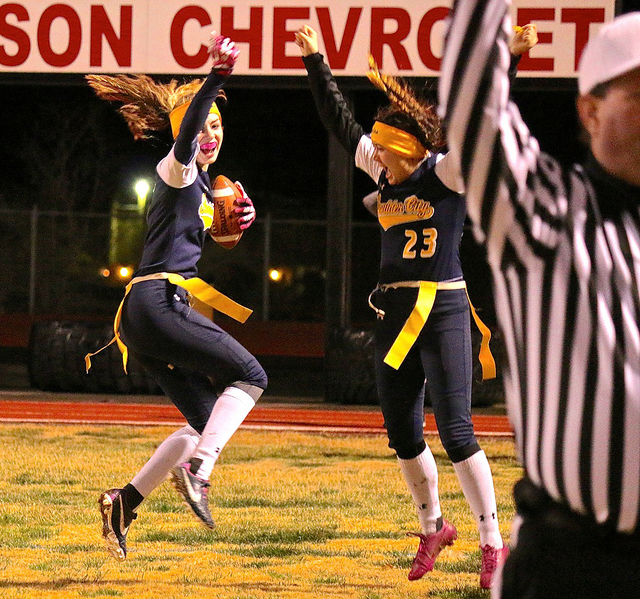 The way Boulder City flag football coach Chris Morelli sees it, they are all too important to lose any one game.
"These final two regular season games are too important to lose because they could hurt our seeding in the playoffs and cause us to lose momentum," Morelli said. "We are in a must-win mode, and the girls know what is at stake. They have responded all year, and I expect them to do what is needed."
The Lady Eagles play their toughest opponent of the season and biggest rival, Foothill, tonight at home on senior night. The winner could be the league's No. 1 seed. The Eagles then finish the regular season Tuesday at Green Valley, their lone loss in more than two seasons of play.
Boulder City was ranked No. 2 in Clark County in Sunday's latest Las Vegas Review-Journal poll of Southern Nevada coaches. Foothill is ranked No. 4 and Green Valley, a former No. 3, has fallen to No. 7, mostly because of losses to Boulder City and Foothill.
"We know this is it, our final week of the regular season and a start to the playoffs," quarterback Jeanne Carmell said. "We are focused on winning because there's no time to slip up now. We are determined to reach our goals."
Morelli is more concerned with the playoff seeding and a return to the Sunrise Region championship where his team was eliminated a year ago in an 18-13 loss to Green Valley — one game short of the Southern Nevada championship final.
The Lady Eagles defeated Basic 18-7 at home Tuesday to raise their record this season to 16-0 and Sunrise League record to 14-0.
The Lady Eagles have won 34 consecutive regular season games over a two-year span. They won all 18 regular season games a year ago and have not lost a regular season game since their finale of the season 16-6 to Foothill in February 2013.
Foothill defeated Green Valley 7-6 Tuesday to set up the clash for first place tonight at Boulder City. The Falcons (17-2 overall) are 13-1 in the league with the lone loss being to the Lady Eagles. Green Valley is 13-4 overall and 11-4 in the league with one loss to Boulder City and two to Foothill.
"The entire season, the goal has been to return to the championship games," Carmell said. "First, we want to win the Sunrise Region championship that we lost last year, and then we want to win the county final. But we know we have a tough road ahead, starting with these two final games."
Boulder City defeated Rancho 20-7 on Jan. 28 and Eldorado 32-0 last Friday.
At Rancho, Kinsey Smyth caught a touchdown pass and ran for another to lead the Lady Eagles. She caught five passes for 85 yards and ran for 24 yards on three carries. Carmell threw two scoring passes, one to Smyth and the other to Makenzy Waldo.
Boulder City beat Eldorado at home as Carmell threw two touchdown passes and ran for one. She completed 16 of 23 passes for 207 yards, and had touchdown strikes to Smyth and Waldo. Carmell also ran for 90 yards on nine carries. Smyth ran for one score, while Kenadee Bailey returned an interception for a touchdown.