Lady Eagles flag football team wins second consecutive state title
February 24, 2016 - 3:49 pm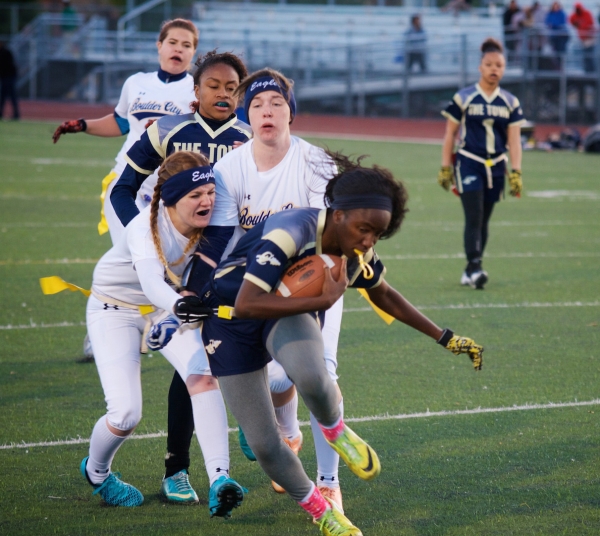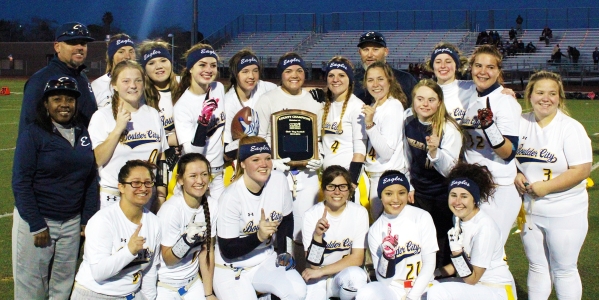 The Lady Eagles had rarely been faced with adversity. Sporting a 62-1 record coming into Tuesday's Division I-A state championship matchup with Cheyenne, Boulder City was the presumed favorite to win its second consecutive state championship handily. The Desert Shield however, wanted the Lady Eagles to earn this one.
Defeating the Desert Shield 42-0 on opening day earlier this season, Cheyenne made sure its showed up this time to give the Lady Eagles a game.
Rattling off 20 fourth-quarter points to attempt the comeback of the decade, the Desert Shield pulled within one of the Lady Eagles, 28-27, before senior Boulder City dual-threat quarterback Jeanne Carmell became the game's ultimate game manager, running out the final two minutes of the ball game for their second consecutive state championship victory.
"Give Cheyenne a lot of credit," said Boulder City head coach Chris Morelli. "They came out here and played their hearts out today. They weren't afraid us, they treated us just like any other opponent and executed on both sides of the ball. They gave us their best game all season. Credit to those kids and that coaching staff."
Jumping out to an early 21-7 first-half lead, the Lady Eagles looked sharp, behind Carmell who saved her best for last.
Despite being pressured throughout the night by the Desert Shield defense, Carmell completed 15 of her 25 pass attempts for 141 yards and a pair of touchdown strikes. Even more impressive was her uncanny ability to pick up much-needed first downs with her legs when none of her receiving options were open.
Extending drives with six first downs courtesy of her legs, Carmell led the Lady Eagles in rushing with 90 yards and a score off of 12 carries.
"Words can't explain what I'm feeling right now," Carmell said. "To cap of our second undefeated season with a state championship ring is just an unbelievable feeling. We worked hard for this one, not just tonight but all season. This is one of the closest groups I've had the pleasure to play with. Everyone was in sync, everyone knew their job, most importantly everyone wanted this."
Giving praise to her teammates Tuesday following their victory, Morelli followed his heralded quarterback's sentiment, stating it's going to be tough to have to say goodbye to this group of seniors.
"I've been dreading this moment for quite some time now," Morelli said. "This is honestly one of the most dedicated and well disciplined group of girls I've had the pleasure of coaching. There's not only a single girl on this team that impacted our victories, everyone played a part in going undefeated and everyone contributed to winning another state championship. This group right here is loaded. It's going to be tough to say goodbye."
Helping out in the run game senior Emma Jeppsen supplied the Lady Eagles with 40 yards on six carries, while junior Kenadee Bailey carried twice for 12 yards and a score.
Bailey also caught a game-high four passes for 28 yards, while senior Aimee Finn caught four passes for 27 yards and a touchdown and Jeppsen caught three passes for 50 yards and a touchdown.
Seniors Tarah Cox and Oshanna Remy caught three passes for 22 yards each.
"I give my receivers all the credit for this win," Carmell said. "They all played a hand in our success, not only tonight but all season. They gave me the confidence to go out there and play my game."
Defense also deserves credit for this victory, holding the Desert Shield from scoring on multiple short drives.
Bailey led the group with 10 tackles and an interception, while Remy loomed just behind with nine tackles of her own.
Doing their best to replace the loss of star senior Paige Buettner, Cox and Jeppsen tallied seven tackles apiece, while senior reserve Samantha Lawrence supplied the Lady Eagles with a quarterback sack.
Carmell also made three tackles against Cheyenne, while hauling in an interception.
"I'm going to miss this game so much," Carmell concluded. "I'm happy with the outcome, but I'm sad that it's finally over. We played our heart out today. We came into the season with the mindset of being champions and today we leave having accomplished our goal. I'm proud of everyone for accomplishing this."
Contact Robert Vendettoli at BCRsports@gmail.com.