Lady Eagles flag football team on way to another championship
February 17, 2016 - 3:18 pm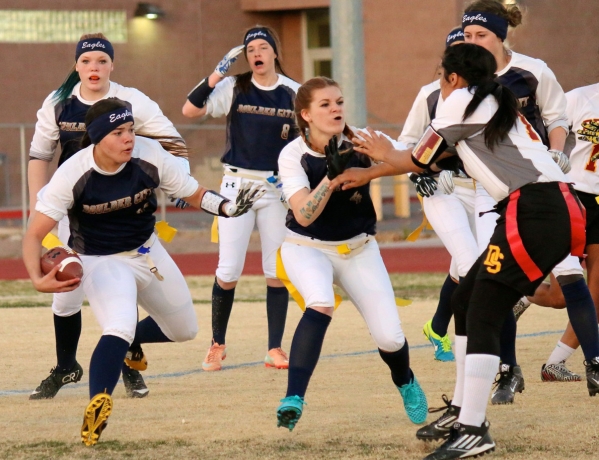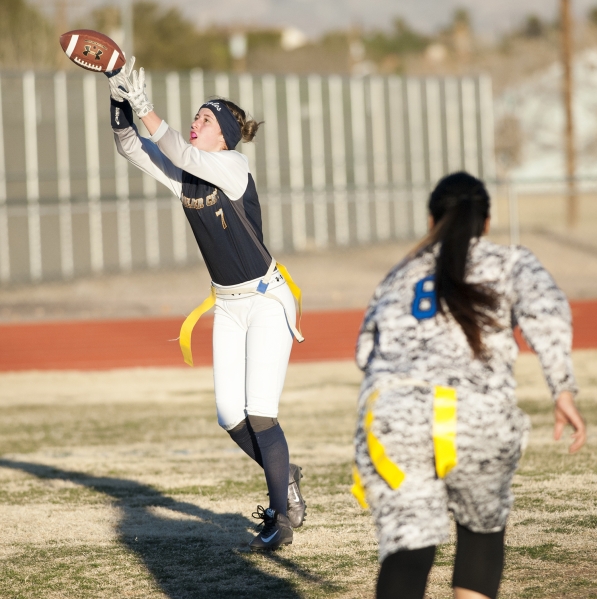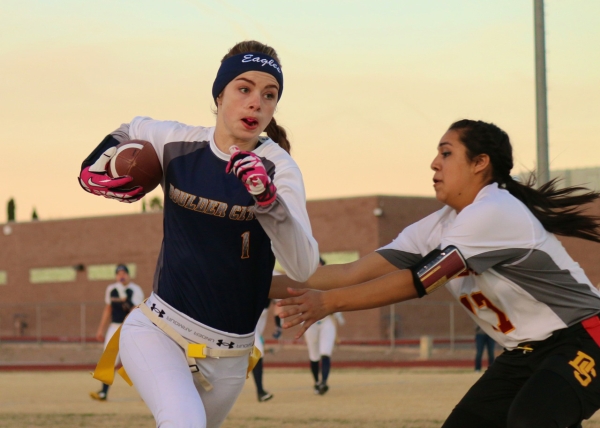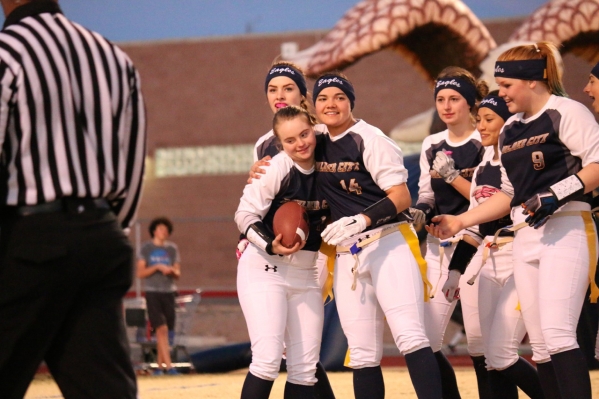 Following an 18-0 regular season, the Lady Eagles were back to their dominant ways Tuesday during the first round of the Division I-A playoffs, routing visiting Desert Pines 34-13.
Completing her best game to date, senior dual-threat quarterback Jeanne Carmell seems to be leaving all out on the field as her playing career comes to a close, showing off her pinpoint accuracy with an amazing 85 percent passing day against the Jaguars.
Completing 17 of her 20 pass attempts, Carmell threw for 237 yards and a pair of touchdown strikes, while flashing off her ever elusiveness with 14 scrambles for 153 yards rushing and an additional pair of a scores.
Setting the tone in the run game as well for Boulder City was senior Emma Jeppsen, who rushed for 57 yards and a score on nine carries, while senior Oshanna Remy and Kenadee Bailey each added a lone rush for 10 yards each.
Through the air, Remy led all pass catchers with six receptions for 59 yards, while senior Tarah Cox added 68 yards on five catches.
Scoring both touchdown passes, senior Aimee Finn had herself a nice outing with three total catches for 40 yards, while Jeppsen caught three passes for 25 five yards. Hauling in a pair of receptions apiece as well was Makenzy Waldo, who netted 27 yards, while Bailey netted 18 yards.
Bailey made her biggest impact on defense, tallying a game-high 13 tackles with a quarterback sack.
Carmell and Remy garnered five tackles apiece on the day, while senior Samantha Lawrence tallied three and Cox earned one.
In search of their second consecutive state championship, last year's coming in the Division I ranks, the Lady Eagles will face Del Sol today at Rancho High School at 5:30 p.m. in the Division I-A state semifinals.
Boulder City knocked off Del Sol twice this year, including last Thursday night's senior night victory, where Boulder City blanked the Dragons 39-0. The Lady Eagles also routed Del Sol in January as well, picking up a 27-6 victory on the road.
— By Robert Vendettoli
Wrestling
Members of Boulder City High School's wrestling program felt confident heading into Saturday's Division I-A Southern Region meet at Spring Valley, and left the event having met their high expectations.
Finishing with an overall team score of 177, the Eagles fell just behind Mojave, which took home the team title with a score of 212.
Sending five wrestlers on to the Division I-A state tournament this weekend in Primm, the Eagles have a prime opportunity to crown their first state champion since 195-pound wrestler Brandon Foster held the honor for Boulder City in 2013.
"I've been around the program a long time and I definitely think we have the guys capable of breaking the streak," said assistant coach Allen Haines, a state champion himself back in 2009 in the 130-pound weight class. "This is one of the most determined group of kids I've personally seen and I think we'll have a great postseason showing. These guys are hungry to be great."
First punching his ticket to the state finals in the 106-pound weight class was sophomore Garrett Leavitt, who finished with a second-place showing at regionals after falling to Ty Smith of Virgin Valley.
On the day, Leavitt picked up victories over Xavier Gonzalez of Desert Pines in the semifinals and Scott Diaz of Spring Valley in the quarterfinals.
Sophomore Zane Dennington will represent the Eagles in the 113-pound weight class this weekend, after picking up a decision in the championship round over Diego Ortega of Western. Dennington also defeated Steven Tarno of Faith Lutheran and Ivan DeAnda of Clark.
After falling short last season, junior 126-pound wrestler Jimmy Brown will be making the trip to Primm this time around, finishing in third place with a fall over Oscar Gonzalez of Cheyenne. Brown lost in the semifinals to Spring Valley's Tyler Nishi-Rivera, but will get a chance at redemption.
After a semifinals exit in state last season, senior 138-pound wrestler Tyler-James Rushworth has punched his final ticket to the big dance, picking up a 6-0 decision over Justin Juntilla of Faith Lutheran in the championship round. Confident this time around, Rushworth seems locked in heading into his final weekend.
"I'm just going to go out their and lay it all out on the line," Rushworth said. "This is my senior year, my last chance to leave an impression on the program. I'm excited for the opportunity."
Rushworth also picked up victories over Faith Lutheran's Carson Cook and Sierra Vista's Noah Parker.
Lastly, junior Devin Fox earned his spot in the 195-pound weight class, taking home third-place honors at regionals with a victory over Moapa Valley's Austin Belcher.
— By Robert Vendettoli
Boys Basketball
The Boulder City boys basketball team came up short in its final game of the season against Virgin Valley losing 56-46.
They started the game strong, outscoring the team from Mesquite 10-7 in the first quarter, but could not capitalize on the lead down the stretch.
Virgin Valley roared back in the second quarter outscoring Boulder City 17-9, as the Eagles were still without key players Austin Wishard, who is out with an ankle injury, and Justus Green, who broke his hand earlier in February.
The Eagles finished the season with a 6-20 record and will miss the postseason for the second year in a row.
— By Diego Pergentili
Contact Robert Vendettoli at BCRsports@gmail.com. Contact reporter Juan Diego Pergentili at jpergentili@bouldercityreview.com or at 702-586-9401. Follow him on Twitter @jdpbcreview.