Lady Eagles find bit of help from Lady Luck
December 19, 2013 - 1:22 pm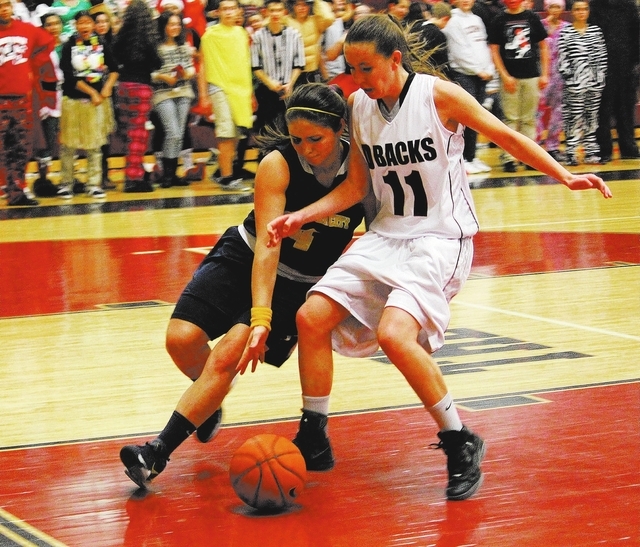 First, the Boulder City girls basketball team was good. Then it was lucky. Twice.
The Lady Eagles battled back from an 11-point deficit to defeat defending state and region champion Faith Lutheran 48-46 in overtime Friday in their home opener.
First, the Lady Eagles were good as forward Megan Morton scored all of her eight points in the fourth quarter and guard Jana Williams' drilled a 3-pointer with eight seconds remaining to tie the game, 39-39.
"I felt confident and so I looked for the open shot," said Williams, who ended with six points and two steals. "It felt good when it left my hands. I am just glad I could help the team. Everyone has been working hard to improve and make us a real contender and it's good to win the close ones."
Then the Eagles were lucky as a Faith Lutheran player missed two free throws with two seconds to play, sending the game into the extra period.
Again, the Eagles were good as Morton, Whitney Barlow and Alyssa Ybarra played good defense. Then, Katlyn Daly sank three of four free-throw attempts in the final 45 seconds — two of two with 45 seconds left for a 47-44 lead followed by one of two to extend the Lady Eagles' lead to 48-44 with 27 seconds remaining.
Then, came some more luck as Faith Lutheran failed to capitalize on its opportunities.
After missing two layups on one possession, a third offense rebound and put-back pulled the Crusaders to within 48-46 with 13 seconds to play in the overtime.
In the closing seconds, Faith Lutheran missed two free throws and its attempted 3-pointer for the win at the buzzer. It was a shot that swirled around the rim and almost dropped in.
Boulder City, which improved to 6-0 with the victory, outscored the Crusaders 17-8 in the fourth period and 9-7 in overtime. Faith Lutheran is 6-6.
"Wow, what an ending," Daly said. "We caught them in the fourth quarter and we were determined to win the game at home. I didn't put pressure on myself with the free throws. I just shot them like I was here in our gym in practice."
Daly had only five points to go with three steals and three assists, but she was more than Faith Lutheran could handle with her ball control.
"Katlyn ran the team," head coach Paul Dosch said. "She was outstanding. We run everything through her. She was clutch with her free throws and played with confidence in a pressure game against a quality opponent. The entire team is coming together and playing well."
Barlow scored 11 points and Ybarra was the leading scorer with 14 points.
A year ago, Faith Lutheran defeated Boulder City to win the Southern Region championship and a week later won the state title, avoiding a rematch with the Lady Eagles when they lost in the state semifinal.
"This was a real quality win," Dosch said. "Our opening tournament was not as challenging as we had hoped. Faith Lutheran was our first true test. And we passed. But with that said, we still have a lot of areas we need to improve. We are a long way from where I want to be come playoff time."
The Lady Eagles played Monday night at Desert Oasis. Daly scored 12 points as Boulder City remained unbeaten in seven games with a 48-­34 victory. The Lady Eagles limited the Diamondbacks to seven points in the second half. Morton scored 11 points.
The Lady Eagles are off this week and return to the court Dec. 26 in a Holiday Classic in Murrieta Valley, Calif.