Lady Eagles fighting for second place
October 23, 2015 - 2:11 pm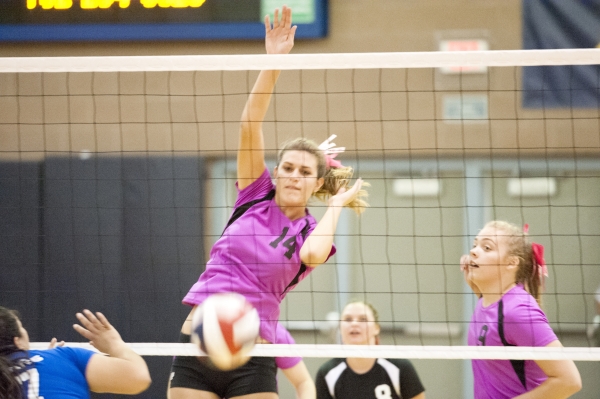 Finishing this past week's slate of games 4-3, the Lady Eagles (22-9 overall, 10-2 league) found moral victories to build upon despite dropping out of first place contention with their second consecutive loss to current division leader Virgin Valley.
Dropping a league-deciding match to the Bulldogs in four sets Monday on the road, 25-23, 19-25, 24-26, 15-25, the Eagles will now have to fight for a second place finish with an upcoming trip to Moapa Valley potentially serving as a tiebreaker for the two teams.
"It was a tough loss to Virgin to say the least," Boulder City head coach Cherise Hinman said. "We made adjustments throughout the match, which some worked and some didn't, but overall we just couldn't stop their serving and their offensive attacks. I thought we came out aggressive and looking for the win, but we just couldn't get the job done."
Running into a pair of the conference's most established players in senior Bernice Fiso and junior Janella Fiso of Virgin Valley, the Lady Eagles battled throughout Monday's contest, but simply couldn't find a way to put away the Bulldogs after winning the game's first set.
"They were simply on and we were off," Hinman said. "I think it was our mistakes that hurt us more than anything. We simply couldn't stop Bernice's attacks throughout the night. We looked good at different points, but it was just their night to win. The girls are fired up now more than ever and are excited to see them again hopefully at regionals. We would have liked to come out with a win, but maybe this is what they need."
While Monday's loss will be tough to swallow for the next few days, a Silver Bracket championship at the Catalina Foothills Falcon Tournament this past weekend certainly eases their pain.
"It was a fast trip for the girls but an important one I feel," Hinman said. "It was good first and foremost for the girls to get out of town and experience other teams. We wanted the girls to play against other elite teams in hopes of getting them ready for regionals. I'd say it was a great trip for us."
Coming from behind to win their bracket, the Lady Eagles opened the Arizona tournament with a 2-0 victory over Amphitheater, 25-10, 25-10, before falling to Sabino, 22-25, 16-25, and Salpointe Catholic, 17-25, 14-25, in straight sets. On day two of the event, the Lady Eagles would sweep Rio Rico, 25-12, 25-13, while pulling away from Gila Ridge in a third and deciding set, 19-25, 25-20, 15-8.
Standout performance from this past week of play includes seniors Tara Cox (70 assists, 15 aces, 15 digs, 10 kills and one block), Jaden Wood (40 kills, 22 digs, seven aces and three blocks) and (Bayden Huxford (six digs, eight kills and seven aces), along with junior Alea Lehr (45 assists, seven digs, seven aces and four kills) and sophomore Maggie Roe (36 digs, 32 kills, 12 aces and seven blocks).
Coming into Moapa Valley next Thursday, the lady Eagles know they can't reflect on anything from this past week, with their season potentially on the line.
"The girls know how important the Moapa game is," Hinman concluded. "It's going to be tough having to play them there on the road, but we've beaten them before and we're confident we can do it again. The girls know how much talent is on this team and when we play together like a team we're unstoppable. As long as we go there and do what we need to do, we should be able to come away with the second seed."
Furthering her coaches confidence Tuesday in practice, senior Libero Bayden Huxford said, "We beat them once and we'll beat them again," as she walked back to practice.
The girls will have senior night Tuesday against Chaparral before concluding the regular season next Thursday in Overton against the Pirates.
Contact Robert Vendettoli at BCRsports@gmail.com.