Lady Eagles easily defend region title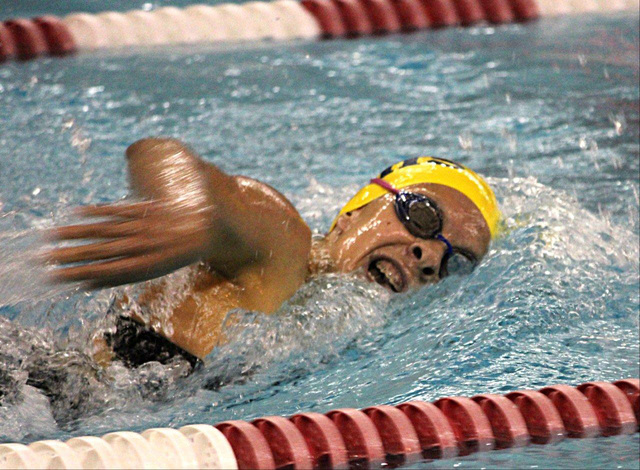 The Boulder City girls swimming team won every event it was entered and easily defended its Division I-A Southern Region championship Saturday at UNLV's Buchanan Natatorium.
The Lady Eagles, who did not have a diver entered in the diving competition, won 11 of 11 swimming races to score 602 team points and crush second-place Faith Lutheran, which had 407 points. The top four placers in each event in the region advance to the state meet.
The next step for the Lady Eagles is to repeat the domination this Saturday in the Division I-A state championships in a return to the Buchanan Natatorium.
The Lady Eagles set the tone early in the region meet, winning the opening event as Montana Lloyd, Natalie Grothe, Rachael Grothe and Alex Hubel set a meet record in the 200-yard medley relay with a time of 1 minute, 47.96 seconds to better last year's mark of 1:52.53.
Lloyd also set two individual records, including an impressive outing in the 100 backstroke where she swam 57.39 to break the minute-mark and shave nearly seven seconds off the previous record of 1:04.15.
In the 100 backstroke, Lloyd led a top-four Boulder City sweep. Rachael Grothe (1:00.4) was second, followed by Aubrey Klouse (1:05.1) and Sarah Estes (1:05.7).
Lloyd set the record in the 200 individual medley with a time of 2:10.05. Abby Sauerbrei (2:17.2) was second, Natalie Grothe was third (2:22.3) and Erin Warshefski (2:29.1) was fourth.
Hubel won the 50-yard freestyle in 23.4 seconds to edge teammate Jessica Purdy's 25.4.
Rachael Grothe dominated the 100 butterfly, winning in 56.09 to break her record (59.48) from last season. The Lady Eagles swept the top four spots as Purdy (59.7). was second, Sauerbrei (1:02.1) was third and Warshefski (1:05.8) was fourth.
Hubel led a top-three sweep in the 100-yard freestyle by swimming 50. 4 to set a record, bettering her own mark of 50.72 last year. Hubel beat teammate Becca Lelles (55.43) and Klouse (57.1).
"The winning 200 medley relay made an All-American consideration with their time, as Rachael with her time in the 100 fly," said Boulder City swim coach Sara Carroll, whose teams will try to bring home her sixth and seventh state titles in her 20 years of coaching at the school. Carroll previously has won four state titles with the boys and one with the girls.
"Alex made automatic All-American with her efforts in the 50 and 100 freestyle while setting the new school and region records. Rachael set the school and region mark in the 100 fly and Montana set the new records in the 100 backstroke and 200 medley," Carroll added.
"I was just so very proud of all the kids, those that set records and those that just swam their best and placed in so many events. We have 23 swimmers going to state from both the girls and boys teams. They did great."
In the 100-yard breaststroke, Natalie Grothe won in 1:09.1, followed by Lelles (1:10.2).
The Lady Eagles' team of Lloyd, Cori Molisee, Sauerbrei and Hubel won the 400 freestyle in a record time of 3:37.29 to break the previous mark of 3:40.11 that they set a year ago.
Molisee, Purdy, Lelles and Mandy Gebhart won the 200 freestyle relay in 1:42.6.
Molisee won the 200-yard individual freestyle in 1:53.9, while Gebhart was second (2:00.9), McKenzie Cummings (2:07.1) was third and Estes (2:09.3) was fourth.
In the 500-yard freestyle, Molisee swam 5:06.6 to win and beat two teammates. Gebhart (5:16.4) was second and Cummings (5:43.3) was third.