Lady Eagles defeat Western 52-24
December 3, 2014 - 2:30 pm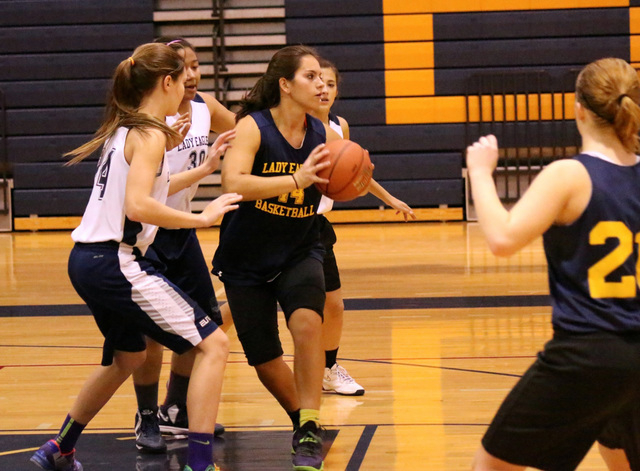 Junior forward Megan Morton scored 29 points as the Lady Eagles opened their season Tuesday night with a 52-24 road win at Western High.
A return trip to the state tournament this season for the Boulder City girls basketball team begins with a single game.
One down and 25 to go.
"It is a long season, and a long time before we can really talk about the state tournament, but this was a good way to start it," head coach Paul Dosch said. "It is a good win on a night when there were several distractions."
Three minutes into the game the downpour outside the school's gym began to find its way through cracks and onto the court. The varsity game had to be moved into the auxiliary gym and the boys and girls junior varsity and B squad games were canceled.
"Basically, it was raining inside the gym," Morton said. "But it was a good win to begin the season. We know one victory isn't going to get us to state, but it is a step in that direction. The plan is to win them all and return to state. It was frustrating getting to the final last season and losing. Our goal each game this season is to improve and to return to the final."
Morton provided the points as senior guards Katlyn Daly and Alyssa Ybarra led the offense with the ball handling and passing. Daly also scored eight points and had eight rebounds and five assists, while Ybarra scored seven points to go with her six rebounds and six assists.
But the star of the game, Dosch said, was forward Sam Hanson who was asked to guard Western's all-state forward Destiny Gonzalez and shut her down.
"Sam has a great game," Dosch said. "We asked her to step up and take Destiny out of her game, and Sam did just that, playing a great defensive game."
Dosch's first season a year ago ended with a 24-5 record overall and 11-1 in the Sunrise League. The Lady Eagles were the No. 1 seed in the playoffs, won the Southern Region championship and advanced to the state championship game. They have made the playoffs in six consecutive years and 15 of 16 years, missing only in 2008.
The Lady Eagles (1-0) do not play a Sunrise League game until Dec. 15 at Del Sol. They also had a game Wednesday at Foothill that was too late to report in this issue.
Boulder City begins play today in the Lake Mead Holiday Classic. They will play at least five games in three days.
"It is a tough opening schedule, starting with Foothill and then the holiday tournament, but it is to improve the team in the long run," Dosch sad. "The more they are tested now, the more time we will have to work on the areas we need."
After the busy weekend, they play Division I rival Basic on the road on at 5 p.m. Monday.
Soccer
Defender Victor Andrades and midfielder Oshauna Remy received postseason honors when the All-Sunrise League boys and girls soccer teams were announced Nov. 26.
Andrades and Remy each were selected to the Sunrise League second-team. No Boulder City players were chosen to the Southern Region all-star team.
Wrestling
Team Boulder will host the Boulder City Duals, considered by many coaches to be one of the best early season tournaments, this Saturday in their home gym. The event begins at 9 a.m.
"We are excited to get the season going and the BC Duals is always a tough event to see where everyone is this early," Eagles coach Jim Cox said.
The Eagles also had a tri-dual match Wednesday against Mojave and Legacy at Mojave.