Lady Eagles claim their second consecutive title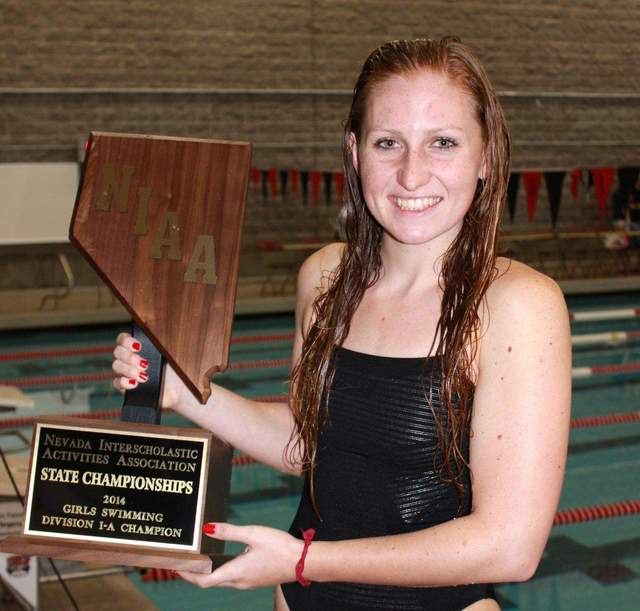 The Lady Eagles won nine of 11 events to dominate the Division I-A girls swimming state championships and claim their second consecutive title this past Saturday at UNLV's Buchanan Natatorium.
They also achieved a milestone by becoming the 100th athletic team at Boulder City High to win a state championship. Later in the day, the boys swimming team was credited with 101st.
The Lady Eagles were led by multiple winners — Cori Molisee, Montana Lloyd and Alex Hubel — as Boulder City scored 220 team points. Truckee was second with only 78 points.
For Boulder City coach Sara Carroll, in her 20th season, it was her second girls title to go along with seven boys state titles.
"What's really cool is that we are No. 100 in the school's history, and we all feel so proud of that," senior Molisee said. "But our goal this season was to become the first Boulder City girls swimming team to win back-to-back region and state championships, and we were able to do that.
"But it was a great finish to my high school career. Winning two events as a senior was a great feeling. I wish, though, that there was more competition and that we were challenged more. We had a great season. I will miss everyone here."
Molisee has received a scholarship to swim at New Mexico State University.
The Lady Eagles — Lloyd, Hubel and Rachael and Natalie Grothe — started the competition with a victory in the 200-yard medley relay, winning in 1 minute, 48.46 seconds.
The Lady Eagles continued with wins by Molisee in the 200 freestyle (1:54.25) and the 500 freestyle (5:06.74), and Hubel in the 50 freestyle (23.48) and the 100 freestyle (50.43).
"We are losing a really dynamic senior class," Hubel said. "They brought a lot of talent, as well as great team spirit. I look forward to continuing this tradition going into my senior year. I hope that in the new year and with new teammates joining us, we can continue to grow together as a team and defend our state championships."
Rachael Grothe followed by winning the 100 butterfly (56.94) and Lloyd winning the 100 backstroke (57.75).
Molisee, Jessica Purdy, Abby Sauerbrei and Mandy Gebhart won the 200 freestyle relay in 1:41.74. Molisee, Lloyd, Becca Lelles and Hubel won the 400 freestyle relay in 3:37.71.
Truckee's Brittney Straw broke up the Lady Eagles' sweep with victories in the 200 individual medley and the 100 breaststroke. Lloyd swam 2:11.66 to place second in the 200 individual medley to Straw, while Lady Eagles Sauerbrei (2:15.91) was third, Natalie Grothe was fourth and Erin Warshefski was seventh.
Gebhart (2:00.28) was second to Molisee in the 200 freestyle, MacKenzie Cummings (2:07.27) was third and Sarah Estes (2:10.34) was fourth.
Gebhart swam 5:25.71 to finish second to Molisee in the 500 freestyle, while Cummings (5:35.53) was third.
Purdy (25.63) was second to Hubel in the 50 freestyle. Purdy (1:00.59) was second to Rachael Grothe in the 100 butterfly, while Sauerbrei (1:00.94) was third and Warshefski (1:06.9) was fifth.
Lelles swam 55.85 to place second to Hubel in the 100-yard freestyle, while Aubrey Klouse (57.36) was fourth.
Rachael Grothe (1:01.84) was third to Lloyd in the 100-yard backstroke. Klouse (1:05.25) was fifth and Estes (1:05.85) was sixth.
Natalie Grothe (1:10.38) was second to Straw in the 100 breaststroke and Lelles (1:11.13) was third.
"We've just been very fortunate," Carroll said. "We've got a good group of really competitive kids. There's no drama, and everyone wants to make our team the best. Cori was there for us all season. She was so dependable and versatile.
"Alex was right on her All-American times from last week in the region and will finish pretty high on the All-American list for the 50 and 100 freestyle. Natalie and Rachael were solid in their senior performances and I was happy that McKenzie Cummings had a good meet, as did many of our underclassmen like Montana, Becca, Mandy, Sarah and Abby. Jessica and Erin gave us nice depth.
"This is such a deep, highly talented team that went unchallenged much of the year."