Lady Eagles capture title
February 25, 2015 - 1:39 pm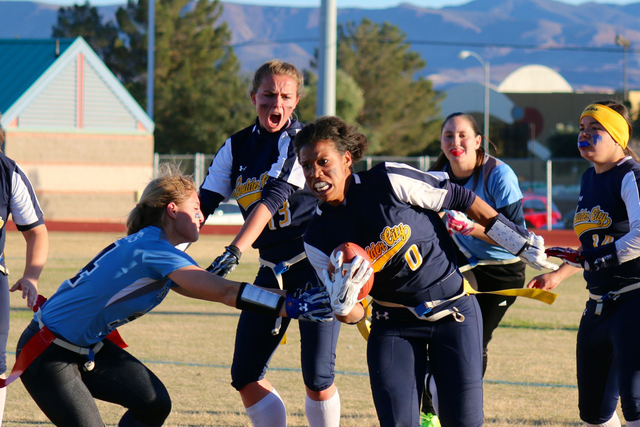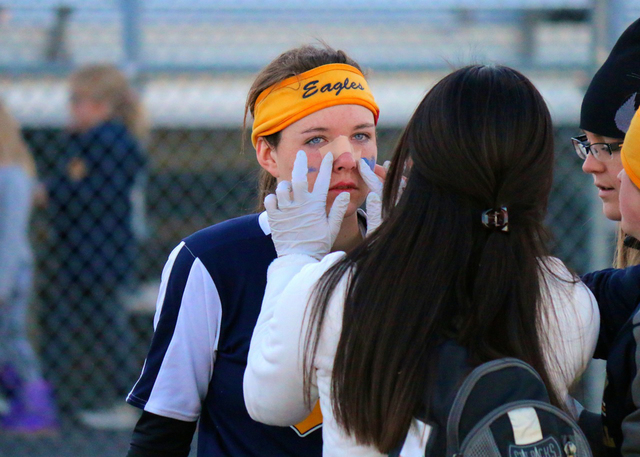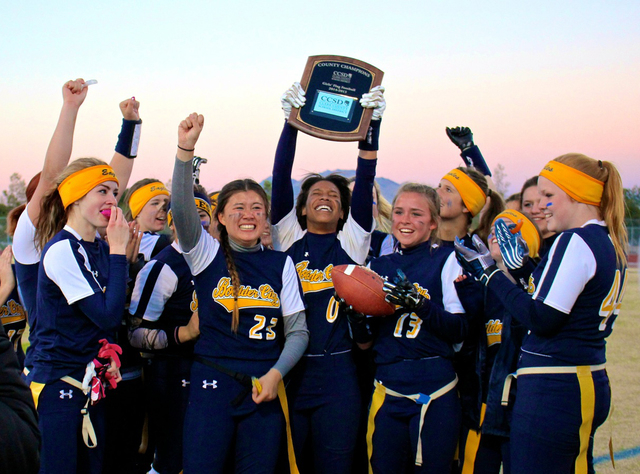 With just inches to go before Centennial quarterback Kiana Sai crossed the goal line, Boulder City defensive end Paige Buettner pulled the flag from her waist and it slowly fell to the ground.
The referees signaled "no good," and Sai looked at them with her mouth agape as a look of disbelief ran across her face. The Boulder City sideline erupted, and the play would stand as the game's ultimate difference as the Lady Eagles held on to beat Centennial 7-6 to win the Clark County School District championship Tuesday at Del Sol.
"I don't think I've ever ran that fast in my life," Buettner said about the crucial stop.
In a defensive battle where just getting past midfield proved to be challenging, Boulder City drew first blood after Buettner's goal-line dash up the middle capped a 60-yard drive to give the Lady Eagles a 7-0 lead with seven minutes to go in the first half.
As the second half wore on, both defenses held strong. Just minutes in, Boulder City's Oshanna Remy split her nose open after taking a knee to the face by a Centennial defender while trying to catch a low pass. As she laid on the field, blood ran from the bridge of her nose and trickled into her yellow headband.
Remy was patched up by the trainers, who eventually gave her the green light to go back on the field. The toughness was a microcosm of how both sides played during the biggest game of the season.
"It's just a cut. The trainer said I might need stitches but that's about it, Remy said. "That's the only time I got out of the game. I didn't like it, but I got back in."
Centennial matched Boulder City stop for stop, and the Lady Bulldogs were able to finally get on the scoreboard when Lauren Ritter took a 5-yard hand-off up the middle for a touchdown with 11 minutes left in the game.
For the game-tying extra point, Sai ran to the left and was inches away from converting when Buettner pulled her flag just before the ball crossed the plane.
"Our defense never would've let it happen, and we all knew that," Buettner said.
After both teams exchanged punts, Centennial took over with 3:45 left in the game. Boulder City continued to stymie the Lady Bulldogs' offense, and a sack by Buettner forced a second-and-long near midfield with 1:11 remaining.
But the Lady Bulldogs gained life after a questionable completion on third down made it fourth-and-5 from the Boulder City 25-yard line. With the game winding down, Sai's fourth-down pass fell incomplete, and Centennial turned the ball over on downs with less than a minute to go.
After a couple of knee downs by Boulder City's Jeanne Carmell, the clock struck zero and the Lady Eagles were champions.
"We knew that's what it was going to be (a defensive battle)," said Boulder City coach Chris Morelli. "They've got a great defense. We matched stop for stop with them."
The Lady Eagles' defense has been solid throughout the year, and Morelli said their toughness showed when it mattered most.
Boulder City's defense led them to the championship game after shutting out Green Valley and Foothill 18-0 and 20-0, respectively, earlier in the postseason.
"We played really tough games. A lot of these other teams, they've been playing blowouts, so a lot of times they can't finish a game because they haven't been in those high-pressure situations," he said.
Carmell, who was bottled up for most of the night, said Boulder City's defense was built for low-scoring games.
"I prefer more points, but when it's close, our defense is powered to stop them no matter what. We won't let them get anything," she said. "We wanted this so bad."
When Remy went down with the injured nose, Carmell was confident she'd get back in the game. It was a symbol of how the team played the entire season.
"We knew no matter what, if anything happened .. broken nose, broken finger … get it fixed and get back on the field," Carmell said. "That's how we played in this game today."
Buettner, who made big play after big play, said the Lady Eagles had the momentum after scoring that first touchdown. It's been happening all year, her teammates said, and is a major reason why Boulder City completed a perfect 22-0 season and left with the championship.
"It kind of went through our minds that's we were going to win this," Buettner said. "It feels empowering, and I'm ecstatic about it. I wouldn't have wanted to win it with any other girls."
Contact reporter Steven Slivka at sslivka@bouldercityreview.com or at 702-586-9401. Follow @StevenSlivka on Twitter.