Lady Eagles' basketball star Megan Morton signs with University of Cumberlands
February 17, 2016 - 3:21 pm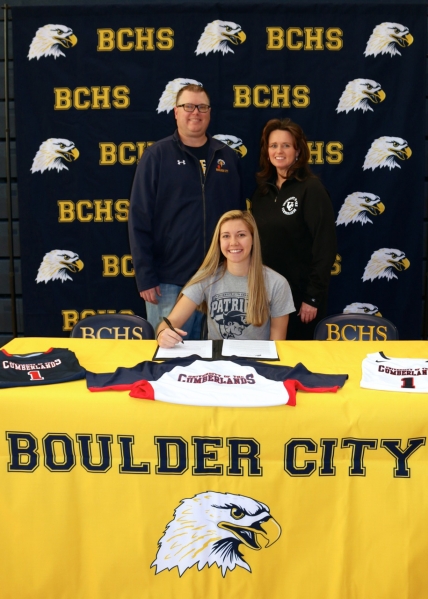 When senior Lady Eagles guard Megan Morton arrived in Williamsburg, Ky., to visit the University of the Cumberlands, she immediately knew this was the place she wanted to spend her collegiate days.
All she needed was Patriots head coach Melissa Irvin to reciprocate the feeling.
"The second we arrived in Kentucky, I knew this was the place I wanted to play my college ball at," Boulder City High student Morton said. "We arrived at night and the scenery was absolutely beautiful. It just felt like the right place to be from the start. Once I met the team and got settled in, it was a no-brainer for me. I decided to put off all my other offers and just wait for her to make the next move."
Morton's patience and determination to land that offer would pay off in time.
Known as one of Nevada high schools' most dynamic scorers regardless of classification, Morton developed a relationship with coach Irvin during her sophomore campaign, when the Lady Eagles' star and Patriots' head coach communicated at a summer camp. It wasn't until a third party entered the equation, however, that Irvin decided to pull the trigger on the hometown stud.
Serving as a key consultant throughout her recruiting process with University of the Cumberlands, boys head basketball coach John Balistere made a call to Irvin pleading the 19-year head coach to travel just under 2,000 miles to see a potential gem in game action. From there Morton would take the reins and deliver the performance Balistere had promised over the phone.
"I've known coach Irvin for a few years now, so I called her up and asked when was she going to get serious about Megan," Balistere said. "I told her she would get one of the top scorers in the state and I think that enticed her enough to make the trip and work Megan out and we just went from there. Megan had a phenomenal workout and we kept sending film off until Coach was ready to pull the trigger. I'm really excited for Megan and it was a joy to see her sign her letter of intent and sense the relief she gave off — that all the hard work we had put into in the gym together over the years had been worth it."
One of the hardest working players in the state, Morton has made improvements to her game each year with the Lady Eagles, showing off flashes this past season of becoming a complete player at the next level.
An absolute scoring machine, Morton led all scorers in Nevada, regardless of classification, with just under 22 points per game, while adding averages of 8.6 rebounds and 2.8 assists per game. A worker bee-type athlete, Morton has never settled for just being a scorer, upping her leadership role as well this past season for Boulder City in an all-out effort to prepare herself for the collegiate level.
"I can't express how proud I am of Megan," girls head coach Paul Dosch said. "It's been a long journey for Megan and it's a joy to know that she'll be off to college next year on a full ride. Not too many kids from Boulder City can say that about themselves when they graduate from here, but Megan's special. She's determined to be the very best that she can be and it shows daily. Everyone knows she can flat out score, but Cumberlands is getting a player capable of doing more than that. They got a gem."
Relieved that the recruiting process is over, Morton isn't taking any breaths following her signing with Cumberlands. Eager to make an impact in one of the National Association of Intercollegiate Athletics' most successful women's basketball programs, Morton is already thinking of ways to improve her game for next winter.
"Honestly, basketball never stops for me; this is my life, my passion," Morton said. "I'm excited to continue playing after high school and recognize this as a gift because not everyone gets to move on. I'm excited to play with my teammates next season and grow as a player. I'm never going to be satisfied with who I am as a player. I can always work harder to get better and will continue to put in the time and effort."
With Cumberlands being one of the top programs in the Mid-South Conference each season, Morton's signing looks like a win-win for both parties.
Contact Robert Vendettoli at BCRsports@gmail.com.