Lady Eagles advance in region play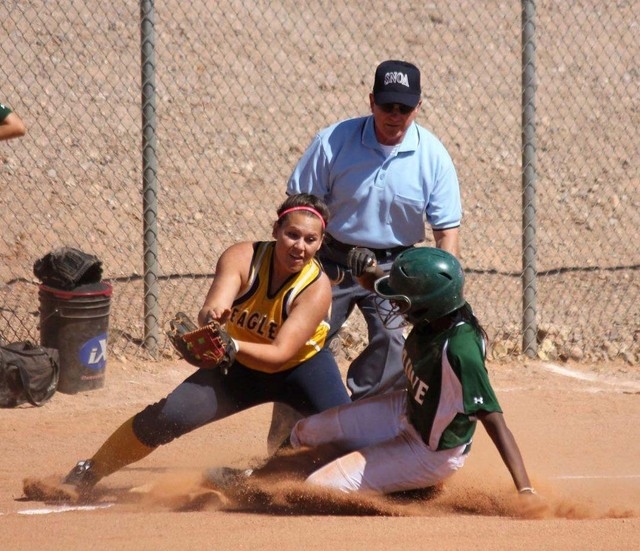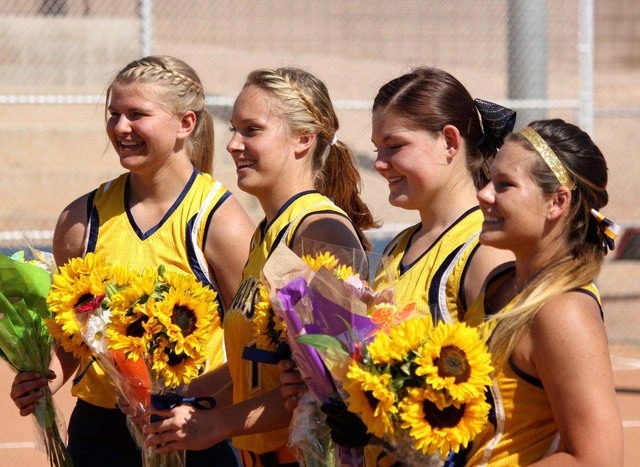 Sophomore pitcher Charlie Masterson dominated on the mound as Boulder City's softball team defeated visiting Mojave 14-4 in six innings Tuesday in the opening round of the Division I-A Southern Region Softball Tournament.
"It was a good start, but the girls know what we are playing for, and that's to be in Saturday's championship round," first-year head coach Angelica Moorhead said. "We have had a good season and we are playing well, but it's crunch time. It's playoff time."
The Eagles, the No. 1 seed from the Sunrise League, improved to 24-5 and advanced to play a second-round game at home Wednesday against Virgin Valley (11-19), which upset Cheyenne 8-7 on Tuesday.
Regardless of Wednesday's result, the Lady Eagles will play today in the double-elimination tournament. The region champion and runner-up each advance to the Division I-A state softball tournament May 22-24 at Bishop Manogue High School in Reno and at Hixson Field at the University of Nevada, Reno.
A victory against Virgin Valley, which Boulder City defeated twice this season (20-0 and 7-0), will advance the Lady Eagles into the winner's bracket to play at 5 p.m. today, facing either Faith Lutheran (20-12) or Pahrump Valley (20-13).
It is the key game because a victory today gives the Lady Eagles Friday off and a guaranteed berth in Saturday's region championship round and a semifinal berth at the state tournament.
Boulder City defeated Faith Lutheran 6-5 this season and twice defeated Pahrump Valley, 4-1 and 4-3.
Against Mojave, Megan Morton was 3-for-4 with two doubles and four RBIs, and the Lady Eagles had 23 hits of which nine were for extra bases.
Masterson, who had six strikeouts, threw only 70 pitches — 62 of them for strikes. At the plate, she was 2-for-4 with a double, a home run and three RBIs.
Jessica Embro went 4-for-4 with a double and one RBI, while Mickaela Brown went 3-for-4 with two doubles, Kaila Davis was 2-for-3 with a home run and two RBIs, and Nikki Schulz was 2-for-4 with a double.
"That's pretty incredible," Moorhead said. "Only eight balls in 70 pitches. We have a great one-two punch on the mound with Charlie and Mickaela."
An unlikely loss to Virgin Valley would drop the Lady Eagles into the elimination bracket at 1 p.m. today. All games today through Saturday's championship will be played at Mojave High.
"The team is playing well and we are get a lot of hits and runs so we are going to be tough to beat," Masterson said. "We won the regular season championship and now the goal is to get to the state tournament. To do that, we have to be playing and winning on Saturday."
Junior Alyssa Ybarra is trying to make it a triple state as a starter, having qualified for the state semifinal in volleyball and reaching the state championship final in basketball.
On May 8, the Lady Eagles celebrated Senior Day by bouncing visiting Sunrise Mountain 10-0 in the team's season finale.
Masterson went 3-for-3 and threw a two-hitter with 10 strikeouts as Boulder City won in five innings. Masterson doubled, homered and finished with four RBIs, while Summer Smith and Schulz each went 1-for-3 with a double and one RBI.