Ladies face tough battle to reach state tournament
February 18, 2015 - 1:09 pm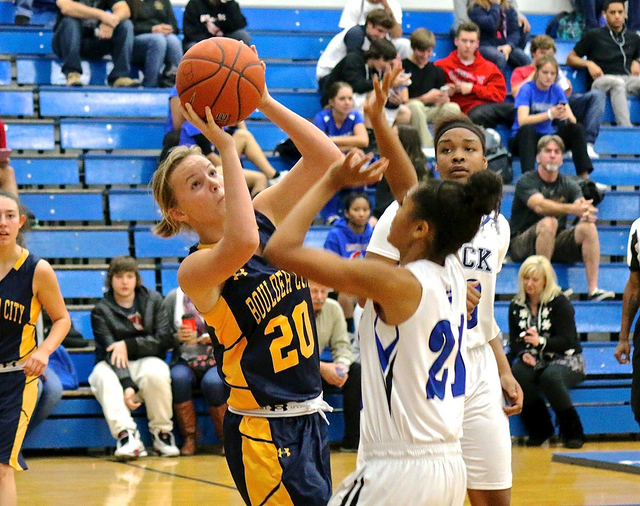 The Boulder City girls basketball team knew it would be a tough regional tournament, but playing No. 1 seed Spring Valley on its home court would be the worst possible scenario in the tournament.
But that is what is likely to happen.
Boulder City lost two of its final three league games and dropped to the No. 2 seed, which meant a tougher road through the Division I-A Southern Region tournament.
Even before playing Spring Valley (26-1) at 3 p.m. today, Boulder City would have to win an opening-round quarterfinal Wednesday night at home against Clark (11-13). The score of that game was too late to report in this issue.
Boulder City is 18-8 overall and 12-2 in the Sunrise League.
So, if Boulder City defeated Clark, the Lady Eagles get Spring Valley on their home court, where it is unbeaten this season.
"We kind of did this to ourselves by losing those two games at the end," senior guard Katlyn Daly said. "We controlled our own destiny and let it slip away. Now, we have the harder road to get back to the state tournament."
A win tonight against Spring Valley would be an upset, but the Lady Eagles have a reputation of playing aggressive defense and not backing down from any opponent.
"If we are playing Spring Valley, then we beat Clark and we have momentum," Daly said. "We are not going to just mail it in. We will play hard and let them know that we went to state last year and we know what it takes to get there. We will play as hard as we have all season. But the same goes for Clark, we have to go out and play so hard like it is our last game, because it is our last game if we lose."
The good news for the Lady Eagles is that victories against Clark and Spring Valley would earn them a berth not only in Saturday's Southern Region championship game, but in the state tournament, for the third consecutive year. The Southern Region champion and regional runner-up each advance to the state tournament.
It wasn't easy getting into the regional tournament with a good seeding.
After winning their first 11 games and being the favorite to win the Sunrise League and be the No. 1 seed, the Lady Eagles suddenly struggled to hit their outside shots and were beaten twice in their final three games, losing on the road to Desert Pines and at home to Chaparral.
The two loses enabled Chaparral (18-6 overall and 12-2 in the league) to claim the No. 1 seed from the league and get an easier draw in the regional tournament, thus avoiding Spring Valley until the final when both teams would have already been assured a spot in the state's Final Four.
Instead, the Lady Eagles will play at Spring Valley in an elimination game.
"The stage is set for a few big victories," Daly said. "We have a great group of players and a great team, and if we don't make it out of the tournament, it won't be for lack of trying. We will go down giving it all we have to give."
Boulder City reached the state championship game in 2014 and was a semifinalist in 2013.
Boys' basketball season ends
The Eagles lost their final game of the season 53-35 last Thursday to Virgin Valley in Mesquite. Senior guard Tyler Newby led the Eagles with 18 points.
The Eagles ended the season with a 10-15 record overall and 5-9 in the Sunrise League. A year ago they ended 10-13 overall.
"This season obviously wasn't what we had hoped for, but this group was so relentless battling all the way. They just never gave up," coach John Balistere said. "They always gave us a great effort. Our seniors will be sadly missed and hard to replace. It was an absolute honor and a privilege to coach this group. We had some great times on and off the court."