Koopman pitches perfect game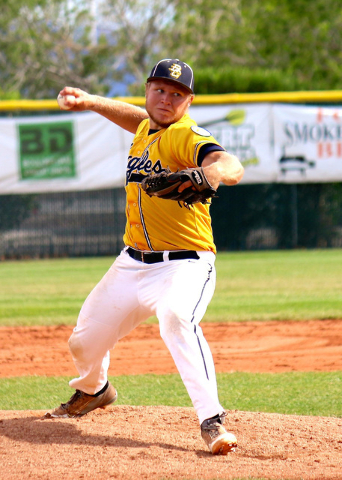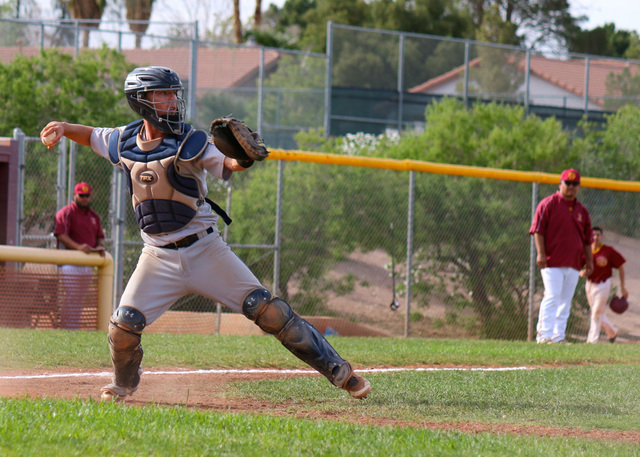 Closing in on what could be a 20-win career with the Eagles, senior starting pitcher Peyton Koopman has provided Boulder City High School with several standout performances throughout his storied four-year tenure with the program. With all the significance surrounding Monday's glorious performance against Virgin Valley, it almost seems like business as usual for the star Eagle.
Koopman, highly recognized as one of the top pitchers in the Division I-A ranks, has thrown a few no-hitters in his career, flirting with the possibility at times of a perfect game. Following Monday's contest with the Bulldogs, in which he struck out 12 batters, Koopman's flirtation has finally been fulfilled, creating not only a lasting memory for the heralded senior, but the type of team-bonding experience head coach Bobby Reese was hoping for heading into the final stretch of the season.
"Monday was a lot of fun," Reese said. "We had planned to only throw Peyton three innings, just to give some other guys an opportunity to throw, but after three innings, we looked at the book and he had struck out the last seven batters he had faced. At that time, the coaching staff got together and the question was, without using the words no-hitter or perfect game, "Have you ever had one?" I was the only coach that said yes, coaching (Preston) Van Diest in Little League, when he was 12 years old. So we all agreed to let him go for it."
By letting their workhorse chase history, senior Austin Wishard sacrificed his own playing time on Monday, deepening the team's bond that Reese is hopefully will carry the Eagles into the postseason.
"Wishard was scheduled to pitch the last two innings for us on Monday, but said 'Of course coach, let's go for the perfect game.' (It's) very cool how it all worked out. (It) was nice to see Wishard and others set aside individual goals or playing time to make this happen," Reese said. "If we can make a magical run and the stars line up for us, I think we will all look back at this game and know how it changed our season."
Coming up clutch at the plate as well, Koopman batted three-for-four on the day while driving in three runs with a triple and a double for the Eagles, while senior Nolan DeSantis drove in a trio of runs as well on a triple giving the team a 10-0 victory.
Advancing to 11-0 in league play, the Eagles also routed Del Sol on April 21 15-2, behind a three RBI performance from senior Steve Wagner, while seniors Mike Morelli and Zach Murphy and junior Kodey Rahr drove in a pair of runs as well against the Dragons.
Wagner, was credited with the victory against the Dragons.
Hosting Spring Valley on Friday, the Eagles will get a firsthand look at what type of momentum Koopman's perfect game has brought to the team. With the Grizzlies presumed to be one of the state tournament favorites out of the Division I-A Sunset League, Friday's contest will be a great measuring stick to see where Boulder City stacks up with elite competition.
Contact Robert Vendettoli at BCR sports@gmail.com.
Upcoming games
■ Friday, vs. Spring Valley, 3:30 p.m. varsity; 3:30 p.m. at Spring Valley, junior varsity
■ Tuesday, vs. Chaparral, 3:30 p.m., varsity; 3:30 at Chaparral, junior varsity