Koopman focused on future, picks CSN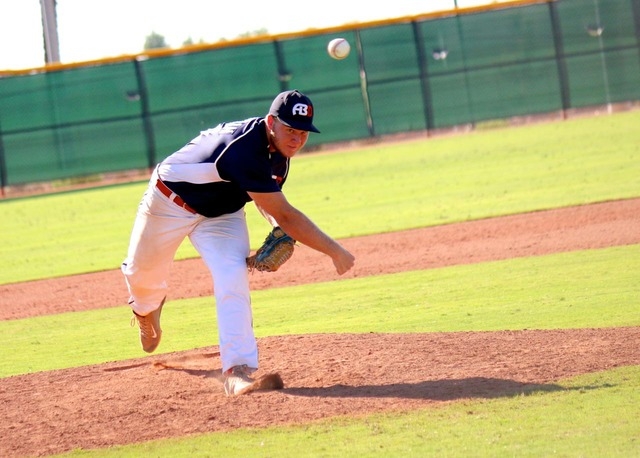 Boulder City High's two-way star Peyton Koopman will find himself in good company next season, staying home to play for local junior college power College of Southern Nevada with a handful of the state's premier prospects.
"I chose the College of Southern Nevada because I've wanted to go there for a while now," Koopman said. "I knew they were one of the top junior colleges in the nation. It feels good to stay home. I've played on that field before so I think that will make an easier transfer for me."
Following five Coyotes: Mikey York (Tampa Bay Rays, fifth round), Tyler Hallead (Philadelphia Phillies, 24th round), Gabe Gonzalez (Arizona Diamondbacks, 27th round), Brody Westmoreland (Houston Astros, 30th round) and Jordan Hand (New York Mets, 39th round) being drafted this past weekend during the first-year Major League Baseball draft, Koopman has the opportunity to follow in their footsteps as part of a continually growing recruiting class for CSN head coach Nick Garritano.
"I think this is the perfect place for him to succeed," Boulder City head coach Bobby Reese said. "CSN is a great fit for Peyton. I truly believe he will step up to the challenge and be a great outfielder for them. I know they're getting a very hard worker and a coachable kid. He's someone who can go in there and compete with the ability to hit, plus (he) pitches consistently. I am looking forward to seeing him excel at the next level."
A consistent national power in the Scenic West Athletic Conference with a strong professional pipeline and collegiate pedigree, the Coyotes have had 22 players drafted since Garritano took over the program in 2010, with at least two players drafted in each of his six seasons, excluding 2012 where the Coyotes didn't field a prospect.
Inviting several junior collegiate powerhouses to their home for preseason kick-off tournaments at Morse Field, the College of Southern Nevada is usually visited by professional and Division I collegiate scouts during late January and February, making the Coyotes a premier destination for players looking to extend their careers beyond the program.
"That aspect of the program impacted my decision quite a bit," Koopman said. "I want a school that will give me the best chance at extending my career as a baseball player and this is the best option. I'm very happy of where I'm going. I can't wait to get started and be a Coyote."
Coming to the Coyotes with a strong pedigree of his own, Koopman looks to parlay his four-year success with the Eagles into a starting role at the next level.
A career .407 hitter for the Eagles, Koopman amassed 151 hits during his tenure, tallying 115 RBIs, 29 doubles, 11 triples and nine home runs. Despite coming into the collegiate ranks with arguably some of the best statistics in town, Koopman is still hard at work to become a better player.
"This summer I'm going to the gym, keeping myself in shape and going to the field at least four times a week," he said. . "I'm going to keep my arm in shape and my swing dialed in. I'm preparing to be ready."
A first-team All-State selection this past season as well as Southern Nevada Division I-A player of the year, Koopman finished his senior campaign with a .504 batting average with 41 runs batted in, 11 doubles and three triples and home runs apiece.
Contact Robert Vendettoli at BCRsports@gmail.com.