Individual state championships elude wrestlers
February 26, 2014 - 2:01 pm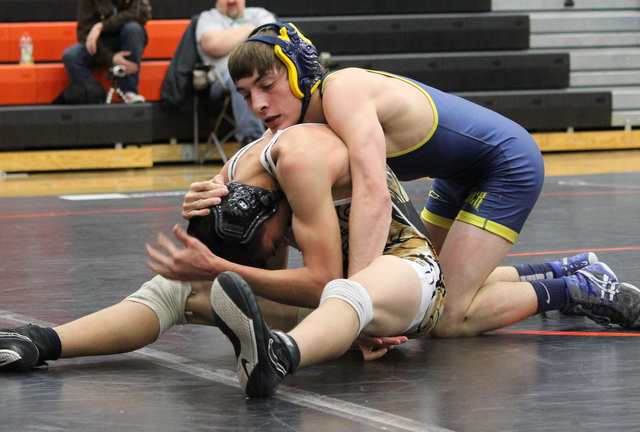 For the first time in five seasons, Team Boulder walked out of the Division 1-A state tournament without an individual champion.
While Team Boulder had some excellent efforts, the championship eluded the seven state qualifiers during the championships played Saturday at the Primm Valley Resort's Star of the Desert Arena.
Boulder City's Collin Fox lost the state championship match at 120 pounds to Virgin Valley's Juan Dominquez, who won by fall in 5 minutes, 14 seconds.
In his semifinal, Fox defeated Lowry's Kevin Blanco in a 6-1 decision. In his quarterfinal, Fox scored a 13-2 major decision over Payden Shafer of Spring Creek.
Nelson Van Diest (182) lost his semifinal match to Fernley's Erik Wilson by pin at 3:04. Van Diest pinned Lowry's Jed Johnson to win his quarterfinal match.
Team Boulder's wrestlers scored 28 team points as the Eagles finished tied for 11th in the team competition at Buffalo Bill's Star of the Desert Arena in Primm.
Lowry easily won its 16th state team championship, and sixth in a row. The Buckaroos had 151 points. Churchill County was second with 117.5.
Brady Branscum (106 pounds) lost by pin in 1:28 to Lowry's Trase Bell in the quarterfinal.
Tyler Rushworth (132) lost his quarterfinal by pin to Lowry's Eric Brooks in 1:43.
Patrick Garvin (138) lost his quarterfinal to Lowry's Gabe Molina by pin in 1:33.
Dylan Dennington (152) lost a 12-0 major decision to Lowry's Brandon Okuma in the quarterfinal.
Jackson Dunagan (220) lost his quarterfinal to Churchill County's Richard Rogers by pin at 3:12.