Hinman's resilience strengthens team
August 27, 2014 - 2:39 pm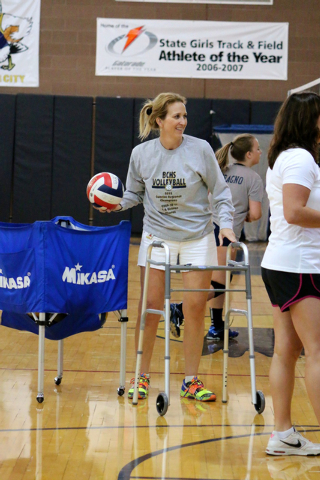 Nothing was going to keep Boulder City girls volleyball coach Cherise Hinman off the court, not even a walker or a cane.
Hinman enters her 20th season of high school coaching and her 17th as head coach of the Lady Eagles, but her first attempting to coach with limited mobility while recovering from major knee reconstruction. Hinman had right knee replacement in July to repair an old injury from her playing days.
She has worked her way back to limping, sometimes using a cane, sometimes hopping from one end of the court to the other.
"This isn't easy," Hinman explains between hops. "It is an old sports injury and this was my fifth surgery on the knee. But I am doing much better and concentrating on the new season helps get my mind off it."
Hinman has always proved resilient and resourceful, building Boulder City into one of the state's top programs.
The Lady Eagles have reached the playoffs in 17 consecutive seasons. A year ago, the team reached the state tournament. It was their fourth trip to the state's final four in five seasons.
Past seasons featured superstar players such as outside hitter Whitney Barlow (2013 and 2012) and setter Avalon Frantz (2012 and 2011). Both all-state players are considered among a handful of the best to ever play at Boulder City.
"This year, there is no one go-to player, but we do have a few very capable seniors and a lot of young talent," Hinman said. "We will share the wealth. A lot more players will need to step up at crucial times.
"This season will be more about a team success than a few key players. Our goal is to bring home our sixth league title and again qualify for the state tournament."
Senior Alyssa Ybarra has a theory on Boulder City's ability to pull it all together and make the playoffs each season despite the level of skilled players.
"It's coach Hinman," said Ybarra, the libero (defensive specialist). "She works hard to make sure she has a solid program down to the freshmen and B squads. She makes sure we have a summer camp to play in and club ball for those with the ability. She works year-round so that when the season comes around not only is she prepared, but that all of her players are ready to compete at the highest level."
To that end, the Lady Eagles open their season this weekend in the Las Vegas High Invitational, where they will play seven matches in two days.
Each of the past four seasons, the Lady Eagles started the season in the very competitive tournament and have never come out of it with a winning record. But the number of losses they suffered the remainder of the season were few as they went on to win the league championship each year.
"We trade wins and losses in the opening tournament for experience and the opportunity to see the kids perform under pressure against top-level competition and larger schools. It always gives us a chance to make changes and find team chemistry. It prepares us for the league schedule," Hinman said.
A year ago, Boulder City finished 22-11 overall and 12-0 in the Sunrise League. The Lady Eagles have won the league title many times and have had many all-league players. Hinman has been chosen Coach of the Year several times by the Southern Nevada Volleyball Coaches Association, but what Hinman and the Lady Eagles are aiming for is the coveted state championship.
Boulder City last played for the title in 2011, and last won the state championship in 1989.
"We would like to bring that date into the modern era," said senior hitter Sam Hanson. "It is a goal of ours to win state, but first you have to do everything needed just to get there. But you have to think big to be big. We have the ability to get there, Boulder City has proven that in the past. But it would be special to be the team that finally won the championship."
After the season-opening tournament, the Lady Eagles play Tuesday at Division I Desert Oasis. They play Division I opponent Basic in their home opener Sept. 9 and start Sunrise League play Sept. 11 at new-league opponent Del Sol.
The other top players Hinman will be counting on are senior outside hitter Lauren Pocius (93 kills, 40 blocks), middle blocker Kinsey Smyth (49 blocks) and outside hitter Jaden Wood (150 kills). Ybarra had 438 digs last season.
Hinman said each team and each season is different and special in its own way. But this season, Hinman will get to coach her daughter Maggie Roe. At 6 feet, 1 inch, she is the tallest player on the team and can be a formidable player on the front line.
"I've coached her in club ball, but it will be different and special to do it for an entire high school season," said Hinman, who also will try to break away from volleyball when possible to see her all-league football-playing son Brooks Roe play his final season at Boulder City. "It's going to be a busy fall season, but I think it will be a very successful one for all of us."