High school teams gear up for new season
August 6, 2014 - 12:39 pm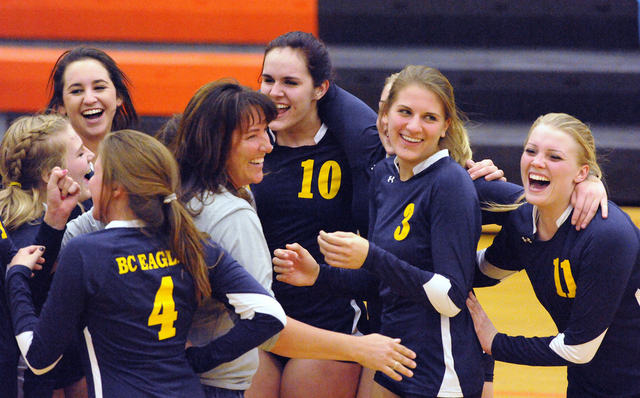 Nine athletic teams at Boulder City High return to their athletic venues in August for the start of the 2014-2015 school year.
The main sports are football for boys and volleyball for girls, where both teams made the playoffs last season and determined to excel this season.
The other seven sports are boys and girls soccer, boys and girls tennis, boys and girls cross-country and girls golf.
All athletes must pass a physical before they are allowed to compete.
Football, coached by Alex Kazel, begins Tuesday with three days of heat acclamation practices.
The team has been weight-lifting from 8-10 a.m. Monday through Thursday.
"I am hoping to get everyone out early, so we can see where we stand as a roster when practices begin," Kazel said.
Volleyball, coached by Cherise Hinman, reached the Division I-A state tournament last season.
The Lady Eagles started open gym Tuesday. The annual Lady Eagles volleyball camp runs from 8:30 a.m. to 3:30 p.m. Tuesday and Wednesday.
"We took most of the summer off, but we are ready to get back to the court and put together this year's team and compete," said Hinman, who is entering her 20th season.
Official tryouts are Aug. 18-20 and practices begin Aug. 21. More information is available at www.bouldercityvolleyball.com.
The boys soccer team, coached by Frank Pimental, and the girls soccer team, coached by Duncan Stark, held summer intramurals and have been working on team drills and chemistry in preparation for the season.
"I think we had a good summer of intramural practices and we are looking forward to the fall season and playing our games to compete," Pimental said.
The boys and girls cross-country teams, coached by Canaan Petersen, have been running as individuals and will begin official practices later in the month, with the season starting in September.
"The athletes here at Boulder City always seem to get the job done," Petersen said. "I know the runners were working on their own this summer and they will be ready to challenge for the league title as in past years."
The boys and girls tennis teams, coached by Eric Speaker, will have intramurals beginning Aug. 14, with official practices starting Aug. 16.
The girls golf team, coached by Regina Quintero, has been very competitive in recent seasons. The athletes have been working on their own during the summer.
For more information on individual sports or Eagles athletics, each coach can be reached at the school at 702-799-8200.