High school sports back in full swing
August 29, 2013 - 1:02 am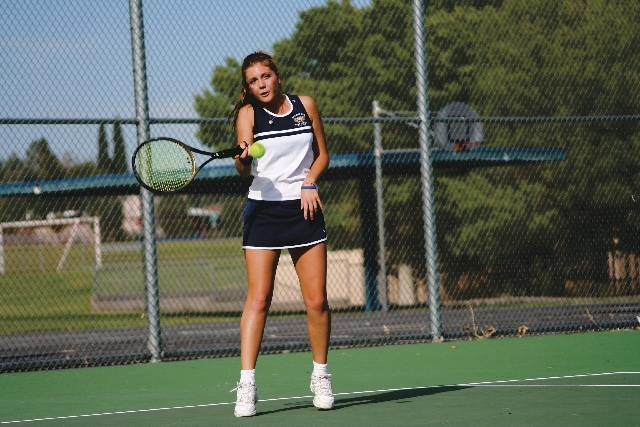 With the return of students to the classroom this week, it also marks the return of high school athletes to competition.
Football and girls volleyball start competition Friday (see stories on page 10A), two of the school's higher-profile sports teams.
However, seven other Eagles teams will be competing in the fall season.
Boys soccer takes the field 5:30 p.m. Tuesday hosting Pahrump Valley. The team has made the Southern Region playoffs eight straight years, and finished third in the 1-A Sunrise League last season.
Top returning goal scorer is senior Yann Moncayo, who had 10 goals and two assists last season. Junior Victor Andrades, who had seven goals and five assists, is also among the four starters returning.
"The loss of 13 seniors due to graduation will definitely take a toll on us this year," third-year coach Frank Pimente said. "A predominantly young team and lack of experience will be our biggest obstacle. It's safe to say that it's a complete rebuilding year."
The boys and girls tennis teams also have their first match on Tuesday, a league match at Tech.
The Lady Eagles are defending Sunrise League champions led by senior Aiyana Donske and junior Melissa O'Berto.
"We have a good nucleus returning from last year," said Eric Speaker, who is coaching his 12th season. "We will try to build on last year's success."
While the girls finished 12-2 last season, the boys team grabbed fourth place and a playoff spot despite a 6-8 record. Many top players are gone from last season.
"Graduations will have an impact on this year's team," Speaker said.
The girls golf team hits the links 11 a.m. Tuesday with a Sunrise meet at Falcon Ridge. The team missed the playoffs for the first time in four years.
However, senior Jordyn Syler finished fourth at the state meet in 2012.
"We would like to see her battle for individual medalist at region and state," said school athletic director Regina Quintero, who is in her 18th season as golf coach. "Mariah Harvey will be vastly improved, and we're hoping her scores will steadily drop after a summer of working on her game."
Boys and girls cross-country teams will compete in their first meet Sept. 7 at Veterans Memorial Park. The Larry Burgess Invitational will start at 8 a.m.
The boys team will be led by seniors Evan Klouse and Chandler Harkins, while the Lady Eagles will look to seniors Niquel Nusseur and Madison Sargeant, both of whom are three-year runners.
Six of the teams' seven meets are in Boulder City, either at Veterans or Hemenway Park. The Southern Region meet is Nov. 2 at Veterans. The state meet is in Reno.
The girls soccer team is the last program to take the field with a Sept. 9 match at Basic. The Lady Eagles, which finished 8-7-1 last year, will debut at home two days later against Cheyenne. Both games are at 3 p.m.
The team, which is led by longtime coach Duncan Stark, has made the region playoffs 14 consecutive years.