Hard-fought win boosts baseball team's confidence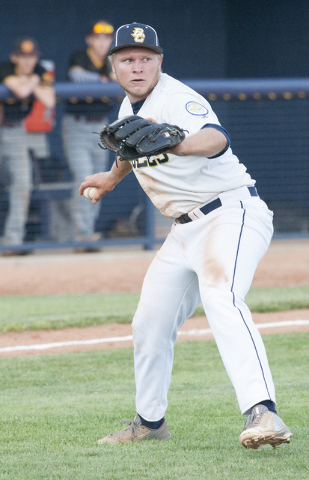 It's not always how you win that's important, but just the fact that you came away with a victory. That's the sentiment at Boulder City this week for the Eagles' baseball program following an ugly-but-effective victory against Sierra Vista on Monday.
"It was a huge victory for us," Boulder City senior pitcher Steve Wagner said. "I thought it shows that we can battle back and that we are willing to fight until the last out. We played with heart and as a team. That was a playoff-caliber team we faced off against and it shows that we are here to compete."
After allowing four runs on the road in the first inning to the Mountain Lions, the Eagles rallied back in the seventh inning with a pair of runs to knot the game at 5-5 for extra innings.
Courtesy of pitching by Sierra Vista's bullpen, Boulder City needed just one hit in the eighth inning to score four runs to hold off host Sierra Vista, 9-6. Junior Kodey Rahr led off the eighth-inning rally with a single for the Eagles, who were later helped by a pair of hit batters, an intentional walk and an error to escape with another victory to advance to 9-5 on the season.
"Our team's current mindset is that we need to keep playing hard and find ways to win games," Wagner said. "We are the big dogs in our league so we have to keep setting the tone with big wins to show that we are here to win and play hard."
Senior Eagles' slugger Peyton Koopman led the charge for Boulder City on Monday, batting three-for-five on the day, with a pair of doubles and a game-high four RBIs, while Rahr batted two-for-four with a run for the Eagles.
"Our offense is strong and is capable of carrying us through tough games," Wagner added. "We have the chance to put up double-digits run each game because we take what our coaches preach to heart and that's quality team at bats. We are aggressive but also patient at the plate and we can hit the ball very well from anywhere in our lineup. If we continue to be aggressive but disciplined, it will help us win close games."
Following an outing in which junior Jake Hubel pitched solidly, allowing five runs on eight hits and three strikeouts in six innings, junior Steve Mull earned the victory after a two-inning relief stint in which he allowed just one unearned run on two hits.
"Our pitching staff is full of great pitchers and a lot of guys that can go the distance," Wagner said. "We have to keep working hard in practice and keep playing well in games like we have been. As a pitching staff, we set the tone for our defense and we show teams that no matter who we throw we're going to be tough and compete. Top to bottom, we know everyone of us can go out and pick up the victory. We are really blessed to have such great pitching staff."
Prior to the Eagles' dramatic nonconference victory over Sierra Vista, the team blew past league opponents Del Sol 16-4 and Virgin Valley 12-1, before falling to Colorado opponent Northridge in between 4-2.
"We hate to lose, but we can take a lot of positive things from the loss at Northridge," Wagner concluded. "It shows that defense wins games and it taught us to never give up."
Koopman earned the victory against the Dragons, striking out six batters while allowing four runs on four hits during the Eagles' five-inning mercy rule game. Junior Preston Van Diest picked up the victory over the Bulldogs, striking out eight batters while allowing just one run in the Eagles' five-inning mercy rule outing as well.
Details of their Wednesday game against Southeast Career Technical Academy will be in next week's issue.
The Eagles will resume their schedule Friday with a league match on the road against Chaparral.
Contact Robert Vendettoli at BCRsports@gmail.com.