Gomez heads to Cornell after breaking 30-year-old discus record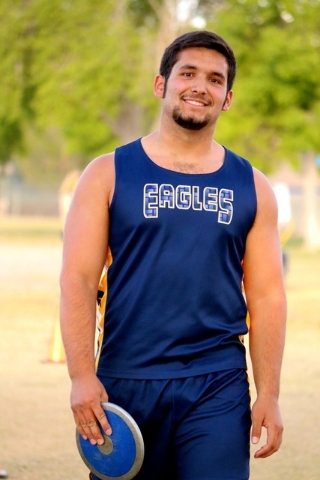 Every so often an athlete as talented as senior Sam Gomez will walk onto the field at Boulder City High School and dazzle the crowd with yet another unforgettable performance. While athletic accomplishments are meant to be duplicated, the work ethic and desire to be a champion cannot. This is where Gomez will and has always separated himself from the pack.
"Sam meant a great deal to this program," Boulder City head coach Joshua Fisher said. "He was not only our top point scorer, but a great role model. When he was busy going on recruiting trips, taking AP (Advanced Placement) exams, and the plethora of other things he was involved in, he still made it a point to practice. His work ethic epitomizes the saying, 'Practice makes perfect.' He would contact me and say, 'Coach, I have such and such going on,' then when he finished, he would come out, do our full warm up and then practice. He was a perfectionist and it paid off during his career."
The phrase perfectionist is certainly the right word to describe Gomez, a four-year contributor for the Eagles' track and field program, where he won a pair of discus state titles and current holds the school's record for the longest discus throw with a heave of 189-11, a mark that stood for 30 years before his throw.
One could get the feeling that Gomez should be satisfied with how his prep career had played out, however, they don't understand the scrutiny and high standards the discus phenom holds himself to.
"When I think about the record, I appreciate it; I think about all the things I did wrong and how I should've worked harder to leave a more lasting imprint on the school's program," Gomez said. "I definitely am super thankful to have been part of such a supportive program, and I will really miss the encouragement of the entire school, let alone my fellow teammates and my coaches.
"I just wish I had done some things differently — possibly left a greater impact on the field."
It is this type of attitude, that coach Fisher referred to and Gomez has displayed that will help him succeed at the next level.
Heading off to Ivy League program Cornell University in Ithaca, New York, this summer, Gomez said he is ready for a new experience, and ready to leave a lasting imprint this time around.
"The Ivy League has greatly improved its performances recently," Gomez said. "I'm excited to have to start from the bottom and prove myself again as I progress."
Choosing academic before athletics, Gomez, who was one of four BCHS valedictorians this year, feels he made the best decision possible, stating that the program is integrated with a solid mixture of both.
"I chose Cornell because it was the best university that I was accepted to," Gomez said. "I feel I have the chance to compete at a higher level in college athletics and academics. Both the campus and the facilities are top notch. It's exciting."
A lot of athletes have physical tools that can't be matched by their competitors. Gomez, was blessed not only with these physical traits, but tools between the ears as one of the brightest young men coach Fisher has come across during his tenure. A truly special athlete, the accolades and performances of Gomez may be duplicated down the road, but the heart and determination the senior showed will most likely never be matched. "Sam's results are a direct reflection of the time he put in," Fisher said. "Because of it, he gets to utilize his academic and athletic talents at one of our most prestigious Ivy League schools. He is a Division I athlete getting to work with one of the nation's best throwing coaches. I can't wait to see what he does with his talents. He has established his own legacy at Boulder City High School and one that quite frankly may never be touched."
Contact Robert Vendettoli at BCRsports@gmail.com.