Golfers open league play with win in Mesquite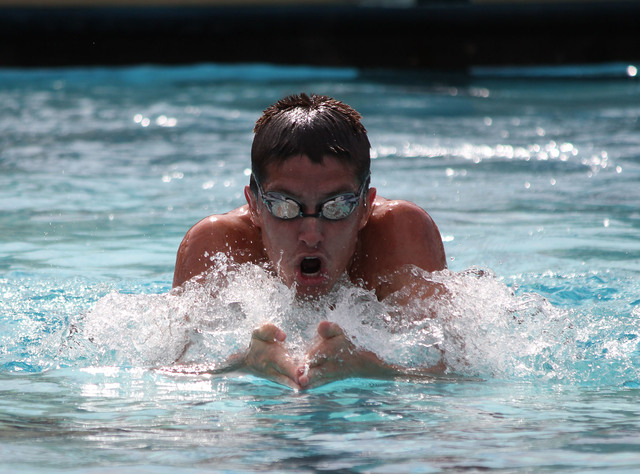 Luke Logan carded an even-par 71 in cold, windy weather at Falcon Ridge March 26 to help Boulder City's boys golf team win the Sunrise League opening match. The Eagles had a team score of 402 to beat seven teams, while Moapa Valley was second at 476. Marcus Walker added an 80, and Kyler Atkinson shot 81 for the Eagles.
"Obviously, Luke had a great match at Falcon Ridge," coach Regina Quintero said. "It was cold and windy for the front nine, then we had a short rain delay after nine holes, and then they played in light rain for a few holes and finally under a sunny sky for the last couple of holes."
Quintero praised several other Eagles for playing well.
"Marcus Walker has been playing well and he shot 80 at Falcon Ridge. It was a great score for him considering the weather, too," Quintero said. "Marcus has been working hard on his complete game, off the tee, short irons, putting and the mental game."
Atkinson has been steady as the No. 2-3 player and finished with an 81 at Falcon Ridge. Christian Hudleson also is doing well and has come in with an 82 this season.
"We are looking to improve all scores anywhere from one to five strokes," Quintero said. "We are working hard to turn in a team score under 400. It would be nice if we could get into the 380 area. If we can do that, I think we might have a chance of making a run for the state championship. But it is still early in the season, and as long as they continue to put in the quality time on their games, they should continue to improve."
Swimming
Jared Smith and Joey Gebhart each won two events to lead the Eagles to a 197-52 win at the Henderson Multigenerational Outdoor Competition Pool Saturday. Smith won the 200 freestyle in 1 minute, 44.82 seconds and won the 100 backstroke in 52.33. Gebhart was first in both the 200 individual medley (2:04.27) and the 500 freestyle (4:59.36).
Alex Hubel, Rachael Grothe and Montana Lloyd each won two events as the Lady Eagles beat Chaparral 221-43. Hubel won the 100 freestyle in 51.74 and the 200 individual medley in 2:11.68. Grothe won the 100 butterfly in 59.41 and the 100 backstroke in 1:03.84. Lloyd won the 200 freestyle in 1:59.44 and the 500 freestyle in 5:18.74.
Boulder City's boys and girls teams will square off with highly regarded Coronado at 8:30 a.m. Saturday at the multigenerational pool.
"We have been doing well so far, but with little hiccups like illnesses, missed practices and injuries," coach Sara Carroll said. "The big test is Saturday against Coronado mainly because they have a lot of divers that will score lots of team points, and they are a large team full of club swimmers.
"We have a lot of swimmers doing well, and I would include Sarah Estes and Nick Lara in that group. They have both been swimming very well and helping the their team."
She added, "I am really impressed so far with Evan Klouse and I have seen big improvement from Lane Worrall and Jared Mooney. The leadership of the captains is impressive and the kids are good at helping each other."