Golf team best in the state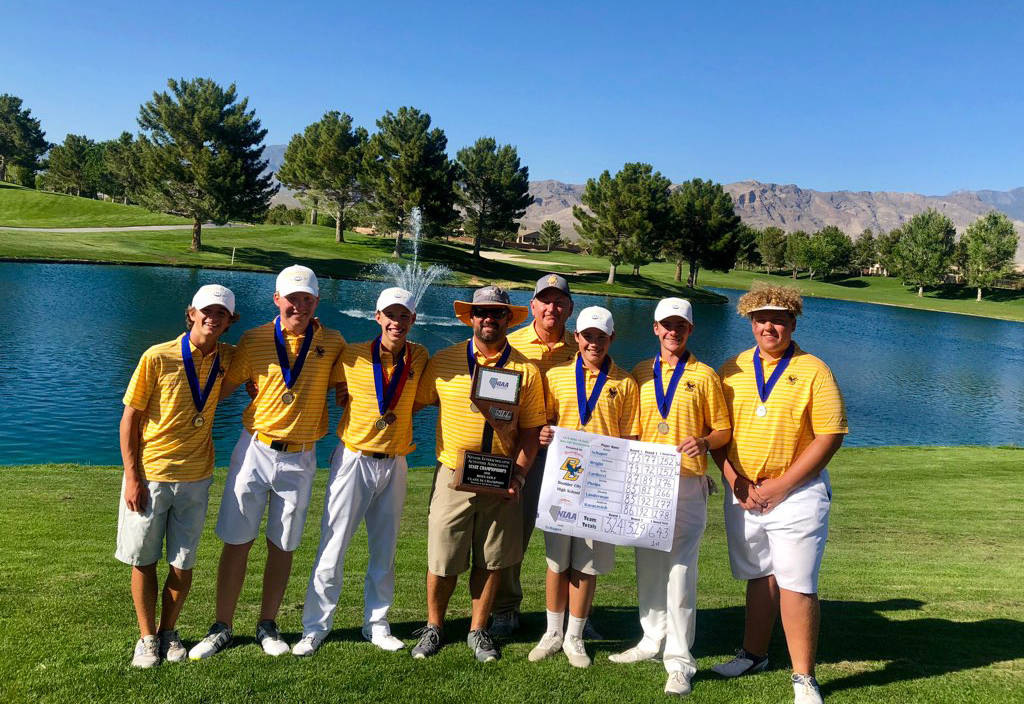 Boulder City High School claimed its first 3A state championship in 12 years after playing a perfect round of golf on day two of the tournament and earning a team score of 643.
Trailing five strokes behind Northern challenger Spring Creek, the Eagles finished six strokes ahead on May 15 to redeem last season's runner-up finish.
"It's really fun to see all the boys be rewarded for their hard work and efforts," said head coach Andy Schaper. "They've shown a lot of moxie and worked hard to finally get over the hump and win something that they can hold onto for the rest of their lives."
Shooting a combined score of 319 in round two to earn their state title, senior Jackson Wright was instrumental in the Eagle's success, finishing as the 3A individual runner-up with a score of 151.
"From the beginning of the day I felt like it was going to be special," Wright said. "I was incredibly happy with my scoring and that I was able to help lead the team to be in a position to win. I'm overjoyed to end my career as a state champion."
Shooting a 79 on day one, Wright improved his score on day two with a par 72. Western's Jared Smith finished as the individual champion with a score of 142.
"It's very exciting and a joy as a coach to see the last round of someone's career be their best round," said Schaper. "Jackson's worked hard for this moment. He's been a varsity golfer all four years and went to the state tournament all four years. We said coming into this year that we wanted to win a title for Jackson and it was a joy to see him go out there and kind of win it for himself."
Following shortly behind, the Eagles next star, freshman Blake Schaper placed third on the day with a score of 152, while junior Kevin Phelps placed ninth with a score of 166.
Rounding out the Eagles core, freshman Kyle Carducci placed 22nd with a score of 176, while sophomore Dustin Landerman placed 25th with score of 177. Senior Andrew Kovacevich placed 28th with a score of 178.
"This was a total team effort," said Schaper. "Everyone's worked hard to get to this point and I couldn't be prouder of them. I can honestly say everyone played a part in our team being able to accomplish this goal."
With the majority of the team returning next year, Schaper sees a bright future for his program. Having made seven consecutive 3A state meet appearances, he said to expect a few more runs out of this group.
"The great thing about this win is we did it with a bunch of underclassman," he said. "I would say the future of our program is very bright and we expect to continue to be competitive. These boys not only work hard during the season, but the offseason as well and I expect them to all be five strokes better when they come back."
Contact Robert Vendettoli at BCRsports@gmail.com.