Girls soccer looks to youth to move forward this season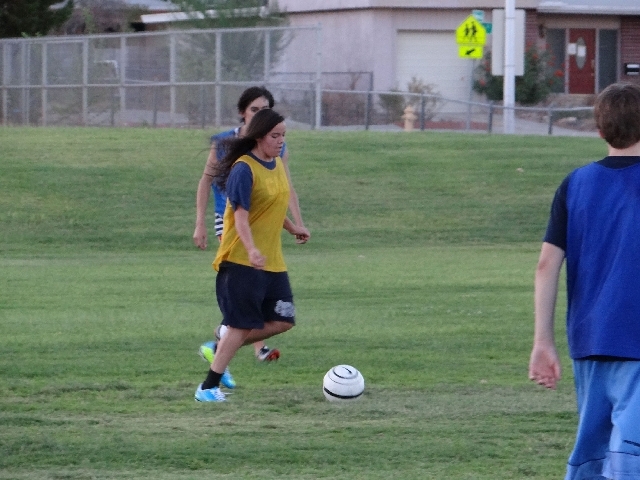 Boulder City High School girls' soccer coach Duncan Stark wants his team tested early this fall season.
So, it's been a busy summer.
The Lady Eagles have been practicing drills for several weeks, mostly on Mondays and Thursdays, against the boys' team in voluntary intramurals.
Stark knows there is little time to waste.
The Lady Eagles begin the season with two Division I rivals among their first four opponents, the season opener on Sept. 9 at Basic and on Sept. 19 at Foothill.
Sandwiched in between is their Sunrise League opener Sept. 17 at home against Chaparral and region opponent Cheyenne on Sept. 11.
"It's not an easy schedule to start the season, but I think we have an improved club that is eager to get back on the playing field and forget about last season's ending," Stark said. "I am confident the girls will come together and form a solid team. They will make the playoffs, again."
The Lady Eagles have reached the playoffs in 14 consecutive seasons and played in the state's championship tournament in 2011 and 2010.
Last season, the Lady Eagles ended 8-7-1 overall. They lost in the opening round of the I-A Southern Region playoffs to Faith Lutheran, 9-0.
Stark calls it the worst played game in four seasons by the Lady Eagles. They can plan their revenge for an Oct. 14 road game at Faith Lutheran.
"We did not play well at all in our playoff game and it is something that bothered everyone on the team," senior midfielder Erin Warshefski said. "It leaves a bad taste in your mouth. We want to avoid any such performance this season."
But there was a benefit.
"When you lose so badly, you always learn something," Warshefski said. "If anything the loss taught us about playing under pressure. It is an experience that I think will help our team this season. There is plenty of time to play and have fun this season."
The team will look for leadership in junior forward Jane Nevarez, who was selected all-Sunrise League first team, and team MVP last season.
Also returning is senior midfielder Jana Williams and senior defender Carol Leon-Wilson, both of whom were selected all-league second team last season.
A player expected to make a major impact is sophomore Jeanne Carmell. As a freshman on the junior varsity she played at every position during the season.
"She is a great athlete that we can play at any position," Stark said. "It's great to know you have someone if you have a specific need on the field."
Duncan said he expects Leon-Wilson to anchor the defense with Warshefski dropping back to defend with defender Lauren Axelson. The offense will do well behind Nevarez, Williams, Campbell and Nicole Benson.
The goalkeeper position has not been settled for the fall, Duncan said, with last year's goalkeeper Ali Rovacchi battling with junior varsity standout McKenzie Pluta.
The Sunrise League features home-and-home match-ups. The Lady Eagles will be chasing defending league champion Tech, which swept Boulder City in two meetings last season, as well as second-place Chaparral and fourth-place Desert Pines.
The Lady Eagles split their two-game series last season against Chaparral and Desert Pines.
"It will be the same four teams that will likely take the top four playoff spots from the Sunrise League," Stark said. "I think we can challenge for the top spot, but mark my words the surprise team of the league, and maybe the region, is Virgin Valley. They have a new coach and if he gets them pointed in the right direction, watch out for Virgin Valley.
"But that's why we are out here working, because it promises to be a very competitive season."