Girls set up for strong season with wins over Del Sol, Desert Pines
September 23, 2015 - 3:01 pm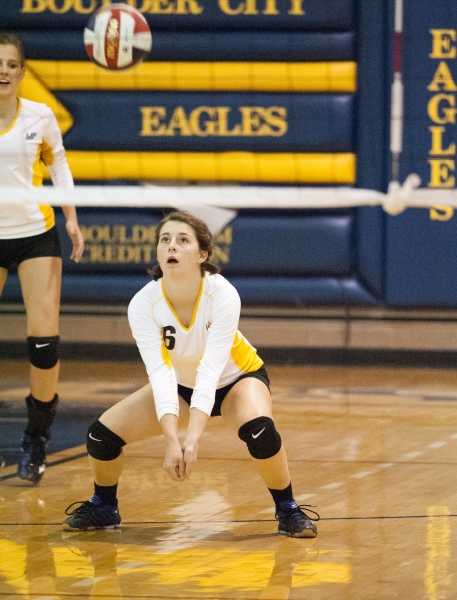 Entering the Boulder City Invitational this weekend atop the Division I-A Sunrise conference standings after a 2-0 league slate, the Lady Eagles not only look like one of the favorites to come away with a winning record, but also the favorites to hang another conference championship banner in their gymnasium.
Entering the tournament with a 7-4 record overall, the Lady Eagles have been on a tear recently after an inspiring effort throughout their tough pool schedule at the Las Vegas Invitational that left them with their only losses of the season.
"I think we're setting ourselves up good for league play," said Boulder City head coach Cherise Hinman. "Obviously we still have a handful of things to improve upon before we get to where we want to be as a team. Serving is going to be key for us. One minute were doing well, the next we're committing errors, so cleaning that up will help us out a lot moving forward."
In last week's action, the Lady Eagles had a pair of league victories over Del Sol and Desert Pines, with scores of 3-0 at their Sept. 17 and 21 games, respectively.
The girls are playing like a team that could win their fifth consecutive league title, despite what is expected to be a tough push this season.
"We have tougher competition in our league this year, with Virgin Valley and Moapa Valley returning what were young teams last year," Hinman said. "With them being our toughest competition this year, we just have to stay focused throughout league play and be ready for anyone."
Making a solid push thus far this season toward a fifth banner is the duo of senior outside hitter Jaden Wood and sophomore outside hitter Maggie Roe. Through 11 games, the duo have appeared in all 28 of the Lady Eagles' sets together, with Woods netting a team-high 88 kills, 76 digs, 13 aces and six blocks, while Roe has contributed with 780 kills, 74 digs, 28 aces and 10 blocks.
"Both of them have displayed great versatility for us so far this season," Hinman added. "Jaden's currently our strongest arm on the court and has done a great job of mixing it up out their on the court. She know she's not always going to get a perfect set, so she's learn to change her approach. Maggie's also done a solid job, hitting with Jaden this season on our back row, which has kept us competitive."
Senior setters Tarah Cox and Alea Lehr have also been all-around studs this season for the Lady Eagles, while the additions of senior middle blocker Valentina Rolleri, an Italian foreign exchange student, and junior middle blocker Julia Worrall also have made a key difference.
Cox, a University of Great Falls commit, leads the team in assists with 152, while adding 33 kills, 31 digs, 18 aces and five blocks, while Lehr has been solid as well, tossing 125 assists on the season, with 35 aces and 17 digs.
The newcomer duo of Rolleri and Worrall have also been key pickups for the Lady Eagles, who now have excellent depth with eight players playing more than 22 sets this season.
Rolleri, leads the team with 16 blocked shots, 43 kills, 26 digs and eight aces, while Worrall has been spectacular on the defensive end as well with 13 blocks to go with five kills.
"The addition of Valentina has been very nice, because we weren't to sure who were going to be our middle blockers, coming into the season," Hinman added. "Having her height in the middle has been nice as she's proven to be one of our better blockers, as well as a solid hitter. Julia's also been a nice addition, and it's been great to get her some experience. She's one of our up-and-comers."
Senior Libero Bayden Huxford has been solid thus far, leading the team with 167 digs and 20 aces, while senior middle blocker Velzani Moncayo recently returned to add four blocks and four kills for the Lady Eagles during her last three games in which she's played all nine sets.
The Eagles will kick off the Boulder City Invitational Friday afternoon against Division I powerhouse Bonanza, which currently sits with a 10-2 record. The invitational will be played by Division I opponents Bonanza, Liberty, Las Vegas, Legacy, Basic, Eldorado as well as Division I-A Sunrise conference rival Virgin Valley and Division IV powerhouse Pahranagat Valley among others.
"We have a lot better teams coming to the invitational this year, so there will be very competitive pool play in all four pools," Hinman concluded. "There's going to be a lot of great play out there, which means more competition for us. I personally placed us in a tough pool to really challenge our girls. Playing better teams is only going to make us better."
Contact Robert Vendettoli at BCRsports@gmail.com.