Girls ready to face tough rivals
January 7, 2015 - 1:34 pm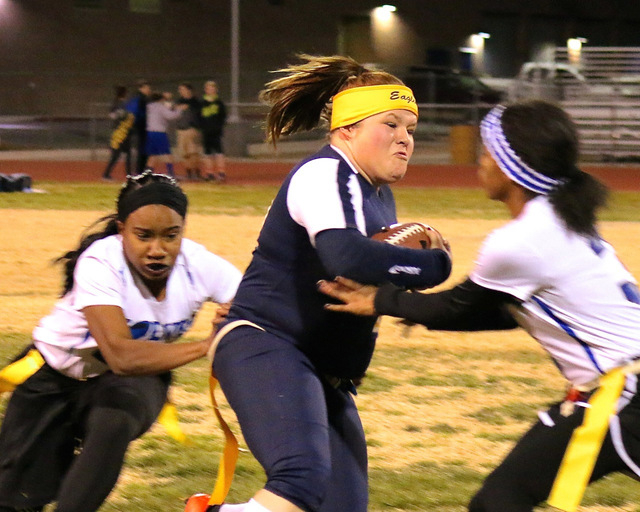 Friday afternoon is the big one. It's Green Valley, the defending Sunrise Region champion and county runner-up from a year ago, coming to town to play at Boulder City.
The Sunrise Region result from last season still stings: Green Valley 18, Boulder City 13.
The Boulder City girls flag football team has only one loss dating back to February 2013, the end of the first season of competition in the sport. A season ago, Boulder City won all 18 of its regular season games, and then won two playoff games before losing late in the game to Green Valley.
This season, the Lady Eagles are off to an 8-0 start overall and 6-0 in the Sunrise League after Monday's 26-13 win against visiting Basic. They have won 26 straight regular season games. They also had a game scheduled for Wednesday against Foothill, but it was too late to report the results for this issue.
Foothill improved to 10-1 overall and 6-0 in the Sunrise League with its Monday 19-14 victory against Green Valley.
"All three teams this week worry me, but we seem to play classic games against Foothill," coach Chris Morelli said. "We need to do well this week because it is how we will finish the regular season — with these same three teams in our final week before the playoffs. We have to gain confidence by showing these teams were are capable.
"The two-week holiday break has everyone's timing off. We really need to step up."
Last season, Boulder City defeated Foothill twice, but the second game ended only after three overtime periods.
Boulder City was ranked second in the latest Las Vegas Review-Journal's poll of Southern Nevada coaches. Green Valley is 8-1 overall and 6-1 in the league, and ranked No. 3 in that poll before its loss.
"This is the toughest week ever for us as a football program in our three years of competition and I am asking a lot from the girls, but they are capable of meeting the task," Morelli said. "Beating Basic is always tough because they are a longtime school rival. And now, we have Green Valley to deal with and the girls know the history there. Somewhere in the middle is Foothill.
"But this is a week we needed. Regardless of the results, even though we started out to win all three, we needed the difficult week and tougher competition to help us get better and make sure we are ready when the playoffs come," Morelli said.
Against Basic, Jeanne Carmell connected on 19 of 27 passes for 239 yards and two touchdown passes. She also had 71 yards rushing on nine attempts. Kinsey Smyth led all receivers with 88 yards on six receptions. Mackenzie Pluta had seven catches for 78 yards and one touchdown.
Oshanna Remy made two catches for 35 yards and McKenzy Waldo had one catch for 18 yards.
The defense was led by Logan Kanaley's seven tackles, followed by Smyth's six tackles and Paige Buettner's four. Remy had one interception.
"I am nervous, there is a lot at stake," Pluta said. "But this is only the first time around for these three teams, we play them all again. This is a good opportunity to play good and let them know we are the top team."
After this week, the Lady Eagles are off until a home game Jan. 20 against Chaparral.