Girls gain steam as boys struggle
September 23, 2015 - 2:40 pm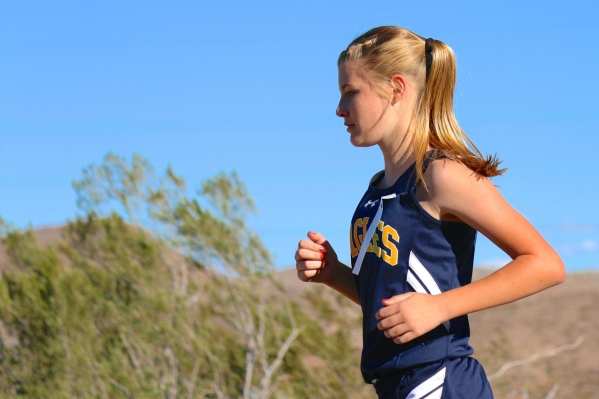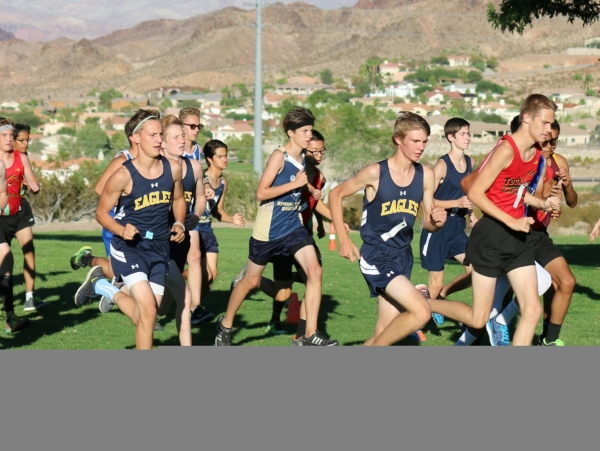 Entering the season ranked third in the preseason Division I-A Southern Nevada Cross-Country Coaches Poll courtesy of Runnerspace/NV.com, Boulder City High's girls and boys cross-country programs seem to be heading in different directions as they approach the midway mark of the season.
Placing second overall as a team on Sept. 16 at their home meet at Hemenway Park, the defending Division I-A Southern Region champion Lady Eagles finally seem to be peaking at the right time.
Finishing with a team score of 45 points, the Lady Eagles nearly knocked off the Roadrunners from Southeast Career Technical Academy, which escaped with a score of 43, after placing three runners in the top five on the 3.1 mile course.
"The girls performed very well in our home meet against many of our rivals," said Canaan Petersen, head cross-country coach. "Having the home field advantage down at Hemenway definitely helped our girls, but I feel like they're really starting to hit their stride as a team."
Making her way back to guide the Lady Eagles was sophomore Sierra Selinger, who's had bit of a rough start to the season after breaking out last season as a freshman with a third-place finish in the Lady Eagles' regional championship victory.
Failing to finish the course at the Moapa Valley meet and failing to compete in another meet because of an illness, Selinger was all business Wednesday, placing second overall in the event with a time of 23:00.4, nearly three seconds short of Sierra Vista freshman Sarriah Brown, who finished the race with a time of 22:57.6.
"Sierra ran great and finished strong in a very close race," Petersen said. "I know her times will improve over the next couple weeks as she'll be a tough competitor in October."
Finishing shortly behind Selinger was senior EmmaLee Torgeson, who placed sixth overall at the home event with a time of 24:38.4, holding off senior Clark challengers Elizabeth Gutierrez (24:46.6) and Brittany Napoles (24:56.6) who placed seventh and eighth, respectively. The Chargers would fall just short of overcoming the Lady Eagles on the day with a third-place score of 54.
"Emma has done a great job leading this team the entire season," Petersen said. "Her times keep steadily improving each week."
Rounding out the top 10 for the Lady Eagles were junior German foreign exchange student Nantke Bonsack, who's been a key contributor the the team's recent resurgence. Bonsack finished the day with a time of 25:39.8.
"The entire team ran very well, resulting in a high finish," Petersen said. "Catching up with Tech is going to be a challenge, but I know these girls will put in a continuous effort in order to put our best team in the region meet in late October."
Rounding out the girls efforts Wednesday were sophomore Camille Torgeson, who placed 13th with a time of 26:54.7, and junior Sabrina Snow, who placed 20th with a time of 27:31.6.
For the boy's program, the once highly touted Eagles have continued to struggle early in the season, despite featuring one of the Division's top runners in junior Tyler Campbell.
While the boy's collectively have continued to improve modestly as the weeks continue, Campbell has been on an early season tear from the get go. Following a third-place finish at the Moapa Valley meet and a 23rd-place finish at the Las Vegas Invitational Small School Race, which featured Utah powerhouse Hurricane, Campbell placed seventh on Sept. 16 at home with a time of 19:09.8, despite his team finishing seventh in overall points with 168.
Even though he did not have another runner finish within the top 25, Petersen noted that his up-and-coming group has continued to work hard toward turning in a respectable effort at regionals.
"The boys overall have been running strong lately as well," Petersen said. "Joren Selinger has continued to lead the guys and many have been posting personal bests as of late. Tyson Morris and James Embro both have been putting in great efforts all season in order to help out the team and both are setting new personal records on some of these courses. Tyler Campbell continues to improve and will be chasing down his competitors more in the coming weeks. Overall, the entire team is challenging themselves to be better and this effort is showing up in competition."
The teams will continue their season Wednesday at Faith Lutheran, when they jump over to the Division I-A Sunset conference to face off against their best competition. They also will participate in the Falcon Invitational at Foothill High School at 8 a.m. Saturday.
Contact Robert Vendettoli at BCRsports@gmail.com.