Girls cross-country team nets second at invitational
October 15, 2014 - 1:16 pm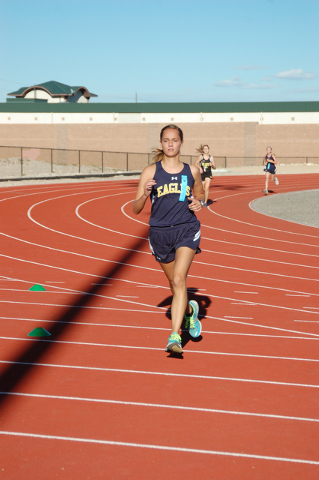 Boulder City's Jessica Embro placed second and teammate Sierra Selinger was sixth as the Lady Eagles finished in second place Saturday in the Lake Mead Invitational small school girls division.
Del Sol's Ingrid Zarate took first place in 21:19.4 over the 3.1-mile course at Veterans' Memorial Park, edging Embro's time of 21:28.2. Faith Lutheran's Kendall Larson was third at 21:33.2. Selinger ran 21:49.5.
Clark won the small school girls division with a low score of 58 points to edge second-place Boulder City, which had 60 points. Tech was third with 77 points.
"In the Lake Mead Invitational the girls ran well again, but due to an injury suffered by one of the girls during the race, we were narrowly beaten by Clark," said Boulder City head coach Canaan Petersen. "Jessica again had a great day finishing second in our division and eighth overall. Sierra also did really well."
During the past two weeks, both Boulder City teams have had two midweek league meets and the Lake Mead Invitational.
"We traveled to Faith Lutheran and we knew it would be our biggest test of the season. All of the girls ran fantastic and the team defeated everyone," Petersen said. "They all had good races, but the biggest surprise came from our German foreign exchange student, Karen Reuter."
On Oct. 8, Reuter, who has limited experience in the sport, ran well enough to put the team in position to finish first, Petersen said.
"She was definitely the MVP of the race," he said. "It is not always getting first place in a race that is the most important. All members of the team play a vital role. Beating all seven teams that day meant the girls went undefeated in the league meets this season."
Selinger, a ninth-grader, also was happy with the team's recent results.
"The Lake Mead race went really well even though part of our team was gone. We still had a pretty good race as a team," Selinger said. "We will be ready for our region meet. I think we can win the region title but our top five runners need to have a great day. Mostly, though, we just need to beat Faith Lutheran."
The Boulder City boys team also has been improving its times in recent races.
"Tyler Campbell continues to push hard in practice and in races, and he is doing better and better each time," Petersen said. "Joren Selinger is doing well leading the team as captain and his times are improving, too.
"The boys team is sitting in the middle of the pack of the league and that is better than we were at early in the season."
Campbell placed 10th in the small school division with a time of 19:00.2. Chase Wood won medalist with a time of 16:50.1 for the Crusaders. Tech's Garrett Meyer placed second at 17:02.5.
Faith Lutheran won the Lake Mead Invitational small school boys division with 37 points, followed by Clark (39) and Tech (84). Boulder City was fifth with 117 points.
Boulder City's athletes competed Tuesday in the Freshman/Sophomore Championships at Desert Breeze Park.