Girls continue winning ways
December 3, 2014 - 2:43 pm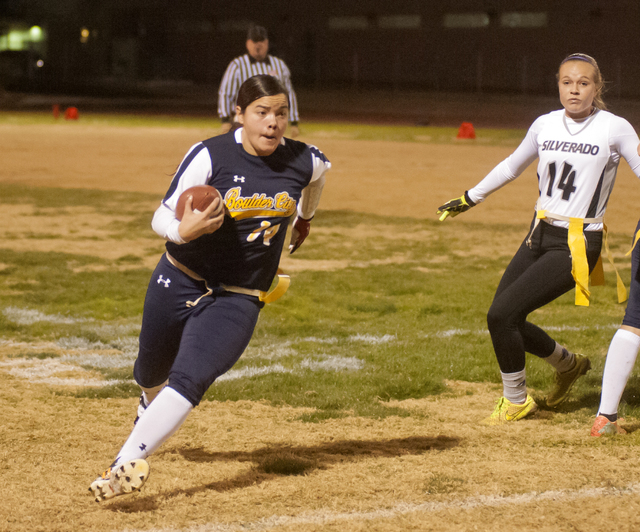 The Lady Eagles started their flag football season Tuesday where they left off last regular season — winning.
Boulder City opened its third flag football season in its history with a convincing 20-0 victory over Silverado at home on a rain-soaked field.
The victory extended the Lady Eagles' regular season winning streak to 19 games. They were 18-0 last season before winning twice in the playoffs to reach 20-0 and then losing to Green Valley in the Sunrise Region championship game. They were 6-10 in the sport's inaugural season.
"This is a very talented team, and I expected them to want to come out here and play hard and start this season with a win," coach Chris Morelli said "I expected nothing less than winning every game, and the girls also have those high expectations."
The defensive shutout was led by linebackers Logan Kanaley and Paige Buettner.
Kanaley led the Lady Eagles with nine tackles, while Buettner made eight tackles and had three sacks.
"The team is fired up about the season," Kanaley said. "We want to play every game as hard as we can and leave it all on the field. If the defense can dominate games, it will be easier to win them all like last year. Only this year, we want to go further in the playoffs."
On offense, quarterback Jeanne Carmell connected on 10 of 15 passes for 123 yards; 87 of those yards were to receiver Kinsey Smyth. Buettner had one rushing touchdown and an extra point.
The Lady Eagles also played Wednesday at Valley, but it was too late to get the results into this issue of the Boulder City Review.
Boulder City's next home game is at 4:30 p.m. Dec. 11 against Southeast Career Technical Academy.
"That game is very important for several reasons," Morelli said. "It is a league game we have to win, but it also is the annual Christmas toy drive for us. We have challenged all of the other flag football teams in Southern Nevada."
Morelli and the Lady Eagles have issued a challenge to the county's other 30 teams to collect toys and participate in KLUC 98.5's 16th annual toy drive.
They also are asking the community to bring a new, unwrapped toy, gift card or bicycle to the Dec. 11 home game. Those who do during the varsity, junior varsity or B squad games will receive a free hot chocolate or coffee, and a cookie.
For more information, contact Morelli at crmorelli.interact.ccsd.net or visit the website bcflagfootball.weebly.com.
"I really hope we can collect the most toys of any team," Morelli said.
"On Saturday, Dec. 13, at noon we will meet up with all the other flag football teams from Southern Nevada at the Nevada Energy building on Sahara Avenue and deliver the toys to KLUC."
"Being a part of the toy drive is an important part of our team's success this season off the field," Buettner said. "On the field we know what we need to do. We want to play so hard that we are exhausted after each game and know we have given it all. We have a great team and we can accomplish a lot."
Before the Tech game, though, Boulder City has to play two road games, Monday at Basic and Tuesday at Chaparral.
"We have a short two-month season so we have to win them all, if possible, to reach the goals we have set for ourselves," Morelli said. "I expect a lot from these girls and I know they will respond with another excellent season."