Girls basketball team picks up much-needed wins
January 27, 2016 - 3:39 pm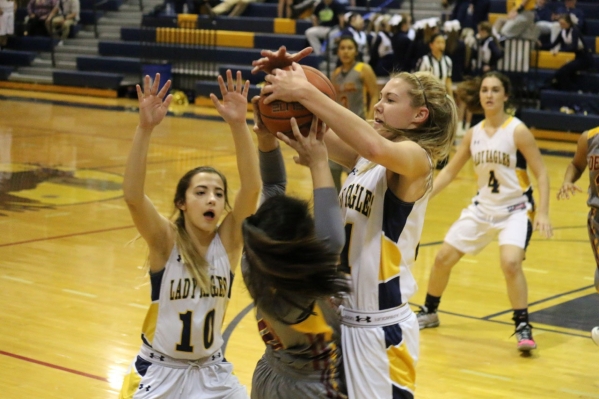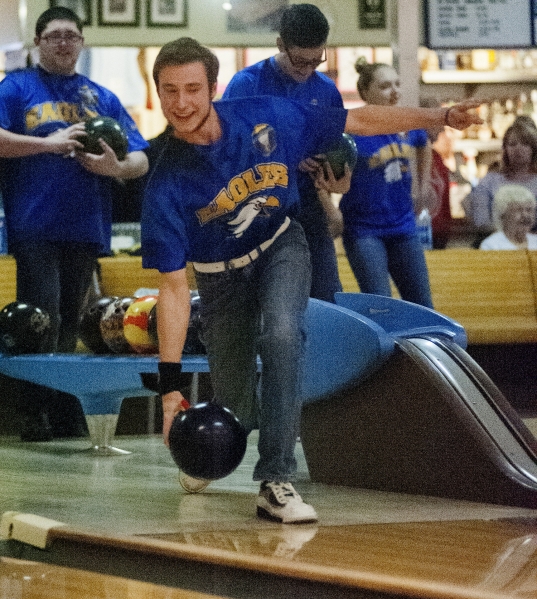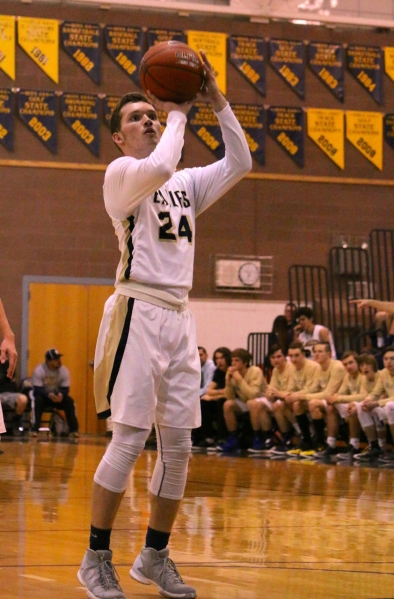 Making their way back into the win column this past week, Boulder City High's Lady Eagles basketball team picked up a pair of much-needed conference victories, snapping a four-game losing streak in the process.
"We played pretty well this past week," head coach Paul Dosch said. "Most notably our defense against Del Sol, where our full-court pressure forced about 25 turnovers, which gave us opportunities for so many easy buckets."
In the Lady Eagles' 60-29 victory over the Dragons on Jan. 21, senior guard Megan Morton led the way with 24 points, eight rebounds and three assists.
"Megan had nice game against Del Sol, but we're starting to get more offensive production from our other starters, which has helped," Dosch said. "Our bench play is up with solid minutes from Setia Cox and Hanna Estes, which have also been improvements."
Against the Dragons, freshman guards Estes and Cox contributed 10 and nine points apiece, respectively, while starting sophomore forward Jerra Hinson added six points.
Staying within postseason contention, the Lady Eagles also picked up a hard-fought 53-47 victory over Southeast Career Technical Academy on Monday.
"We didn't play our best against the Roadrunners, but the girls played hard and we finished the game," Dosch said. "It was sloppy but we'll take the win. Again, we finally put it together offensively with more girls knocking down shots."
Morton again led the way for the Lady Eagles with a game-high 19 points, but it was the contributions of Boulder City's six other primary players that made the difference.
Cox again has proven to be a difference maker in her first season with the program, adding eight points against the Roadrunners, while Estes, Hinson and senior guard Lauren Mullins added six points each. Senior guard Rylee Dosch and junior guard Alea Lehr added four points apiece.
Sitting in a tie with Moapa Valley for fourth place in the Division I-A Sunrise Conference, the Lady Eagles will get a prime opportunity to seal a postseason berth on Tuesday when they travel to Overton to take on the Pirates.
— By Robert Vendettoli
Bowling
Finishing the regular season strong at Boulder Bowl, both Boulder City High's bowling programs ended their respective seasons on a high note with victories over Del Sol on senior night.
For the boys, senior Teagan Smale led all scorers on the day with a 528 series in the Eagles' dominant 1,980-1,759 victory over the Dragons on Jan. 20.
Saving his best for last, Smale followed up an uncharacteristic second round score of 134 with a 221, which finished as the game's highest individual score.
"Teagan sure has been special throughout his tenure with the program," head coach Rodney Ball said. "(I'm) excited to see what kind of run we make with him in the postseason as he concludes his career."
Looming not far behind their senior leader were juniors Samu Jancuk and Ed Rassuchine, who continue to shine each week as individual bowlers capable of carrying the Eagles. Jancuk finished just short of Smale's overall lead with a score of 519, while Rassuchine bowled a 506.
Making his last regular-season appearance as well for the Eagles, senior Dylan Amico rounded out the boys' efforts with an overall score of 427.
In a closer matchup that day, the Lady Eagles were able to get off to a great start against the Dragons, closing out the regular season with a 1,415-1,327 victory.
Junior Alexis Cable led the way for the Lady Eagles with a score of 427, which was the second-best individual score for the day. Bowling a 160 in her second match, Cable was able to earn the game's high score.
Bailey Jordan-Bennett loomed just behind Cable's performance with an overall score of 392, while senior Emily Owens bowled a 337.
Sharing the team's fourth spot was the duo of sophomore Camille Torgeson and junior Bailey Archuleta, who combined for a score of 259.
On Tuesday, Smale placed second with a 639 during the 2016 Nevada Interscholastic Activities Association's individual bowling championships at The Orleans for Division I-A. Today, he will complete in the Division I-A Southern Region meet at The Orleans as one of the top seven finishers.
The boys, who finished with the second seed in the Sunrise conference, will compete against Spring Valley in the first round of the Division I-A playoffs Feb. 8 at The Orleans, while the girls, who finished as the conference's second seed as well, will meet Spring Valley on Feb 9.
— By Robert Vendettoli
Boys basketball
On Monday night, the Boulder City boys basketball team got off to a commanding 20-8 lead in the first quarter and never looked back. The Eagles ended up defeating Southeast Career Technical Academy 61-45 in their first home victory of the season.
According to head coach John Balistere, the victory was much-needed after losing their previous nine games.
"Our defense was key to winning the game. We had much better shot selection, we didn't settle for the first available shot, and we passed up a good shot to get a great shot," Balistere said about the Eagles' victory.
The victory comes as the biggest for the Eagles since their 64-47 win against Vista Del Lago in the Paloma Valley Winter Shootout.
One of the most interesting things about Monday's win was that every player for the Eagles scored, a testament to the ball movement and selflessness that define this team day in and day out.
Justus Green led the way for the Eagles with 12 points, followed by senior Peyton Koopman with 11 points. Green, whose brother Julian Jacobs plays point guard for the USC Trojans basketball team, knows it takes a lot of hard work if he is ever going to play basketball at the next level.
"I actually want to end up being better than him. I train with him in the offseason so I know how much hard work you have to put in if you want to be successful," Green said.
Against Del Sol on Jan. 21, the Eagles lost 61-48. Green and sophomore Carson Ballistere were the top scorers that night with 11 points each, followed by senior Zach Murphy, who had nine.
The boys basketball team looks for another victory on Friday night at home against Basic High School.
"Our transition defense needs to be solid and we really need to rebound the ball. I think we will be ready," Balistere said.
— By Juan Diego Pergentili
Contact Robert Vendettoli at BCRsports@gmail.com. Contact reporter Juan Diego Pergentili at jpergentili@bouldercityreview.com or at 702-586-9401. Follow him on Twitter @jdpbcreview.
Upcoming Games
Boys basketball
Friday, vs Basic, 5 p.m., junior varsity; 6:30 p.m. varsity
Tuesday, at Moapa Valley, 5 p.m., junior varsity; 6:30 p.m. varsity
Girls basketball
Friday, vs Basic, 5 p.m., junior varsity; 6:30 p.m. varsity
Tuesday, At Moapa Valley, 5 p.m., junior varsity; 6:30 p.m. varsity
Bowling
Today, individual championships, at The Orleans, TBA