Girls basketball coach sees promise in young players
December 9, 2015 - 4:34 pm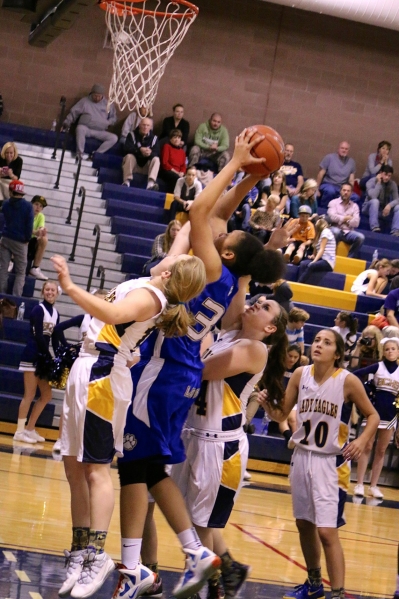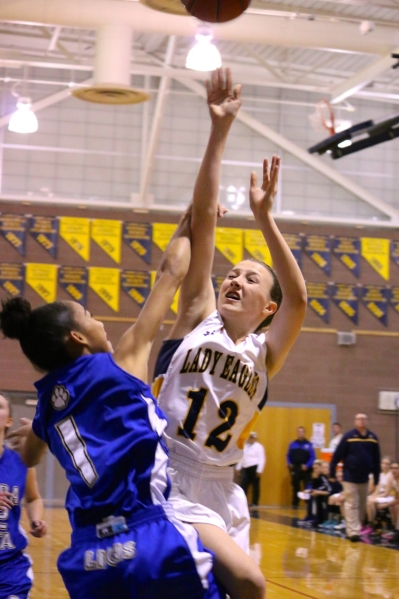 Life without returning senior Division I-A Sunrise conference Player of the Year Megan Morton continued this past week, dropping the Lady Eagles to 2-5 on the season.
Undisclosed when the star senior will make her season debut, Morton's teammates were positive that their lead guard would be back shortly, while Boulder City head coach Paul Dosch stayed the course, focusing on the players that are currently available for his roster.
Of the girls available, guards freshmen Hannah Estes and Setia Cox have continued to impress in Morton's absence, gaining valuable minutes as rookies they may not have been afforded if Morton was in the regular lineup.
"Skies the limit for both those two," Dosch said. "They've both been thrown into the fire earlier and they've both responded great to the challenge. Not only does our future look really bright with that pairing leading the way, but I'm confident that they'll be able to contribute once we hit league play. They've played just about as good as anyone has so far."
Falling to Sierra Vista on Tuesday night 54-42 for their fifth loss of the season, Estes did offer a consolation prize for the Lady Eagles with a team-high 11 points, while Cox added seven points.
In the front court, forward sophomore Jerra Hinson added eight points, while forward junior Julia Worrall chipped in six points.
"Both of our forwards have done a great job so far this season," senior Rylee Dosch said. "I've seen a lot of poise and leadership from Jules and Jerra's really starting to come along, still being a sophomore. Both are really nice pieces for us."
Coming off All-Tournament honors this past weekend in the Lake Mead Holiday Classic, guard senior Lauren Mullins added six points, while guard Rylee Dosch finished with two.
"Progressing each week is going to be key for us," coach Dosch said. "Right now we're working hard, but we're behind. We have a lot of new faces and everyone is still trying to find their roles and see where they'll contribute to the ball club."
Despite Tuesday's loss to the Mountain Lions, the Lady Eagles showed positive signs of progression throughout the Lake Mead Holiday Classic, concluding the Dec. 3-5 event with a 2-3 record and almost hanging on for a third victory in a 36-29 nail-biter against Pahranagat Valley.
"While we're still working out the kinks, I thought we played well overall," Rylee Dosch said. "I thought the energy everyone brought with them was great and we played hard throughout each of our five games. At times we were overmatched in certain areas but the girls never quit. We fought hard each game until the end."
The Lady Eagles opened the tournament with a loss to Lincoln County 35-19, before getting their first win of the season against Calvary Chapel 24-9.
Against Lincoln County, Worrall scored a team-high five points, while Estes and Cox added four apiece. Against Calvary Chapel, Worrall and Estes would lead the all-around effort with six points, while guard junior Alea Lehr added five points and Mullins added four.
"We have talent on this team," Rylee Dosch said. "Right now were still new and trying to gel together as a team due to our inexperience, but we're capable of winning games. It's just going to take some time to learn each others' styles."
In their third game of the tournament, the Lady Eagles looked like a team capable of making their way back to the Division I-A playoffs, dominating host Lake Mead 43-12, before falling to Pahranagat Valley and West Wendover 38-26 to conclude the weekend.
Against Lake Mead, Estes again led the way with 11 points, while Mullins added 11 points as well for the Lady Eagles in what was her best performance of the season.
Lehr added in seven points against Lake Mead as well, while Worrall finished the game with six points.
"(I) saw great effort from a lot of girls this past weekend, especially our senior Mullins," coach Dosch said. "Hopefully she can be a spark for us come league play, while the rest of our girls capitalize on the momentum and confidence they've been gaining."
Against West Wendover, Mullins finished with a game-high 10 points, while Rylee Dosch added eight points despite the losing effort.
The Lady Eagles will resume their season tonight on the road against Del Sol, hopeful to open up league play with a victory. The Dragons enter tonight with an 0-3 record.
Contact Robert Vendettoli at BCRsports@gmail.com.
^
Upcoming Games
Today, at Del Sol, 5 p.m., varsity; 6:30 p.m. junior varsity
Tuesday, vs. Southeast Career and Technical Academy, 5 p.m., junior varsity; 6:30 p.m., varsity